By Austin Bailey, World Ark managing editor
Photos by Lacey West

Women take the lead on Heifer's projects in Nicaragua. As the mercury goes up and rainfall levels drop, farming families in the dry corridor tweak techniques to keep their crops growing.
Guillermina Castro is the lady of the house and the undisputed boss of her family's 40 acres, but queen bee status doesn't stop her from working alongside her sons to prep a dusty, sun-scorched hillside for planting. Castro digs her sandals into loose dirt to steady herself, then carves small holes with half of a broken jicaro fruit shell. Into each hole she drops a handful of nutrient-rich composted manure, layering it with dried leaves. When (and if) the rainy season comes, the leaves will compost, too, fertilizing the soil further and helping it to hold moisture.
Soil prep hasn't always been part of the routine on this farm in Nicaragua's El Pavon community of San Juan de Cinco Pinos. Corn and beans used to grow without much fuss, and coffee flourished on her steep and shaded slopes. In recent years, however, the earth needs care and cajoling to produce the crops Castro and her family need to survive. Rain shortages and baking heat in Nicaragua's dry corridor are rendering traditional farming methods largely ineffective.
"As soon as we started having less rain and more dry weather, the practices that were once efficient became less efficient," explained Elder Francisco Andrade Alvarez, director of ADENOCH, a partner organization that helps Heifer implement its work here. On Castro's farm and many others nearby, crops simply stopped growing.
So agriculture experts with Heifer International are helping Castro and other families adapt to hotter temperatures and drier soil by introducing new techniques and seeds. The project started with 1,000 families and has since grown as families share calves, seeds and expertise with neighbors.
"We never had a project that helped us like this," Castro said. Through the project, she learned how to tap a spring on her land and pipe water to her fields, an improvement that's doubling her crop yields because she can now grow food year-round and harvest in both August and December. The heifer she received two years ago has already calved, and the milk from her cow means her family has fresh cheese every day.
Heifer's contributions here, simple as they seem, injected hope and momentum into Castro's farm. Her husband, Hector Guevara, and their six children, ranging in age from 11 to 26, are all benefitting from daily doses of animal-based protein that boost energy levels and health.
In recent years the family didn't have eggs, meat or milk, and subsisted on tortillas and salt. This barebones diet is all that's available to many in the region, and it shows. It's not uncommon to glimpse children with streaks of red in their hair, a telltale sign of kwashiorkor, a severe protein deficiency.
For Castro and her family, better seeds and livestock brought better health, and better health gave them the energy to diversify their moneymaking endeavors. The thriving family now gets a third of its income from selling cassava, pumpkins, beans and carrots.
The rest comes from a new sewing business they started with proceeds from the sale of a cow. Daughter Candida Guevara, 19, went to sewing school in the closest large city, Chinandega, and then taught what she learned to the rest of the family. Now they mend clothes and make school uniforms. The shop started with two machines, but demand was heavy and they now have six sewing machines lined up in a row under their front porch eaves.
Most of the children prefer sewing to farming, but not Carlos Vargas, 25, who can usually be found by his mother's side. Vargas is pleased to be experimenting with new crops and livestock, including a fat pink pig. But years of hunger are not easily forgotten, and Vargas relaxes only when he plants and reaps a hefty crop of corn.
"When we grow corn," he said, "there's no lack of food for the whole year."
Macho No Mas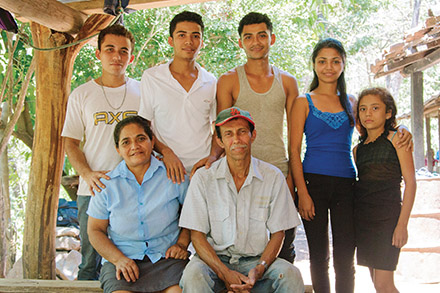 The machismo culture that infects most of Nicaragua has no hold at Guillermina Castro's house. The mother of six is used to taking charge and has no trouble managing both family and farm.
"Sometimes men have no idea how to handle finances. Sometimes women are better at that," son Carlos Vargas said.
This seemingly obvious, common-sense attitude is actually quite rare in rural Nicaragua, where traditional gender roles often keep women from claiming overt positions of authority. Heifer International and its partners have a clever work-around: By giving gifts of livestock and training directly to women, Heifer empowers women with confidence, leadership skills and the raw materials they need to build a sturdy economic base for their families.
The strategy is working, Heifer Nicaragua Director Milton Castillo said. Even men reluctant to share power with their wives are coming around as women begin making money.
"I have seen a lot of changes in the lives of the beneficiaries," Castillo said. "Men and women are sharing the work of the house, and wives are less stressed."