By Austin Bailey, World Ark editor
Photos by Geoff Oliver Bugbee
Women of lower castes in rural India face a life of unyielding hardship. But once the restraints of class and gender are loosened, these women can thrive, bringing their families and communities along with them.
JHARELI, INDIA — Panna Devi arrived in the world doubly unlucky, and her prospects only got worse from there. Birthright as a member of the untouchable Harijan caste sentenced her to a lifetime of the work no one else wanted, sweltering over brick-baking kilns and cleaning up human waste. And because she was a girl in India's rural desert state of Rajasthan, she was married off at age 16 to a man she had no say in choosing and no right to refuse.
The bonds of caste and gender are loosening in India's booming cities but hold tight in Panna Devi's village of Jhareli and in the rest of rural India. Prescribed at birth and virtually inescapable, these bonds steer rural women especially to futures devoid of opportunity. As it was for all girls in India's sandy northwest district, Panna Devi's path was fixed and well-worn by generations of women.
Her journey, though, would be harder than most. Now 48 years old, Panna Devi can point to a bad debt incurred shortly after getting married as the source of 25 years of intractable struggle. With both of his parents dead, the responsibility fell to Panna's husband, Ramuran Ji, to pay for his sister's wedding. With no cash on hand, Ramuran Ji borrowed money and went into bonded labor to work off the debt. What he expected to be a two-year obligation stretched to 25 years, with the lenders charging extreme interest rates and refusing to acknowledge the debt had been paid many times over.
All the while, Panna Devi baked bricks for money and cleaned houses for members of higher castes in exchange for food. The work, because it required her to clear human waste, lowered her status even among people in her own caste. So when Panna Devi learned that a new women's self-help group was starting up, she was eager to grab on to an opportunity for more dignified work. "I thought this could be a way out of misery," she said.
The View Finally Changes
While a few small cities bustle in this scrubby northwestern region of India, most of Rajasthan is claimed by the desert. Panna's village, a collection of mud-walled houses, some with metal roofs and some with grass, looks no different than it did decades ago. Camel-drawn carts share the road with the occasional car, but most people travel on foot.
Besides goats, the only creatures that seem to thrive are peacocks, which roam as comfortably around people as pigeons in a city park. Men here tend to dress in light-colored western-style clothes or the simple dhoti, a cloth that's wrapped around the hips with one end tucked between the legs to resemble baggy, knee-length pants.
The wardrobe for women, however, is far less practical. Women in this Hindu region are invariably shrouded in the magenta or red mesh veils called ghoongats, a holdover from Islamic rule centuries ago. While purdah, the Islamic practice of strict separation of the sexes, is a relic of the past, women still lack the freedom men here enjoy. Most women in Rajasthan shy away from strange men and remain covered by their ghoongats when in public. In Naguar, the city closest to Panna Devi's village, men on motorbikes and on foot remain in the streets after dark, but women are expected to go inside as soon as the sun goes down.
Panna Devi chafed under these centuries-old strictures that smothered her entrepreneurial drive and helped to keep her penniless and homebound. Membership in the Heifer-sponsored self-help group, Panna Devi knew, would help her cultivate a different future. Heifer brought training and other resources to group members to help them better care for their goats. Panna Devi had only one goat then, but it thrived with better nutrition and was able to reproduce. Bolstered by her success, Panna Devi dared to pursue a project she'd been planning in her head for years.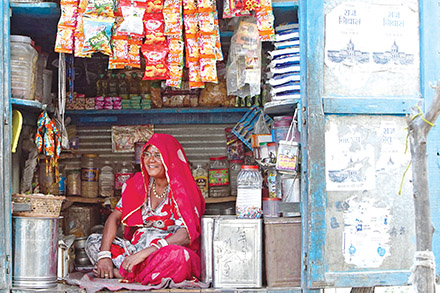 Each month, all members of the self-help group threw a few rupees into a revolving loan fund, and Panna Devi was among the first borrowers. After 25 years beholden to money lenders, she was nervous about incurring new debt but confident in her business plan. She used the money to set up a small shop in a wooden shed painted blue and elevated on stilts to sit a couple of feet above the sand. She stocked her shop with tobacco, candy, vegetables and grains, and officially opened for business.
Each morning before sunrise she unlocked her shop and waited, but customers wouldn't come. People in higher castes refused to buy from her because they didn't want to eat food Panna had touched. Even members of her own caste shunned her because she had been a manual scavenger, the euphemism for someone who cleans out human waste from buckets or latrines in households that have no toilets. For many years, Panna Devi fed herself, her husband and her son with food she earned in exchange for this illegal work. The practice was outlawed in 1993, and the Indian government is slowly providing money to install toilets in all homes. But the government funds are rolling out over time, and many rural households still lack bathrooms.
A Different Route
As her shop languished, Panna Devi continued snatching up all the trainings Heifer offered, learning how to supplement her goats' diet and boost their milk production with a water plant called azolla, which grows effortlessly in a cement basin. And she completed a course qualifying her to become a community animal health worker.
This was the training that saved her. Undeterred by the slow start for her shop, Panna Devi jumped into her work as an animal caretaker, using it as an opportunity to showcase her competence and work ethic. "I will do it and show it," she said. "I will show everyone how it is done."
To keep their flocks up-to-date on vaccinations and otherwise healthy, the people of Jhareli called on Panna Devi. And under her care, the goats thrived like they never had. Admiration and appreciation for this hard-working woman grew. Crowned in newfound respect and gratitude, Panna Devi saw business at her shop pick up.
Now, two stone benches flank the shop, and business is steady. Bags of potato chips swoop across the doorframe like a garland, and packs of bindis, the sticker-like decorative dots Indian women wear on their foreheads, hang like streamers from the ceiling. Payments of either cash or grain are accepted, and Panna Devi banks her stores of millet and rice in huge barrels warehoused in a new shed in her yard.
Profits from the shop, along with money earned from caring for other people's goats and selling her own, paid for an in-ground water tank that saves Panna Devi from making the half-hour trek to a well multiple times a day. She also saves herself the long walks she used to take to graze her goats because she has the means to hire the job out.
Passing On the Gift
What does Panna Devi do with the time she saves now that she doesn't have to fetch water or graze her own goats? She works. Panna Devi thrives on working and fills her schedule with as much of it as she can. "I have work for all day now!" she said, listing off her packed daily routine that includes running the shop, tending animals, leading her self-help group and helping to start other women's groups in her village.
Her disciplined bookkeeping shows that Panna Devi brings in 35,000 to 40,000 rupees per month (about $600) in sales from both her shop and her goats, and she saves 6,000 of that, nearly the equivalent of $100. These savings provide her with something she never had before: financial security.
The income translates into a more comfortable life. Her house, which she shares with her husband and the handicapped son she adopted when her sister was unable to care for him, is much larger than it used to be. Shored up with sturdy mud walls, the airy house offers respite from desert heat. Panna Devi's son has physical handicaps that keep him from doing much work, but Panna Devi's multiple money-making endeavors mean she can care for him, his wife and their daughter.
Panna Devi's generosity washes over beyond just her family. Every day, she meets with her own self-help group or with other women hoping to start their own group. A master number-cruncher, Panna Devi helps people open bank accounts and arrange to sell their goats for good prices.
And having spent decades in desperate poverty herself, Panna Devi is quick and proud to ease others' burdens. The woman whose husband was once trapped in indentured servitude is now known as a sethani, a respected community member who will step in to give money to people in need.
Why Give Goats to Vegetarians?
India is a largely Hindu country, and the Western perception is that practicing Hindus are all vegetarians. So what is Heifer International, an organization that promotes animal-based protein, even doing there?
In fact, not all Hindus are vegetarian. Only about 40 percent are, so the demand for meat exists in most of the country. But vegetarianism is pervasive in Panna Devi's home state of Rajasthan. Most families here drink goat milk daily but shun goat meat.
The market for goats is strong in surrounding regions, especially among Muslims who celebrate the holiday of Eid with feasting that often includes goat meat. Heifer-supported self-help groups in Rajasthan are tapping into this market and routinely sell their goats to buyers who transport them to the United Arab Emirates and other Middle Eastern countries.