By Ragan Sutterfield, World Ark contributor
In Heifer's projects around the world, it's actually the tiniest organisms that help families move toward health.
Your skin is crawling. Don't feel it? The organisms there, the menagerie of microbes that call your body home, are measured in microns. They are beyond the scope of your nerve ends, as native as your own cells, and yet they are ever present, working in symbiosis to make your skin healthy. Inside there are even more, fl ora and fauna, plant and animal both. Your lungs host fungi necessary to your respiration; your intestines are a chattering mass of bacteria and viruses and all manner of the microscopic life. When they are in balance, a teeming healthy ecosystem, they enable you to live a healthy life. They are part of "the hidden half of nature."
This hidden world is as vital and varied as the trees and grasses, birds and mammals and reptiles we think of as life on Earth. For good health and good food, they are necessary partners even if we often ignore or are ignorant of their presence.
In a typical Heifer project site, we may have goats and a kitchen garden, composting piles and a biogas stove, all key elements to enabling a family to move beyond hunger. Yet none of these elements would work without billions of hidden partners. So let's give these microbes their due. For insight into the invisible world of microbes, we turned to an expert husband-wife team. David Montgomery is a geologist at the University of Washington and author of the new book Growing a Revolution: Bringing Our Soil Back to Life. Biologist Anne Biklé co-authored with her husband The Hidden Half of Nature. Together they helped us gain insight into the wonderful, hidden world that science is only now beginning to understand.
Compost Pile
In a compost pile, nitrogen sources such as vegetable scraps and manure mix with carbon sources such as dried leaves, woodchips and straw. Together these carbohydrate-rich materials provide a feast for bacteria. Turning a compost pile encourages varieties of aerobic bacteria to quickly break organic matter into bioavailable materials, which are components that plant roots can soak up as nutrients.
Garden
In all natural systems, organic matter falls to the ground and decomposes to become food for plants. "Organic matter is carbohydrate-based, and that is food for someone," Biklé said. "Those microbes end up pooping out what they don't digest, and that becomes a meal for someone else." A mulch layer in a garden helps to feed the various microorganisms that then feed plants the nutrients they need.
There is a whole web of life in the soil, from arthropods that shred organic matter into smaller pieces to the mycorrhizal fungi that digest carbon. Bacteria do everything from bringing nutrients to soil roots to emitting electrochemical pulses that draw plant roots deeper into the soil. Predatory nematodes and protozoa eat bacteria and then metabolize them into more food for plants. "The ecosystem below ground is every bit as complex as what is happening above ground," Montgomery said.
Digging or tilling in the garden is like a tornado coming through and ripping apart a city. Instead, gardeners are advised to mulch heavily rather than tilling. When there is a strong community of soil life with ample organic matter, the carbon structure of the soil becomes loose, more porous and more fertile.
People
From the moment we are born, the human body acquires the microbes that will give it healthy life. When a mother nurses her child she is giving her child both microbes and milk. A newborn baby doesn't so much live off the milk of her mother as she does the metabolites of the microbes that digest the milk. As Anne Biklé puts it, "Most moms wouldn't want to hear it, but really breast milk is feeding lactobacilli, and babies are living off of microbial poo." The gut is the place where the majority of the body's bacteria live. The majority live in large intestines, but microbes are involved throughout digestion. Biklé and Montgomery say that we should think of our gut as the soil of our body: "Everything happening in that human soil is affecting everything in our bodies." It is from the gut that our life is nourished, and microbes are the key processors and delivery agents for that nourishment. Scientists are only beginning to understand all of the diverse functions of these bacteria, but it is becoming clear that they even affect our mental health. "Gut biota directly and indirectly make serotonin, which then travels to the brain," Biklé said. She likens serotonin to the gas in the engine of a car. It is the primary chemical that enables brain processes to work properly. For human and soil health, Biklé and Montgomery recommend fi brous organic matter. "When it comes to the microbiome, mulch your soil inside and out."
Biogas
While compost piles make use of primarily aerobic bacteria (organisms needing oxygen for respiration), biogas units are powered by anaerobic bacteria. Many of these bacteria are "methanogenic," which means that as a byproduct of their digestion they release methane gas. Swampy areas are often fi lled with anaerobic bacteria working beneath the mud to digest plant material. That is why methane is often called "swamp gas."
Some Heifer project participants tap into the magic of anaerobic bacteria by using livestock manure to produce biogas. The anaerobic fermentation of the manure produces a gas that can power clean-burning cookstoves and lightbulbs.
Livestock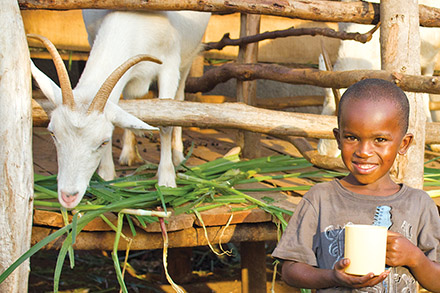 Ruminant animals like goats have four chambers in their stomachs that allow them to break down vegetable matter the human gut is ill-equipped to process. Like humans, goats are aided in their digestion by a host of microbes. When it comes to microbes, function is more important than individual species since bacteria can swap genes with one another and quickly become new varieties when the situation demands it. In a study of goat rumens, scientists isolated 44 different varieties of bacteria that aid goats in fermenting and breaking down organic matter.
Goats are helpful in a farm system not only for their ability to turn plant matter into meat and milk for human use, but also for their manure. "Ruminants are accelerators of the cycle of breaking down organic matter for the soil," Montgomery explained. Goat manure readily becomes food for plants, nurturing them more quickly than the longer processes of decomposition that normally feed soil. In a way, a goat is like a walking composter.