By Jason Woods, World Ark senior editor
Photos by Omar Havana
Cambodian women are breaking free of strictly-defined gender roles thanks to Heifer training, which also takes aim at domestic violence and human trafficking.
SVAY THOM, Cambodia — For as long as she can remember, Ou Kongkea's parents worried about having a daughter. "My parents tried to explain to me not
to do anything crazy because we would lose all our dignity," Ou Kongkea said.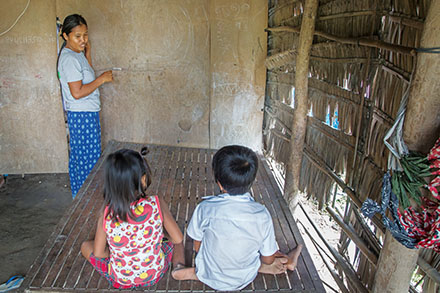 In traditional Khmer culture, which permeates Cambodian life, a woman's reputation influences not only her own social status, but that of her husband, father and sons as well. That reputation hinges largely on how well a woman can live up to the standards laid out in the Chbab Srey, a traditional poem written in the 19th century. Literally the "code of conduct for women," the Chbab Srey takes the form of a queen advising her daughter on the ideals of womanhood. Women should be demure and obedient, letting men take charge, the queen counsels. "Don't walk so fast that your skirt makes a sound. Don't go on a walk to someone's house. Don't sit on the stairs in front of your house—people will think you're waiting on a boy. Don't speak loudly. Don't laugh loudly."
The Chbab Srey's powerful influence survived French colonization, Cambodian independence, the brutal reign of the Khmer Rouge and the subsequent reconstruction after two decades of war. Until 2007, every girl in grades 7 through 9 memorized the Chbab Srey as a part of school curriculum. Some schools, especially those in rural areas, still use the poem today.
Ou Kongkea dropped out of school after the 5th grade, but she was well aware of the Chbab Srey. Her parents wouldn't allow her to talk to boys, and she was rarely allowed to leave the house. The heavy burden of her family's reputation frightened Ou Kongkea so much that she retreated inward. When Ou Kongkea was 20 years old, her parents arranged a marriage and she moved in with her husband, but her story was still much the same. "I was scared to speak to anyone," she said. "When I went out in public, since I never had the chance to talk, I was afraid to speak or share ideas because they might be wrong."
In October 2012, Ou Kongkea joined a Heifer International Cambodia project that provided her family with piglets to raise and sell. Ou Kongkea's family made less than $100 a month before working with Heifer Cambodia. Now they're able to put $100 into savings each month after accounting for their expenses. But training changed Ou Kongkea's life just as much as the animal gifts. "In the trainings, people came together," she said. "I got the skills and knowledge, but also the friendship of the people in this community."
With Heifer Cambodia's assistance, project members formed a self-help group to move forward economically and as a community. Ou Kongkea's confidence grew at group trainings where she interacted freely with peers, examined gender roles and studied home gardening, improved animal management and business development. The group watched Ou Kongkea grow, and when the time came to choose group officials, she was elected treasurer, a position that requires a lot of trust. "I'm so proud the members believe in me," she said. "I feel like I can do something for people, especially for my members."
Now Ou Kongkea leaves her house regularly to attend trainings, meet with local government groups or sometimes just to check in on the neighbors. "What has changed is people acknowledge my capacity," Ou Kongkea said. "I am really very comfortable to speak out. When I talk, people listen to me."
Ou Kongkea's leadership extends to family life as well. "When I propose something, my husband listens to me and follows along. He says, 'You have good ideas.' And we do it. Now it seems like I'm leading the family."
Although she appreciates her own parents, Ou Kongkea would like to raise her children differently. "I plan to give them more freedom," she said. "I want them to be more educated and communicate more so they can have friends. I want them to have open minds by seeing other people, learning from the other people."
Now it seems like I'm leading the family.Ou Kongkea
Starting Conversations
With such oppressive rules about gender roles, it might not be surprising that many women in Cambodia are victims of domestic violence. A 2013 United Nations Development Programme report shows about a quarter of Cambodian women ages 18-49 said they had been a victim of domestic violence.
A common saying in the country is "plates in a basket will rattle," meaning that when people share a home, conflicts will happen. The phrase is often used to excuse a husband's violence against his wife. Cultural norms, as outlined in the Chbab Srey, teach women to keep silent about domestic violence.
In a 2014 study from British geographer Katherine Brickell, 75 percent of women and 55 percent of men said wives should keep quiet about domestic abuse to keep the family together. In the unlikely event violence is reported to local authorities, there will probably be no significant repercussions.
In early 2013, Soy Phe and his wife, Houl Kimsrean, joined a Heifer Cambodia project. Eventually, they earned enough money from their fledgling swine operation to build a new house and pay for books and school fees for their five children, who all want to be teachers or police officers. But the trainings are what sparked something in Soy Phe.
"Before, I only thought about myself, my family," he said. "I never thought about others. After learning (in the trainings), I know it's not just about us, but the whole community. We can't do (anything) without supporting each other."
The trainings also led Soy Phe to recalibrate his thoughts on the role of women in his village, Andong Chros. Soy Phe and Houl Kimsrean had never fought. And Soy Phe helped cook, clean and wash clothes—chores many Cambodian men would never consider. But Soy Phe grew up thinking of the Chbab Srey and traditional gender roles as mostly good things. After the project began, discussions in the trainings changed his mind. After Heifer formed a self-help group in the area, Soy volunteered to be a gender peer educator for the group.
Now, Soy Phe is a familiar face in Andong Chros. Nearly every day, he walks to a neighbor's house to talk purposefully for a half hour or so, mostly with other men. After pleasantries, the conversation sometimes touches on the best ways to raise livestock or grow vegetables. But the main theme is always the relationship between women and men in the community.
Before the project started, Soy Phe noticed signs of domestic abuse in the community fairly frequently. "Sometimes we would hear it, loud, from our house," he said. "You could hear the fighting and the shouting, cursing."
As a peer educator, Soy Phe discusses gender issues with self-help group members during meetings and home visits. His message is that domestic violence will destroy a family. "You know you have a happy family when the wife and husband are working together. We have to respect each other." Soy Phe also connects with police and local authorities regularly to make sure everyone in the community remains vigilant for the signs of domestic abuse.
The approach seems to be working. A few years ago, Soy Phe estimates that domestic violence was common for 20-30 percent of families in the community. Now he thinks the number is close to 1 percent. The early success is encouraging, and Soy Phe is motivated to continue the volunteer work. "I see a better future for my community," he said.
Cloth and Gold
One of the most repeated messages in Cambodia is "Men are gold; women are white cloth." Gold can't be tarnished by dirt. But if the cloth gets dirty, it's ruined. It will never be as clean again, no matter how many times it's washed. The directive is that a woman is expected to be a virgin before marriage. If she isn't, no matter the reason, she will be thought of as worthless in the eyes of her peers for the rest of her life.
Men are not held to the same standard. The Chbab Srey tells wives that if your husband takes a mistress, let him wander where he wants, and he will return to you. If a man does choose to wander, he has a thriving sex industry at his disposal. Although the sex trade is illegal, it's easily accessible in bars and karaoke clubs, especially in urban areas. This is due to, among other factors, a lack of law enforcement, a clientele with a large amount of political clout and a lack of respect for women.
National Public Radio documentarians estimated that 40,000 women work in the sex trade in Cambodia. Some women feel like it's the only way to escape the cycle of poverty or the only viable economic option after sexual assault and subsequent ostracism. Other women, or girls, are tricked into the sex trade. Some Cambodian men believe that having sex with a virgin provides youthfulness and vigor, so girls in their teens are usually the target of the scam. A common tactic is for recruiters to come to poor areas of the country offering young women jobs in restaurants and hotels. Parents, too trusting or desperate to believe a better life awaits their children, agree to let their daughters go.
You know you have a happy family when the wife and husband are working together. We have to respect each other.Soy Phe
"It's very easy to pursue, especially in communities that don't have access to information about all these cases," said Keang Keo, director of Heifer Cambodia. "So we try to educate the people."
Heifer Cambodia works with parents, providing information and resources on the prevention of human trafficking. The topic is discussed during regular Heifer meetings, but staff also hold a regular community forum on trafficking prevention for the entire community. In addition to exposing common deceits, Heifer Cambodia staff connect parents to both governmental and nongovernmental organizations that help check the veracity of job offers and provide economic alternatives.
"We cannot say, no, you have to get your children back, or you're not to send them to work anywhere," Keang Keo said. "But we say, if you have an opportunity at home, she will be better at home."