By Jason Woods, World Ark senior editor
Photos by Phil Davis
A day's work is all the harder after shivering through a cold night without a cozy bed or warm blankets. Heifer project participants in Zambia's Copperbelt province are sleeping much more soundly now that they're able to turn their dairy cows and hard work into the necessities of a more comfortable life.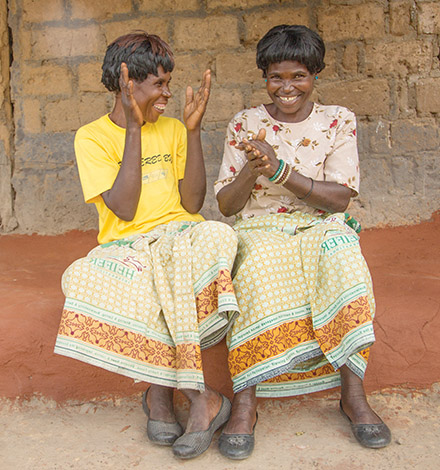 KAMISENGA, Zambia — Just outside the brick walls of her home, Omeli Kaposo Tabulo and her friend Belina Musha send bouts of laughter into a shockingly blue, cloudless sky. The two are reliving memories of their lives before Heifer International Zambia, before the women became dairy farmers with a healthy income.
"We used to get grass... then we would put it in a sack for us just to make a mattress," Tabulo said. "No pillow, you use your arm for a pillow." If you wanted your mattress to look like a proper bed, Musha added, you would use tree branches as bedposts.
A freshly made mattress is pretty soft, but over time, it will eventually become lopsided as the grass breaks up, which is an added challenge when sharing a bed with a spouse and maybe even a young child.
"You can't sleep, you wake up tired," Musha said. "Then you have to make another one. It would take months because the grass needs to dry out."
The hearty laughing is a reminder that cold, sleepless nights are behind them. "It's funny, we can laugh about it," Tabulo said. "But we never used to laugh about it. That was real life."
Other memories still aren't very funny. Tabulo's family could only afford one blanket, which was difficult for her seven children to share. Winter nights get cold in the Copperbelt, where Tabulo lives, with temperatures sometimes dipping into the upper 30s Fahrenheit. Instead of sleeping, Tabulo spent her nights checking on her children to make sure they were covered by the blanket and her chitenge, or traditional wraparound skirt.
"My children used to get sick because of the cold," Tabulo said. Sometimes they would miss school, and coughing was an all too common sound around the house.
Additionally, the family never had enough food. With hand hoes as their only tools, they could never grow enough maize and vegetables. Throughout the community of Kamisenga, other families shared stories of similar struggles. Because the closest school was far away, few children from the village would make the long daily walk. With the closest hospital in the distant town of Kitwe, maternal deaths were common, leaving behind many orphaned children.
"We had a lot of problems," Tabulo said. "We saw that, working on your own, you can't manage to solve some problems. We thought working as a group would help."
The Waiting Game
In 2007, Tabulo was one of 20 women in Kamisenga who joined forces. The group started by convincing retired teachers, who had returned to the community, to teach their children. They began working in nearby communities to earn money, and they teamed up to raise vegetables and chickens together. They named themselves the Kamisenga Women's Empowerment group and pooled money to provide small loans when a member needed one.
After a year of working together, some members of the Kamisenga group took notice of another women's group in the village of Kampelembe, located on the road to Kitwe. As it turns out, that group had received animals from Heifer Zambia, and the benefits were apparent.
"We went there; we wanted to join them," Tabulo said. But the group already had a waiting list of 40 people, plus the large distance between the communities would have created logistical difficulties. Undeterred, the women of Kamisenga contacted Heifer Zambia directly, through a project application.
"We were told to wait," Tabulo said. "They said, if we have something, we will definitely come visit you."
At the time, the number of groups that wanted to join Heifer Zambia had increased exponentially, and the country program didn't have the resources to immediately assist them all. The Kamisenga group waited almost two years, sometimes following up in person at the Heifer office. But after those two years, Heifer animals did come to the community.
Before the process even started, Heifer Zambia conducted a screening to make sure Kamisenga had access to water, as well as commitment from all the members of the families. Training on livestock management, construction of animal shelters, hygiene and record keeping followed. Then, at last, each woman in the Kamisenga group received a cow for her family. Tabulo named her cow Hope.
Tabulo sold Hope's milk for the first time in 2012, earning 800 kwacha ($74). "I had never held 800 kwacha in my hands, ever since I was born," she said.
Monopoly Money
Every morning during the week, Tabulo bikes the milk she gets from Hope to a pickup point an hour away. From there, cooling trucks take it to the Fisenge Dairy Cooperative Union, a group of 13 cooperatives supported by Heifer.
The union itself started with Heifer's help in 2005 as a way for small-scale farmers to access a wider market. In Zambia, as it turns out, the wider market is comprised of one company: Parmalat, an Italian multinational corporation.
Most small-scale farmers in Zambia sell locally, to their neighbors or in small markets. Because of the volume of milk collected by Fisenge, Parmalat agreed to buy and collect their milk during the week. "The farmer brings the milk here," said Ronica Munahikanzele, treasurer of the Fisenge board, who have also benefited from Heifer animals.
"How? It doesn't matter. Parmalat buys from here. In short, we are the market here."
The price for local sales is often more than the 3.50 kwacha per liter Parmalat pays, but selling as a part of the cooperative union has its benefits. The first is that the income is steady every month; locally, you never know how much, or even if you will sell your milk on a daily basis. Member farmers actually receive 3.20 kwacha per liter, with the remainder going to Fisenge.
"The difference is for operation of the center," Munahikanzele said. "We are able to provide access to other service providers, loans, bicycles, trainings, etc."
Once Parmalat brings the milk to their facilities, they turn it into powdered milk, cheese, yogurt and other products that earn higher prices. After packaging, the milk goes for 7.50 kwacha per liter. The arrangement has led to prosperity for the families, cooperatives and the union. Fisenge is growing so fast that sometimes it is hard to keep up. In the beginning, with only five cooperatives, Fisenge received 500 liters of milk every other day. Now, Fisenge's facility receives 3,500 liters daily from its 400 member families.
Since Fisenge is producing seven times what they used to, Parmalat can't always collect all the milk. But Fisenge still pays farmers for the milk.
"Sometimes, you'll find three or four times a month, they don't come," said Ellen Phiri, Fisenge board chair. "More than 10,000 liters goes to waste. So that is our major challenge."
To solve this problem and generate more revenue, Phiri said Fisenge is planning to start packaging the milk and selling it themselves by purchasing machinery to package the milk in 500 milliliter sachets.
"If we are successful, we have a plan or a vision to sell to schools," Phiri said. She added that most parents would be happy to buy milk for their children instead of sugary soft drinks with lots of additives.
The first step is buying a barcode machine, then completing the paperwork to create the code for their milk cartons. "It's a process, but once you have a barcode, you can sell your product anywhere," said Phiri.
Fisenge also has plans for solar panels to help generate power for the eight hours a day electricity isn't available in the area. They would also like to add more cooling facilities and purchase at least a couple of computers to improve record keeping. "Fisenge is growing so fast," Munahikanzele said.
CELEBRATING A NEW LIFE
As Fisenge grows stronger, so do the farmers. After receiving that first milk payment, Tabulo and her friend Musha celebrated during a visit into town. Normally, the pair would dissolve a couple of packs of sugar in a bottle of water to drink. "Then we would find somewhere they are making homemade scones, then sit in a tree somewhere, and that would be our lunch," she said. "So after we got that money, we went for the first time in a restaurant."
Tabulo and Musha tried Cokes and doughnuts for the first time before buying food for their families. "I also bought a broiler chicken. I wanted my children to celebrate. It was a party, we made a party. It was a way of celebrating," Tabulo said. "This is how Heifer is turning my life."
The Kamisenga group now counts 120 women as members. All of them have received a heifer, half through Passing on the Gift. And life in the community has improved as a whole. Maternal deaths are not a problem anymore because women in the Kamisenga group can afford cell phones.
"Even if a person is not a member of our group, we contribute money and call a taxi to get that person to the hospital," Tabulo said. "So things have really changed."
Tabulo is planning to build a new house next year and is now employing help in the fields during harvest time. She no longer has problems paying the school fees for her seven children, and she hopes to send them to college eventually. "Even if I died today, I'm sure that my children will be OK," Tabulo said. "They'll have a good life, and I'll leave the animals with them."
No longer does anyone in Tabulo's family go without sleep because of the cold or discomfort. "We've bought big beds and mattresses," Tabulo said. "You don't have to be close to your neighbor, because it's warm."
Every family member now has a blanket so warm that Tabulo's husband jokes that they can't even tell when it's winter time anymore.
"And we sleep," Tabulo said. "And we sleep like a baby."