By Austin Bailey, World Ark managing editor
Photos by Bryan Clifton, World Ark contributor

If you want to be a farmer, where do you start? Heifer is stepping in to help farmers in Arkansas learn the basics, secure start-up funds and build the networks they need to thrive.

HARRIET, Ark. — A 5 a.m. milking may seem painfully early to you, but in fact, it falls about an hour later than Ebony the cow prefers. She would rather start the day by 4, an opinion she makes clear every morning by stationing herself in front of the house around that time to wait for her still-sleeping keepers. But everyone has to make allowances with a new baby around, and surely Ebony will adjust.


The minor schedule tweak is the only apparent hardship Ebony endures in her otherwise idyllic routine. A sleek 900-pound Holstein/Jersey mix, Ebony spends most of her day roaming the farm in the Ozark foothills, nibbling on grass as her brushed-to-gloss coat glimmers in the sunshine. Her owner, chicken farmer extraordinaire Kerry Harrington, smothers Ebony with kisses and compliments at every opportunity.

Harrington bought Ebony with the proceeds from her first batch of broiler chickens, which she raised last summer after joining a livestock cooperative organized by Heifer USA to help beginning farmers break into the business. Her chicken operation is going strong, and she has plans to soon add goats to the mix. Tending the animals on her slice of land, working full-time and raising 1-year-old Trisha Rose lands Harrington, 25, in bed by 8 p.m. each night. That's just fine by her. "I've never worked more in my life, but I've never been happier."

The work begins before sunup when Harrington and her husband, Josh Jiminez, sneak out the front door of their tumbledown farmhouse, careful not to wake the baby still snuggled in her crib. Ebony is usually waiting in the front yard with Bam-Bam, a wooly Pyrenees/chow that has free reign, and Brutus, the blue-eyed mastiff/wolf mix whose penchant for gobbling chickens landed him on perpetual lockup.

Wearing headlamps and wielding flashlights, the couple coaxes Ebony to the milking shed with sweet talk and plenty of rubs to snout and neck. "Did you ever think, growing up, that you'd love the smell of a sweaty cow?" Harrington muses as she nuzzles Ebony, nose to nose.


Harrington certainly didn't. Born in Arkansas but raised in a Chicago suburb from the age of 5, farming wasn't part of her childhood. Hard work was. Of the six children in the family, Kerry Harrington was the one her dad called on to help with countless home remodels. "Being a hard worker has always been glorified to me," Harrington explained.

She planned to pursue a career in medicine when she first enrolled at the University of Central Arkansas, but was put off by what she felt was too great of an emphasis on cures, rather than prevention. "I realized I didn't agree with mainstream medicine," she said. "Nutrition is the root of a lot of health problems."

Then a summer job on a farm after her sophomore year illuminated a different path. Working at Falling Sky Farms, a grass-based livestock farm in Marshall, Arkansas, got her considering a career in farming. One of her primary duties was chicken processing, a chore not for the squeamish. But farmers Cody Hopkins and Andrea Todt were such good bosses that it made up for any drawbacks. "I realized after working for Cody and Andrea, this is how animals are supposed to be raised," Harrington said. The idea of growing food naturally, selling it locally and joining a movement to improve the health of both people and economies through small-scale farming appealed to her. Also appealing was Josh Jiminez, whom she met at Falling Sky and would marry before her college graduation in May 2012.
I've never worked harder in my life, but I've never been happier."Farmer Kerry Harrington
Coming Home
The land and farmhouse Harrington and Jiminez rent, which they've dubbed The Other Side Farm, sits more than a mile off the nearest paved road, therefore meeting the couple's requirement for quiet and privacy. The move to the farm came in March of 2013, after the noise and hustle drove them from their duplex in Leslie, Arkansas, population 441.


Harrington still works full-time at Falling Sky, caring for Ebony and her pastured chickens before and after her shifts. Jiminez works full-time making wooden toys, tackling his own farm chores early in the morning, then again in the evenings. Harrington loves working at Falling Sky and wouldn't mind doing it forever, although her nascent chicken farming operation is growing and demanding more time. Harrington recently brought another cow, Lexus, onto the farm to keep Ebony company. Her daydreams of building a dedicated milking barn with room for processing and refrigeration, and even of eventually owning her own 400-acre dairy farm, are looking like real possibilities.

For now she and Jiminez operate The Other Side Farm on a smaller scale, selling a dozen eggs a week to family members and gallons of milk in glass jars to her neighbors. Ebony and Lexus placidly submit each morning to being hooked up to a gleaming milking machine that looks like a stainless steel octopus. Harrington tucks her waist-length blonde Heidi braids into the back of her T-shirt as she strains the milk and divides it among gallon-sized jars. Jiminez keeps his long hair tucked in a baseball cap as he sterilizes the milking equipment. Customers will come in the evening to buy their farm-fresh milk, which Harrington sells for $5 per gallon. She realizes her prices are on the low side, but Searcy County, where she lives, is a poor area, and not many people can afford to pay a lot. "I would rather have my customers be healthy than not have them as my customers," she said.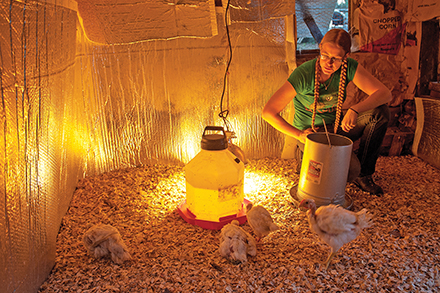 On weekends when no one is racing off to a day job, the entire family joins forces for what Jiminez calls "quality family fun time." Trisha Rose rides along uncomplaining in her backpack carrier as her dad feeds the laying hens. Strong as superheroes from their never-ending workload, Jiminez and Harrington haul leaden barrels of water and feed for the pastured birds without complaint. The broilers they're tending pass their days in "chicken tractors," roomy screen cages with no fl oors where the birds enjoy fresh air, sunshine and all the bugs and grubs they can find. Harrington and Jiminez move the tractors daily by sliding them along the ground, giving the chickens access to fresh, clean patches of ground and making sure their droppings are evenly dispersed over the pasture rather than being concentrated in one spot. It takes a couple of months to raise a broiler from hatch to a weight that's marketable, and fattening the chickens as much as possible is the goal.

Harrington proved herself exceptionally skilled at this from the start. Her first batch of chickens, which she took on in June 2014, set a record as the plumpest brood grown by any of the dozen co-op members. She suspects that moving her chickens to fresh patches of grass twice a day, rather than the once-daily norm, has something to do with it. As a member of the co-op, she sells her birds for $1.50 less per pound than she could selling retail, but she saves herself the time and expense of marketing and delivering them herself.
Heifer At Home
Working with groups of farmers who work together is Heifer's strategy the world over, and Heifer's approach in Arkansas is no diff erent. Heifer helped launch the Grass Roots Farmer's Cooperative in 2014. Kerry Harrington and nine other beginner farmers took advantage of the co-op's loans, training, mentorship and other perks in that first year to get themselves started raising chickens, turkeys, pigs and cows for profi t. This inaugural class of farmers relied on the co-op for $25,000 in loans to cover start-up costs, and depended on the co-op to handle transport, processing and marketing of their goods. With access to a comprehensive suite of services to support their work, farmers were free to focus on their animals.
The Grass Roots Farmers' Cooperative will grow to support five more farmers in 2015, and available loan funds will grow to $160,000. Also new this year is Herds to Home, a meat delivery service expected to generate 40 percent of participating farmers' sales. To sign up for your meat share, go to www.grassrootscoop.com.
Harrington joined the Heifer USA co-op and became a chicken farmer after learning about the project from Hopkins and Todt, who serve as mentor farmers. The goal of Heifer's programs in Arkansas and Appalachia is to minimize barriers for people entering farming as a profession, so Heifer provides capital and organizational support to farmers, who can keep their focus on raising animals and caring for the land. The Heifer-supported co-op provides legal and accounting advice, as well as access to a revolving loan fund that allows farmers to buy fencing, feed and other necessities.

"All they have to do is take care of the animals and the farm," explained Ben Maddox, social enterprise support specialist. Heifer and the cooperative members partner with an abattoir that gives a discounted processing fee after Heifer helped offset the cost of updates and an expansion the butcher needed.


Having someone else handle the marketing and distribution end of farming works out well for Harrington, who prefers to stick close to home so she can focus on her family and their animals. She's ramping up her chicken business, from 1,200 in 2014 to 5,000 this year. She plans to be raising 12,000 chickens per year by 2018. The expansion will require an equipment upgrade. Her birds will move from chicken tractors to the much larger prairie schooners, which can house 500 birds at a time but require trucks and wenches rather than just muscle power to move.

Still, the grass is the thing, and Harrington is dedicated to grassbased livestock farming no matter the scale. Grass is the source of her farm's health and success, and of her own Zen, too.

"When I lived in the suburbs, I really enjoyed mowing the lawn, making straight lines," she said. "Now I get to make straight lines with my chicken tractor."