By Brooke Edwards, World Ark contributor
Photos by Olivier Asselin

How does Heifer International decide where to work? Perhaps more importantly, how do we decide when the work is done? After more than 40 years of work in Cameroon, Heifer International is looking northward to the dry, hungry Sahel.

NSEH, Cameroon — At the end of many, many miles of red clay roads peopled with women and children carrying the day's harvest of corn and cabbage to market, a large crowd gathers. The order of the day is cutting the ribbon on three newly constructed and fully furnished classrooms at the Government Technical College Nseh.

Student choirs sing as Heifer International Africa Vice President Elizabeth Bintliff, Heifer Cameroon Country Director Humphrey Taboh, other Heifer International staff, government officials and His Royal Majesty the Fon (traditional ruler) of Nseh take their places. The new classrooms, which offer space for 82 students to learn, are a gift from Heifer project participants ready to share the fruits of their success.

In Nseh, Heifer Cameroon gave sheep to farming families in 2005 in an effort to improve nutrition and income. With the sheep and accompanying training, families increased productivity on their farms. As time went on, the families generated income from the sales of livestock and livestock products, crops and manure. Traditionally, families that receive gifts from Heifer eventually share the first female offspring from their Heifer-given livestock with another family in need. After completing this commitment, the families decided to keep giving by paying for new classrooms.

His Royal Majesty the Fon of Nseh said, "To the farmers, I thank you very much for your achievement. It is because of you that we have this mighty gift of three classrooms. Madame Vice President of Heifer, I want to assure you that Heifer here has fallen on fertile ground. The animals you gave them have started yielding good fruits, and the fruits will continue, for their children will not remain illiterate. We all know that education is the only legacy that no one inherits."


Micheline Matang checks on her pigs in their pen.

Credit: Olivier Asselin, Heifer International 1 of 6

Heifer Africa Area Program Vice President Elizabeth Bintliff (center) dances with Heifer staff and traditional dancers outside the Fon of Nseh's palace.

Credit: Olivier Asselin, Heifer International 2 of 6

People gather in Nseh for a Passing On the Gift ceremony.

Credit: Olivier Asselin, Heifer International 3 of 6

Pandop Olga, 16 (center), and her brothers Faove Ninnone, 12 (left), and Kendieng Desmond, 10, do homework.

Credit: Olivier Asselin, Heifer International 4 of 6

Marthe Nombop (center) and her daughters Supuwa Binnette, 18 (left), and Pandop Olga, 16, head out to work in their cornfield.

Credit: Olivier Asselin, Heifer International 5 of 6

Marthe Nombop fills her chickens' water dispensers.

Credit: Olivier Asselin, Heifer International 6 of 6
During four decades of work, Heifer Cameroon has helped more than 50,000 farming families.



Much has changed in Cameroon since Heifer began working there in 1974. At that time, most of the eggs and poultry consumed in the country were imported. Farmers used harmful slashand- burn practices in an effort to improve crop yields. But in recent decades Cameroon's farmers increased productivity signifi cantly, feeding a blooming dairy industry and providing enough eggs and poultry for the entire country. In fact, Cameroon is the breadbasket of Central and Western Africa, exporting food crops to the neighboring countries of Chad, Equatorial Guinea and Gabon.
In 40 years, we have been part of a movement of change among smallholder farming within the country."Elizabeth Bintliff, Vice President of Heifer's Africa Programs
Driving through most of Cameroon is like driving through a lush, emerald food rainforest. Corn, cabbage, carrots and potatoes grow in large fields, on the sides of hills and steep mountains, in tiny yards and along narrow pathways. At nearly every road toll, someone is selling the day's harvest. Go far enough north, though, and it is a different picture altogether.
A History of Change
Heifer International began work in Cameroon in 1974, partnering with the Presbyterian Church to ship Jersey dairy cattle from the United States to improve the country's dairy industry. In 1981 Heifer shifted its focus to working with farmers, eventually adding goats, snails and cane rats to its list of offerings. During four decades of work, Heifer Cameroon helped more than 50,000 farming families.
At the same time Heifer decided to close the Cameroon country program office, Heifer began exploring ways to work in the Sahel, a dry, arid, poor and vulnerable zone in West Africa. The Sahel runs through northern Cameroon, which stands in stark contrast to the rest of the country in terms of poverty and hunger, lagging behind on both counts.

"In 40 years we have been part of a movement of change among smallholder farming within the country," said Bintliff, who is not only the vice president of Heifer's Africa programs but also a native of Cameroon. "When we talk about sustainability and the idea that Heifer is closing the Cameroon country office, we really talk about what happens after the program ends. Passing on the Gift is central to that endeavor: making sure that communities and families continue the practices that were taught by the organization and carry them on in different communities and with other families. When I think about farmers like Martin Forche, who can say to us, without any reservation, that when we come back to his home in five years, he will be a millionaire—that's why I can say that Heifer's work is done. We essentially have created models farmers can replicate and take on well after we are gone."

Martin Forche and his wife, Gladys Forche, began working with Heifer in 2007. Their crop yields were meager, and Martin's carpentry work never brought in more than $100 a month to support their eight children. The Forches received a heifer in 2009. With help from Heifer Cameroon, they built a stable for their livestock and a biogas unit.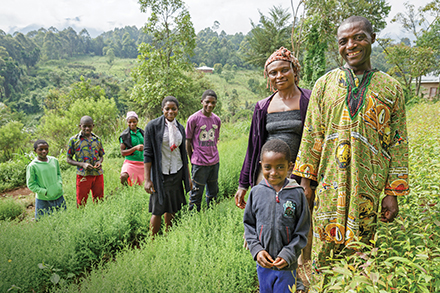 Today, the Forche farm is thriving. Their cow has had three calves, allowing the family to meet their Passing on the Gift requirement and sell two calves. Slurry, a rich fertilizer from their biogas unit, improved the quality of the soil and increased their crop yields nearly six times over. Where they once earned $77 from their corn harvest, they now bring in $449. In milk sales, they earn $135 a month. Their cow is again pregnant, and they're hoping to add another heifer to their herd; once they're milking two cows, Martin says he intends to buy another plot of land on which to raise a bull.

The Forches' plans don't stop there, however. Behind the house are their 30 pigs. They can sell a piglet for $48 and a sow for $290. When the time is right, Martin Forche will cash in on these living piggy banks to purchase a taxi and hire a driver. He estimates this new business endeavor could bring in $600 a month. The Forche family is a clear success story, one Heifer hopes to see replicated by families throughout the region.

"If you look at Cameroon in terms of poverty and the Millennium Development Goals, the Far North is least developed," Heifer Cameroon Country Director Humphrey Taboh said. "Our mandate is to fight poverty, so our focus logically must shift. We are more strategically leveraging our resources in the Sahel."