By Jason Woods, World Ark senior editor
Photos by Dave Anderson

SOUTHERN HIGHLANDS, Tanzania —A thin, pink notebook rests on the living room coffee table of Rahel Mhema and her husband, Steven Kipagatie, at their home in Ikando village. Malengo, "goals" in Swahili, is neatly written in capital letters at the top of the book's cover.

Shortly after receiving a dairy cow from Heifer International Tanzania in 2010, the couple sat down to share their long-term dreams together, and they decided it was a good idea to write them down. Reading from the book, Kipagatie listed their goals: "Educate our children through high school and on to university; establish an orchard; buy more land for commercial timber; plant timber trees; buy a motorcycle."

Five years later, Mhema, 40, and Kipagatie, 43, have achieved all of their goals and then some—they also started beekeeping, added goats and another cow, and have enough money to hire help for their farm.

When the two married 19 years ago, setting goals like these seemed futile. Mhema supported both of them by sorting tea in a factory, where she might work a week with only a four-hour break every 24 hours or go two or three days without sleep. After seven years of this grueling work, Mhema left the factory, and the couple tried their hand at farming. But the farm never paid off by itself. Fortunately, the cow did.

It's the classic Heifer story—and literally, a heifer story—the gift of a cow and training leads to a life that once seemed out of reach for a family of farmers. Milk money provides for the basics and allows Mhema and Kipagatie to invest in other profitable ventures while also saving for the future. The cow's manure increases the quality and quantity of their crops. And all of that leads to checking off each of the aspirations listed in the pink malengo notebook.

But now Mhema and Kipagatie have a new goal. Through Heifer's East Africa Dairy Development (EADD) program, Mhema and Kipagatie's next step is to become entrepreneurs on a larger scale.
A Heavy Heart No More
Guli Siwale, a 57-year-old coffee farmer in Shiwinga village, about 150 miles west of Ikando, thanks God for giving her the strength to survive this long. Soon, through a partnership between Heifer Tanzania and the Starbucks Foundation, Siwale expects the gift of a heifer to steady what has been a tumultuous life.

In 2005, Siwale lost her husband, Leyton, to AIDS. A few years ago, AIDS also took her only daughter, Ester, at the age of 30. Siwale lost a lot of weight due to her grief, and it still shows on her slender frame.

"This was a difficult time for me," Siwale said. "Words cannot express what I went through. (Ester and I) were very, very close."

Siwale was left to provide for three grandchildren in the wake of her daughter's death, and that is a daily struggle. Shortly before her husband died, Siwale found out she, too, was HIV-positive. Although governmentprovided pills greatly improve her health, she is sick more often than she should be, and that makes it more diffi cult to work her quarter acre of land, where she grows beans and maize for food and coffee for sale. She also has a couple of chickens and a pig she hopes to sell eventually, but the sum of all her efforts often isn't enough, especially since her coffee plants are plagued by pests and inconsistent rains.

"On an average day, I need at least 5,000 shillings ($2.46)," Siwale said. "But some days go by that I don't even have 100 shillings ($0.05) on me. There are so many basic needs I still cannot meet."

Thieves have also targeted Siwale lately. "They've come to my house twice," she said. "The first time, they came and they stole coff ee from my house. They've also come and taken beans that I've harvested. Once, they came and they beat me up."

But Siwale believes better days are ahead. After reporting the thefts, the crimes seem to have stopped. And soon, she will have a cow, materials for a cowshed and seeds for fodder from Heifer and Starbucks. The cow's manure should improve her coff ee crop, and the milk will help meet her family's nutritional needs. She can sell the surplus milk, which is in high demand in the area, for around 1,000 shillings ($0.45) a quart. Her long-term vision is setting up small businesses for her grandchildren.

The project is helping 5,000 small-scale coffee farmers like Siwale not only increase their income but also gain access to clean water and renewable energy sources.

Siwale said the happiest moment of her life was when she was selected for the project.

"My heart no longer feels heavy," she said.
Rising to the Occasion
With a heifer and training, Siwale envisions her family's situation changing dramatically, like it did for Mhema and Kipagatie. The cow from the original Heifer project gave them food and money for the basics, and they began saving some money by selling surplus milk. But ultimately, on their own, they were limited in how much surplus they could sell on a daily basis.

In Tanzania, nearly 530 million gallons of milk are produced annually, but only 2.5 percent of that ever reaches a formal market because most dairy farmers don't have enough volume to sell to milk factories, and even if they did, they have no way to get their milk there. The vast majority of the milk, about 90 percent, stays at home, feeding both families and calves. When dairy farmers do sell their milk, it is usually informally and in small amounts in their own communities, which accounts for 7.5 percent of milk produced annually.

If someone wants to buy fresh, local milk in Tanzania — and plenty of people do, with national demand growing yearly—it can be a challenge, especially in rural areas. In Siwale's village, for example, people who want to buy milk usually have to pre-order, then bike or even walk three miles to another village. But with Tanzanian processing plants currently using 34 percent of their storage capacity, the milk market is ready to expand if supply can catch up to demand.
We used to farm for the sake of farming. Now we are learning how to do it more commercially. EADD is a yeast for development.Steven Kipagatie
Through the East Africa Dairy Development (EADD) program, which is funded largely by the Bill & Melinda Gates Foundation, Heifer and its partners are helping small-scale farmers fi ll the void in the Tanzanian dairy market. The project connects farmers like Mhema and Kipagatie who have extra milk to sell with companies that buy milk in bulk. The East Africa Dairy Development program starts where the original Heifer project left off , grouping family farmers into cooperatives and connecting them with companies that can sell the milk in more far-reaching markets. Small-scale farmers become part of a marketing chain, supplying fresh milk and reaping a good income in return.

"We used to farm for the sake of farming," Kipagatie said. "Now we are learning how to do it more commercially. EADD is a yeast for development."
Better Together
With the East Africa Dairy Development program, the first step is organizing farmers into groups, usually managed as cooperatives. As a group, farmers pool their milk to a volume large enough to sell to processing facilities, giving them more power to negotiate prices.
"We make decisions as a group, and we sell as a group," Kipagatie said. Camaraderie strengthens as farmers struggle and suceed together. Kipagatie added that the organization injects a friendly competitiveness to the mix, driving members to work harder. He also thinks people naturally want to come together. "If you drink, you don't drink alone," he said. "I come from a family where my mom would brew local beer. When my father wanted to drink, he wouldn't drink it at home, he would go to the bar."

For the next step, cooperative members create milk collection centers; some can hold more than 2,500 gallons of milk a day. To get the milk to the collection centers, farmer organizations will sometimes buy a truck that makes the rounds in the group's community, usually an area of 25 miles, picking up milk cans.

Mhema lives about a mile away from the collection center for her group, the Wawahanjo producer organization. So twice a day, she bikes down a dirt road, greeting neighbors as she passes, to drop off fresh milk. She enjoys the trip so much that she walks the route if time permits. When she arrives, group members measure the milk and test it to make sure it's fresh and of good quality. After milk from all the producers is collected, group members package it in milk cans and haul it to the main road to be picked up by the Njombe Milk Factory.

The Njombe Milk Factory is one of two large milk processors in Tanzania's Southern Highlands, and Heifer Tanzania and its partners have helped connect EADD dairy farmers to both. Njombe Milk Factory specializes in European style cheeses — about 660 pounds produced daily — that are marketed to urban expatriates, although it does sell some milk and a yogurt that is popular locally. The company was founded by an Italian NGO about a decade ago, but as of last year, the board of directors is now composed of farmers and other locals, further empowering milk producers in the Southern Highlands.
Milk collection centers that allow for deliveries to companies like the Njombe Milk Factory are the centerpieces of dairy production hubs that the East Africa Dairy Development program is helping farmers establish in their communities. These hubs are lucrative for more than just farmers: they also include businesses like feed stores, artificial insemination and breeding services, and financial lenders.

These fully formed economic engines will churn on long after Heifer's work is finished. Mhema and Kipagatie are new to the dairy development project, but they are seeing results from it and their previous work with Heifer. The tea factory where Mhema used to work paid her 9,000 shillings ($4) a month. Farming might have brought in an additional $46 per month. But now, adding in milk sales from their Heifer cow, the family earns up to 400,000 shillings ($184.20) per month.

As Siwale eagerly awaits her heifer, she is hopeful her journey will be similarly fruitful. When she looks to the future, she sees the project bringing success to her family, recompense for the hard work and pain they have endured. "I will be able to lead a life that other people are leading," she said.
...
Coffee & Cream
Heifer Tanzania and Starbucks Foundation are teaming up to improve the quality of life for coffee farmers in the country's Southern Highlands.
Project participants receive a cow and training to boost income and nutrition. The project also provides clean water and alternative energy sources like biogas, while also improving sanitation. The Starbucks Foundation donated $750,000 toward the Heifer project as a part of its Origin Community Grant program. The company is also investing in the Southern Highlands through its Starbucks Farmer Support Center, one of six worldwide.
"(At) Starbucks, we believe in quality coffee and a better life for the community," said Mtemi Miya, Farmer Support Center manager and agronomist.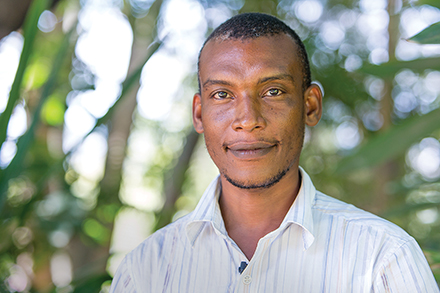 "We work in a community as a whole because we believe that improving the community in one way or another also improves coffee production and quality. And at the end, we get good quality coffee, and the people live a better life."
Miya and the Farmer Support Center help farmers lower production costs, increase yields and quality, and reduce pests and disease. "Heifer is one of the organizations that works very well with farmers," Miya said. "A cow, we believe, is a very good investment. We are looking forward to a long and continuous partnership with Heifer."