By Donna Stokes, World Ark managing editor
Illustrations by Coco Masuda

A vegan gastroenterologist and a bacon-loving, diabetic chef walk into a kitchen.
Stop me if you've heard this one. It's the start not of a joke, but of a game-changing evolution in how the medical community approaches human wellness and disease prevention.
"Medicine is at a turning point, and it's going to be such a tectonic shift that we're going to have to rethink everything we know," said Meenakshi Budhraja, a gastroenterologist keen on keeping her peers ahead of the curve.

In part, that means shifting medical interventions to the top of the proverbial cliff, she said, so we can rely less on the ambulances, hospitals and disease treatments now parked at the bottom of the cliff to heal us after we fall off. Medical practices of the future will be predictive, preventive, personalized and participatory, or what is being called P4 Medicine, Budhraja said. A first step toward that is changing unhealthy food habits.
Leading Causes of Death
Heart Disease
Cancer
Chronic Respiratory Diseases
Stroke
Accidents
Alzheimer's Disease
Diabetes
Kidney Disease
Influenza and Pneumonia
Suicide
Source: Centers for Disease Control and Prevention, preliminary data for 2011.
Eight of the 10 leading causes of premature death in the United States are profoundly influenced by what we eat, she said in a talk to physicians and their families at a recent "Healthy Food, Healthy Living" conference held at the University of Arkansas' Winthrop Rockefeller Institute.
Budhraja, who came up with the idea for the conference, was inspired to unite chefs and doctors in her community by the Culinary Institute of America and Harvard School of Public Health's "Healthy Kitchens, Healthy Lives" conference in Napa Valley, Calif., and after 30 years of odd answers to her medical history question, "Who cooks for you?"
"I get answers like 'Burger King, McDonald's, Rally's' … and sometimes 'my mother-in-law' or 'me,'" she said. "Today, it's very rare that people actually cook at home. About 80 percent of my patients have very limited cooking skills. That is why they are my patients."
Take a patient with heartburn, or acid reflux, she said. It's treated with something like Prilosec OTC. "When you follow up with the patient, they say, 'You are a great doctor, my heartburn is fixed, now I can eat everything I want.' Yet that's not resolving the problem. Instead, you've created a patient out of a person."
In the kitchen lab, Executive Chef Robert Hall of the Winthrop Rockefeller Institute welcomed physicians and their spouses as Jim Gaffigan's comedy routine on bacon played in the background.
"You wanna know how good bacon is? To improve other food, they wrap it in bacon. If it weren't for bacon, we wouldn't even know what a water chestnut is. 'Thank you, bacon. Sincerely, Water Chestnut III.' " (canned laughter)
The elective lab session included Hall's instruction in healthy meal preparation, a bonus for very busy physicians who also may not feel they have time to cook every night. Hall introduced himself to the group as a Type 2 diabetic and a person with intimate buy-in to a program that studies food as medicine. He said his instructions from his doctor consisted of the following:
"Eat better; be more active; take your medications; come back in three months."
To learn more about what "eat better" means, as a patient you can do a Google search on the diabetic menu, he said. "But the deeper you get in, the more confusing and contradictory the advice becomes," Hall said. "Eat this; don't eat that. It'll drive you crazy."
And for a chef, just knowing what to eat is not enough. There has to be some accounting for taste, even if you can't incorporate favorites such as bacon into every meal.
"We all seek flavor and make food and dining choices based on the flavors we desire," Hall said. Yet the American spice kitchen consists pretty much of just two spices: salt and pepper. "And pepper not so much."
"But in front of me lies the spice kitchen of the rest of the world that we can study to learn ways to get taste without as much sugar, fat and salt. Like everyone, I want flavor. Yet part of learning to cook is learning that we have access to all these varieties of foods and spices from around the world."
Instead of demonstrating how to cook a meal first, he instructed the class to just "jump right in and learn by doing as your patients will have to. … Our goal is to learn practical ways to help both you and your patients improve their nutrition skills."
In pairs, the physicians learned to cook healthy dishes with international flair and flavor such as antipasti salad and dressing, coconut shrimp curry, Korean-style chicken wraps and ratatouille. There were even recipes for desserts—double-chocolate brownies and peanut butter mousse—that offered lighter substitutions such as yogurt for fats and cocoa powder for sugar.
Doctors often used the word "intimidation" when talking about how most people feel about cooking and the kitchen, Hall said. "The reason most people don't cook isn't time or economy, though those are often what we use as excuses. The reason is they just don't know how.
"People say that they can't make food at home that tastes as good as the restaurant. They're really saying that they don't know or understand principles of enhancing flavor."
Hall doesn't have all the answers, or know anyone else who does. "Cooking is a skill that has to be acquired, either by learning from someone more experienced or by simple trial and error. I hope participants of this kind of class and program come away with at least a little understanding that cooking is not as difficult or complex as one may have previously thought," he said.
In its second year, the Arkansas conference focused on nutritionally responsive disease, said Alecia Hamilton, event organizer and director of continuing medical education at the University of Arkansas for Medical Sciences.
"Studies are beginning to show drastic improvement in patients' care and treatment if they are addressing nutrition," Hamilton said. "The feedback (from the event) has been really positive. Physicians find it helpful. In medical school, they just don't teach very much about nutrition, or even how to manage someone who is obese."
Doctors who exercise are more likely to recommend exercise to their patients, Budhraja said, so it should follow that physicians who cook would be much more likely to send a patient home with a culinary prescription rather than a statin.
"Doctors can tell you what to eat, but chefs actually know how," Budhraja said. "They are the ones who have the ability to translate and actually fill a dietary prescription. Chefs have not traditionally thought of themselves in that light, that's why it is so amazing to work with them in this way.
"They have the unique ability to shape our collective palates and make it 'cool' to eat certain foods," she said. "Every meal they serve us has the potential to heal."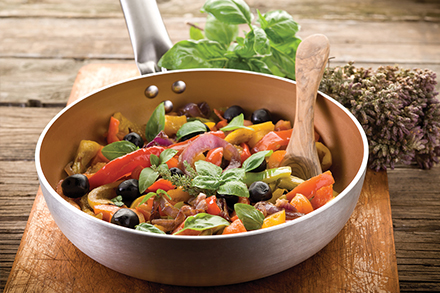 Traditionally, physicians have been disengaged from what patients eat because their training focuses on disease and not how to recognize and quantify wellness, Budhraja said.
"We only see sick people. Always in medicine you are looking for diseased people to fix them, and I think this is the wrong way of going about things. I think you should look at people who are not sick and figure out what they're doing right. And if I do that in my own family, and with my friends and patients, there's a constant, recurring theme. If they're healthy, they cook at home."
Hall further clarified why inviting "the other white coat" to a medical conference is beneficial to both sides.
"If we bring together knowledge of both physiology and the culinary arts, doctors would be better equipped to make real, lasting change in patients' lives, and chefs would be better equipped to approach food service with a more healthful and nutritious focus," Hall said. "Everyone needs more direction than 'you need to eat better.' "
"I want you to begin to set the example," Hall said. "One meal a week more than you do now, cook at home. Cook at least one dinner a week that's not from just a can or a box."
Clean Eats
Put your garden veggies to work with this simple, fresh and healthy recipe, courtesy Robert Hall, executive chef at the Winthrop Rockefeller Institute.
Ratatouille
3 tablespoons olive oil
1 large eggplant (about 1 pound), trimmed and diced
1 medium onion, cut into small dice
2 medium zucchini (1 pound total), trimmed and diced
2 cloves garlic, minced
2 large fresh tomatoes, with juice, chopped

½ teaspoon dried thyme
¼ teaspoon dried rosemary
¼ teaspoon dried marjoram
¾ teaspoon salt, plus more to taste
½ teaspoon freshly ground black pepper
¼ cup chopped fresh basil
In a large nonstick skillet, heat 1 tablespoon of the olive oil over medium-high heat. Add the eggplant and cook, stirring, until it has softened but not completely lost its shape, about 5 minutes. Remove the eggplant from the skillet.
Heat another tablespoon of oil in the same skillet over medium- high heat. Add the onion and cook, stirring, until softened and translucent, about 5 minutes. Add the zucchini and garlic to the pan and cook, stirring occasionally, until the zucchini is softened, 6-7 minutes.
Return the eggplant to pan and add the tomatoes, herbs, ½ teaspoon of the salt and ¼ teaspoon of the pepper. Simmer for approximately
10 minutes. Season with additional salt to taste. Stir in the basil and remaining tablespoon oil.