Story and photos by Pamela Nyaga, Heifer Haiti
BAIE DE HENNE, Haiti — The Northwest region of Haiti is dry, dusty, rocky and hot. The vegetation covering the hillsides is mostly cactus and thorny plants. Deforestation in the area is immeasurable. Every few miles you'll find charcoal for sale on the roadside, the main contributor to deforestation. Climate change is already evident, causing high mean temperatures and altered rainfall patterns. Resulting long dry spells, drought and lack of potable water and water for irrigation means life here is harsh.
Baie de Henne municipality is one of the driest and rockiest landscapes in the region. Most homes lack clean drinking water. The nearest water source for the community is a spring in Jondefe, nearly two miles away, a two-hour round-trip walk over hilly and rocky terrain. The daily duty of fetching water is relegated to women and children, especially girls. As a result there are many with bent backs from carrying large cans of water.
Heifer Haiti, through our Rural Entrepreneurs for Agricultural Cooperation in Haiti (REACH) project, has been working to build climate change resilience among farmers, including reforestation, training on wood energy alternatives, adoption of new crop varieties and livestock management practices, among others. To help rural communities adapt to limited water, Heifer Haiti promotes integrated water resource management, with a focus on providing quality drinking water and sufficient irrigation. Methods include building water cisterns to collect rain, drilling wells and installing water pumps.
In 2013, Heifer Haiti began working in Baie de Henne, training farmers in Heifer's 12 Cornerstones for Just and Sustainable Development, sustainable agriculture, and livestock production and management. In addition, goats, poultry and seeds were distributed to project participants. Unfortunately, lack of rain for nearly 10 months slowed the success of these efforts.
In April 2014, Heifer aligned with Haiti's national water company, Direction National de l'Eau Potable et de l'Assainissement (DINEPA), and engaged communities to start piping water from the above-mentioned spring in Jondefe for drinking water, irrigation and livestock. This effort will develop long-term and sustainable solutions in the communities, improving the health conditions of families and preventing the loss of livestock and crops during the dry season.
The construction of six water points has been completed in the communities of Jondefe, Tranquille, Mapou and two in Terre Blanche, and the laying of three miles of piping is still underway. The construction of a water point at Mapou national primary school is now complete, which will provide quality drinking water for the students and for the village market nearby. Additionally, a more than 10,000- gallon drinking water collection and storage tank has been constructed in the community of Tranquille.
These efforts will directly benefit 800 families, for an estimated total of 4,000 people. Heifer provided $23,774 in funding, while community members contributed their labor and local construction materials. For less than $6 per person, this combined-use water system will provide years of safe access to clean water.
In the past, water projects initiated by the government in the Northwest have been unsuccessful. Lack of ongoing accountability, particularly for maintenance, is the classic reason for water system failure in communities such as these. To safeguard against this and per the requirements of DINEPA for all rural water projects, Heifer helped form a six-person committee, with one person responsible for each water point (five points in total) and reporting to a committee president, who in turn reports back to Heifer and DINEPA. During the construction, Heifer trained community members in minor repairs, and DINEPA will be responsible for maintenance needed beyond these capabilities. Heifer is currently examining options for creating a water system maintenance fund, including a small annual fee for use ($0.55 to $1.10 per family).
There is plentiful water in the spring; Heifer additionally established a system to control the use of water at the water points to avoid waste, making it available two times a day, in the morning and evening. The leaders in charge of the water points are trained in water management to ensure the area is protected and free of contamination. Group members have also started to plant trees around the spring to provide a future water catchment system.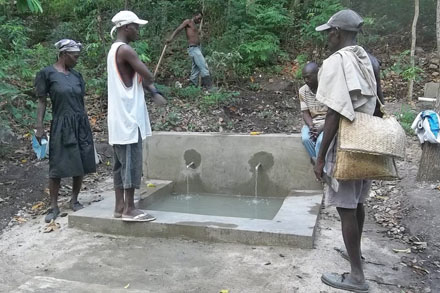 Community members are invested in this important project, not only because of the benefits they will reap, but also because they contributed their own labor to the construction. They walked long distances to procure construction materials, like sand and rocks, and they did most of the digging to place the pipes. So far, 292 people have participated in Heifer's Cornerstones training, and the plan is to train all community members over time. Training in water conservation and the importance of preventing water source contamination will be conducted in the coming months. Since they have suffered so long from the lack of available water, they have a true appreciation for the accessibility of quality of water and how it translates into thriving agriculture and livestock production, improved health and enterprising business ventures.
Marie Lucette, age 67, who lives near the new water point in Tranquille, moved to the village 30 years ago. She and her three children would walk every day to fetch water from Jondefe. " I walked for almost two hours each day to fetch just 10 liters of water. When I arrived back home, I was extremely tired and hungry, and most times I had no food to eat. This left me with very little time to work my farm and sell my produce in the market. Over the years I have developed back pains, because sometimes I carried the water can on my back. Now Heifer has turned a fading dream into a reality. There is water right outside my door," Lucette said.
Many communities in the Northwest are dealing with the same dry conditions. Heifer's goal, through REACH and strategic water-related alliances, is to work with those communities to ensure they have access to both potable and irrigation water so they may eventually increase their crop yields and livestock production.