Women in three Nepal villages demonstrate how a new, large-scale Heifer program helps families from Point A (poverty) to Point B (improved income and nutrition) to Point C (sustainable income and entrepreneurship) through better goat breeding, care and market savvy.
By Donna Stokes, World Ark managing editor
Photos and video by Geoff Oliver Bugbee
Point A: Seeing Beyond a Life of Struggle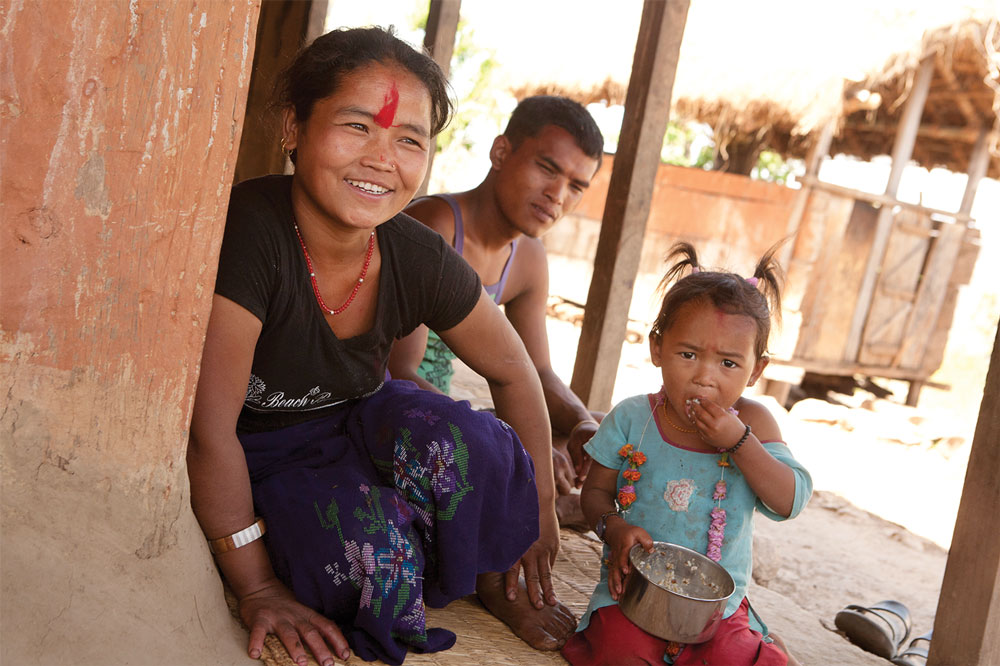 CHULIDANDA VILLAGE, Nepal—Every morning, Amrita Saru sets off at 4 a.m. down the mountain to get water. Moonlight and the occasional bobbing flashlight ahead guide her as she joins other women from her village on the rocky and leaf-strewn path.
The way back up is steep and grueling. It takes her three hours round trip. The climb is more than 5,000 feet in altitude through the forest, past the grazing goats and terraced fields of the neighboring villages, to their homes at the very top.
"When we return, the day has just started, and we are already very tired," Saru said. In the evening, the women make the trip again. They do this every day, twice a day. There are no holidays, sick days or breaks from their work.
Saru and her fellow villagers cling to a difficult life at 10,500 feet, more than a mile above the valley. Chulidanda is the most remote village in the Kunathari Village Development Committee; no roads or vehicles reach their homes. The women's group here, of which Saru was recently elected president, is one of the newest to sign on to the Smallholders in Livestock Value Chain program in Nepal, a $23.8 million program to help more than 138,000 families produce their own quality goat meat and milk.

The women gather in late morning under a tree in their mountaintop village to learn more about the Heifer trainings. Six-year-old Shanti Kumal dances about in front of the women holding a dusty water bottle atop her head. Older men line up at the back, grumbling with the strange talk of new practices to raise goats, which their families have been doing for centuries. There are 25 members in the original women's group. They will start training in two months.
A number of untouchables live here, people part of a traditional caste system that has mostly excluded them from interacting with others, getting an education or owning a business. Agriculture is the primary income source. Yet because of the hilly terrain and lack of irrigation that limits agricultural production, villagers can only grow enough to eat two to four months out of the year
Saru and her neighbors grow some lentils and mustard. The area has good potential for growing goat fodder and is lush with wildflowers that are beneficial for raising bees. Otherwise, villagers live off what is sent back from those working abroad; most of the men go to India to earn money as laborers.
Goats are the preferred livestock in the village, though some also raise free-range poultry.
"They have been raising goats forever," said Neena Joshi, Heifer Nepal senior program manager. "But they are still extremely poor. This is because there are systematic and behavioral problems in the way the value chain operates now. Farmers do not get a fair share of profit, traders do.
"Our program will change conditions—not just in one village but in the entire country—to improve the production and productivity of animals as well as farmers' access to markets and fair prices for their goats."
Saru has 19 goats, but disease and deaths limit her income from them. Another woman in the group, Jagat Kumari Bohara, said 10 of her goat kids died last year of a cyst-related illness. No one in the group remembers a goat giving birth to twins, let alone triplets.
Man Bahadur Nepali, a Heifer community facilitator who grew up in the village, asked the women about their goats. Many of the women have breeding bucks from the same mothers. None of the women have ever given their goats vaccinations or had access to veterinary care.
Saru sells eight or nine goats a year to traders who come to the village to buy them. They don't have a tradition or culture of weighing the goats, she said. They take whatever the trader offers with no process to ensure fairness. Saru estimates she makes about $314 a year selling goats.
"Our labor counts for little," she said.
After learning more about how new practices can improve goat breeding, nutrition and eventually profits, Saru said she and the women in her group are open to changing the way they raise goats. She looks forward to Heifer bringing in new breeding bucks to the village and introducing the option to work in cooperation with women in other villages.
"I started out raising goats thinking it would make money," Saru said. "It's been some help, but now I know that we can do better."
Point B: Growing the Seeds of Progress
DAMARE VILLAGE, Nepal—From her garden, Jagat Limbu can see the top of the mountain where Amrita Saru lives, in the same Village Development Committee.
Limbu watered a few delicate kimbu—or mulberry—saplings along a row by hand that she will plant in berms in the rainy season for fodder for her goats. It was just a few years ago that she and her fellow group members were just getting started, their families living in temporary shelters in what was once an illegal settlement.
In 2010, after a year of training, Limbu received her first goats through a Heifer project to the Chetana Women's Group. This week was a good one to show how far she has come.
"The day before yesterday I had 25 goats," Limbu said. "I sold 18 of them yesterday for 80,000 rupees (about $890) profit."
She reinvests most of her income from goats into her poultry and vegetable operations. She learned the improved technique for fodder and forage management, how to prepare seed beds, how much water to use and what plants to grow, from the Heifer training.
"We used to not plant fodder at all," Limbu said. "There's grass all over the forest. But we learned that improved fodder provides nutrition, including vitamins and minerals. We learned that eating the same grass over and over wasn't the best for the goats, that we need to diversify for the best results."
She and her fellow group members are working toward selling their goats collectively and directly to buyers, cutting out the traders. They have just registered their Safalta Social Entrepreneurs Women's Cooperative Limited. The cooperative has 200 members from 10 groups involved in older Heifer projects.
Bhim Bastola, project coordinator for local partner Sundar Nepal, said "We're planning to build a collection center here for this cluster. People will all bring in goats and sell them here. There will be a smaller collection center up in the hills.
"These women will play a critical role in understanding the market. That knowledge will be transferred to farmers up on the hill [in Chulidanda]."
Sita Gautam, Chetana Women's Group secretary-treasurer, said that before the training, people tied the goats outside and didn't build sheds for them. They also didn't know to clean under the animals and placed their fodder on the ground, so "all kinds of bacteria and sickness developed."
In addition to the training in care and nutrition, they now can summon a Heifer-trained animal health worker to check on the goats if they are moving slowly or not eating well.
"That's the practice now," Gautam said. "We have seen a decrease in goat deaths."
Gautam has 15 goats, seven of them nanny goats, and has earned more than $900 from selling the animals in the last two years.
She plans to grow her herd to 15 nanny goats and predicts she will soon make about $2,090 a year. That increase in income will also allow her to send son Kamal, now age 10, and daughter Durga, age 7, to boarding school when they start fifth grade.
"It will require an extensive increase in fodder," she said. She's working ahead on that dream with an in-depth understanding of goat production and markets that those before her did not have, planting more fodder every year to grow her business.
Point C: The 'Magic Touch' of Self-Reliance
FATTEPUR, Nepal—Dhan Kumari Airi is in her groove. She and the other 87 members of the New Creative Social Entrepreneurs Women's Cooperative Limited are hosting their third goat bazaar since the cooperative formed in 2008, selling directly to buyers.
These farmers are already having great success cross-breeding local Khari goats with a larger Indian breed. Heifer promotes the crossbreeds that have the resilience and adaptability of local breeds and the improved productivity of the exotic ones.
Airi's experience shows the model works. Her first two goats had two births a year, triplets every time. She raised 12 kids from those first two.
"Even with just two goats, you can get really impressive outcomes just by taking care with nutrition, breeding and management," Airi said. "We're not doing anything drastic, we're just making small improvements that add up."
Her goats continue to be so healthy and productive that the ones she raises are pre-booked for sale. She makes about $1,047 a year.
"I've been blessed with good goats and the magic touch for raising them," Airi said. She credits use of a variety of improved fodder, mineral blocks and regular de-worming treatments with much of her success. She gives the goats water three times a day in the summer and twice a day in winter. She heats up the water on the stove for them in winter so it's not cold, which can make them sick.
The New Creative cooperative has sold 1,500 goats in three bazaars. "Before, the traders did not give us a per-kilo price or even weigh them, just gave them a set amount for each goat by eye, so we never knew if we were getting a fair price," Airi said.
Now farmers learn not accept those deals and to request that the goats be weighed and the per-kilo price be stated up front.
On this day, they're selling 75 to a longtime Heifer partner, the Multiple Service Center. Prabhat Thakuri, MSC executive director, says that he wants to buy the goats to start new projects with quality animals.
"These goats are genetically superior and have high productivity," Thakuri said. "They are the ideal placement animals for our new project communities. Also, we established and supported these [women's] groups, and we want to benefit them economically by becoming a consumer and client for them."
Airi plans to buy more land and increase her production with 30 to 35 nanny goats for a yearly income of about $5,235 a year. Her husband is working in Malaysia as a laborer, but when he returns she plans to keep him by her side.
"I believe having his help in expanding our family goat farm will be enough income for the family to live well," she said.