Heifer Ghana develops an accessible and hugely successful method to raise grasscutters as livestock to improve nutrition and income in West Africa.
By Annie Bergman, World Ark senior writer
Photos by Jane Hahn
As Heifer Ghana got its start in 1999, staff swiftly tackled the challenge of affordably domesticating grasscutters, a wild rodent prized in West Africa for its sweet and lean meat. Since then, Heifer developed an accessible and hugely successful method to raise the rodents to improve nutrition and income among its project participants. Today, demand in West Africa and beyond drives exponential growth in the production and sale of the animals.
ANANG CHARLES, Ghana—She was clearly nervous. Strange people were milling about in front of her house asking questions about her. When she saw the camera, she froze. Her mouth full, food in hand, she didn't know what to do.
So she kept eating.
"She" was an overly large cross between a beaver and a rat, or a Rodent of Unusual Size, to use a popular culture reference. "She" is a grasscutter. And she has no idea that she's helping make the farmers who raise others like her very successful indeed.
It takes just 30 minutes to get to Jonathan Mensah's place by car from the Heifer offices in Accra, Ghana's sprawling capital city that's home to more than 2 million people. But Mensah's village is where you'll find more than 100 of Heifer Ghana's grasscutter farmers.
Farm is really a misnomer for where Mensah lives. He owns just more than two acres— down from the five he had before the capital seized part of his land to accommodate the burgeoning population.
Mensah, 53, joined a Heifer grasscutter project in 2006 not long after he lost most of his farmland. He was struggling to provide for his family of six by selling vegetables from his meager acreage with little access to water for irrigation.
"My father died when I was 13 years old, so I only completed my elementary education. I had to look after myself," Mensah said.
By the time he was 19, Mensah had found a job with the district Animal Health and Production Department. It was there that he learned how to feed and care for animals and also how to administer drugs. In 1989, he lost his job. His department was deemed overstaffed, and he was one of the unlucky few to be cut.
He received a small severance but almost immediately fell ill.
"I wanted to use the money to invest in my farm, but I couldn't because I was sick. I used the money for treatment. And even that money didn't treat me. So I sold some of my belongings. I lost everything. I became poorer and poorer. I had to start my life again," he said.
About a year after starting over, Mensah attended a farmers association meeting in his district. He and other farmers were commiserating about the difficulty of farming in Anang Charles village with the intermittent rain and other challenging weather conditions.
Another farmer brought up an organization that was helping farmers just like them.
"We heard about this NGO called Heifer who was helping. They were offering cattle, goats and these grasscutters, so we applied. At the end of the year, they approved us. It was a group of about 36 original farmers," he said. "It changed my life. It was a blessed event."
In contrast, the domestication of the grasscutter began in Ghana in the 1970s. It should come as no surprise that farmers are still learning exactly what it takes to raise the animal with as much financial success as chickens or cows.
Grasscutters, sometimes referred to with the less than appealing name cane rat, are native in much of central and West Africa and have long been a favorite food for many in the region.
Because of the grasscutter meat's popularity, a study was launched in the 1970s to gauge if the wild animals could be raised in captivity. The results indicated raising grasscutters on farms could be successful, but the idea fizzled. The startup costs for the smallscale and subsistence farmers involved were just too high, said Roland Kanlisi, interim country director for Heifer Ghana.
In 1999, a few years after the studies were abandoned and just as Heifer Ghana was opening its offices to support project work, Kanlisi was researching environmentally harmful methods with which Ghanaians were harvesting wild game.
What he found was that the Ghanaian taste for the rodent hadn't changed since the initial studies of the 1970s.
"The grasscutter came out as one of the most hunted animals from the wild," he said. "It's an animal that attracts premium prices on the market. Everyone wants grasscutter meat."
But Kanlisi's research found the high demand for grasscutter meat had adverse effects on the animal's habitats and the surrounding environment. Hunters used either poisonous traps for the animals or set bush fires to, quite literally, smoke out the creatures.
The poisonous meat would sicken those who ate the animals, and bush fires often got out of control, burning nearby farmland, he said. So Kanlisi decided the best answer would be to resume raising and breeding grasscutters on farms.
Around the same time, Kanlisi said, a happy coincidence occurred. Farmers in the Republic of Benin were having success in the captive rearing of the rodents with the help of a German development organization. The next step was to see exactly how they were doing it.
"We decided to go to Benin to learn from them. We also reviewed a lot of literature and realized it could be done in a sustainable and environmentally friendly manner, and it could be done in a manner that would not injure the health of human beings, and that it was also financially and technically viable," he said.
That trip was enough to convince Kanlisi to propose grasscutter production projects to Heifer headquarters.
"We developed a concept and submitted to Heifer to propose grasscutter production as one of the main interventions in the Ghana program. The reaction was, in the first case, 'What is a grasscutter? Is it a rat?' " Kanlisi said.
The concept was approved, which set Kanlisi to the next task: finding a foundation stock of grasscutters to provide the ready and willing farmers.
Kanlisi said Heifer had to decide between asking local hunters to cull the animals from the wild and buying the rodents from the farmers in Benin who were already in the business of raising grasscutters.
With a shipment of 300 grasscutters from the Republic of Benin, Heifer Ghana's grasscutter program started in 2001. The original project was the genesis for four other grasscutter projects, including Mensah's.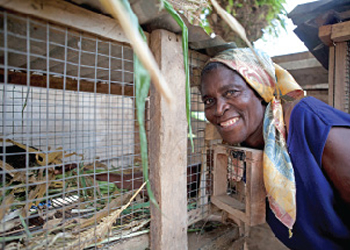 "I know grasscutters, but formerly, I didn't think they could be kept," Mensah said.
Ten years after the implementation of grasscutters into Heifer Ghana's programmatic work, and five years after Mensah began training on raising the rodents in captivity, he is now one of Heifer's most successful grasscutter farmers making, at minimum, $1,400 a year from his grasscutter operation alone, which is about double the average annual income of other Ghanaians.
Grasscutters were a natural fit not only because the meat is highly desired, Kanlisi said. The animals require few external inputs, like feed. As its name implies, it feeds on grasses, which farmers like Mensah can grow or harvest from the wild for free.
And because they are a native species, the rodents are also strong and resistant to diseases. Kanlisi said there are only two difficulties to the grasscutter projects. One is the difficulty in determining the sex of the animals, and the other is their relatively long gestation period of 159 days, similar to that of a goat.
Mensah said those difficulties were fully disclosed to the farmers when they were choosing what animals they'd like to receive from Heifer.
"We chose grasscutters because I like grasscutter more than goats. At times goats give more trouble. If they get out they can destroy other people's things. Grasscutters have bigger litters, and you get more than one [offspring] like with the goats. We compared all these things and then settled on grasscutters," he said. "They also bring good prices."
After a year of training, Mensah and the 35 other farmers in his group received five grasscutters each: three females and two males. The farmers also received the wooden and wire mesh housing in which to keep the animals.
He now keeps upwards of 50 grasscutters, depending on how many he's able to sell and if his animals are breeding. His stock dips at Christmastime, too, when grasscutters are the favorite for the holiday meal.
But the year-round sale of the grasscutters, whether for meat or to others interested in raising them, has allowed Mensah to open a savings account and to build a second home on his property, which he gave to two of his children. He's also adopted his brother's two orphaned children and is providing them with private schooling.
Business is still good. Mensah said there is a steady stream of people who come to see him about grasscutters.
"In a month I can sell about five, but it depends on if the animals have bred. Some people come by and order about 20 for rearing. So the orders vary. Sometimes they come and ask for one or two, but then sometimes people are afraid, so I process them and smoke the meat for them," he said.
The prices he receives vary depending on the size and age of the grasscutters. A 3-month-old animal fetches about 35 Ghanaian cedis, or $19.50. The older the animal, the higher the price: $28 for an animal up to age 2, and $33.50 for a pregnant female.
The pregnant females are highly desired, too, since many farmers who haven't received training still have difficulty breeding the animals, Mensah said. But if interested, Mensah will provide training on raising and breeding the animals at no cost. It's just one of the ways he passes on the gift.
In fact, Mensah and the original 35 members of the project keep giving to others.
"Whatever I've been given, I will pass on. Through this grasscutter project that Heifer brought, it has changed many people. The farmers I have trained, they also want to start a farm in the Eastern region. So we constructed the cages for them, brought the grasscutters for them. I trained them. So, we've supplied another region," Mensah said.
Aside from selling the animals, Mensah also builds the grasscutter hutches for others for a small fee plus the cost of building materials. But he can't handle the demand on his own. So the group found a local artisan and now contracts with him to build the cages.
These small-scale entrepreneurs are creating jobs for others, and Mensah has bigger plans, yet.
"I will start a training center here (at his home). I will train people," he said. "A lot of young men who go to Accra cannot get jobs because they don't have skills. So we will train them in grasscutters."
So much of the grasscutter program in Ghana seems improbable. A giant rat-like creature being a popular food source seems strange enough, but raising the animals on farms was an idea that was nearly discarded. Yet it has gained success. Further, grasscutters are feeding a growing population. It takes almost no land to become a successful grasscutter farmer, and the projects are sustaining the farmers who provide them.
Kanlisi notes that improbability.
"We've come a very long way," he said. "The first grasscutter project that we had has come to an end, but the farmers are still rearing grasscutters and some of them are real big-time grasscutter farmers. Many times we've used those farmers to mentor new project participants that are undertaking raising grasscutters as a business."
It is already a lucrative business, but Kanlisi sees Heifer grasscutter farmers building into national, regional and, maybe, even international suppliers. The market is definitely ripe for something like that in Central and West Africa, he says.
Kanlisi has anecdotal evidence from his own travels and from West African friends in other countries that there are vibrant markets for grasscutters in the diaspora, especially in Britain and the United States.
Though he knows the strict laws on importing foreign meats could be a potential roadblock, Kanlisi said Heifer Ghana will cross that bridge when needed. Still, he's excited by what he sees happening in Ghana right now.
"The long-term goal is to export, but we know to export is quite tricky. Regardless, it's a project that's got a very bright future," he said.