The U.S. secretary of state talks about the benefits of full participation by women and why development work is vital to national security.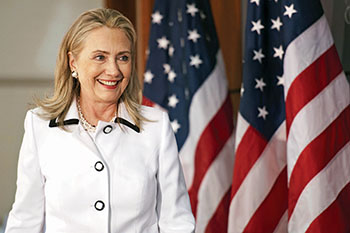 Interview by Annie Bergman, World Ark senior writer
Since taking the oath of office in January 2009, U.S. Secretary of State Hillary Rodham Clinton has flown almost 900,000 miles and visited 102 countries and counting. In that time, Clinton visited with rebel leaders in Libya, supported rebuilding work in Afghanistan and addressed issues from religious freedom to climate change and human trafficking. She has focused her work on improving the lives of women and children since her days as Arkansas' first lady. Today, the nation's top diplomat is one of history's most notable champions for women. To achieve world peace and security, she says, women are the key.
WORLD ARK: What inspired you to make the historic "Women's Rights are Human Rights" speech in Beijing at the 1995 United Nations Conference on Women as first lady? And what changes have you seen in the world since then?
HILLARY RODHAM CLINTON: I vividly remember 17 years ago when delegates from 189 countries met in Beijing for the Fourth World Conference on Women. It was a call to action—a call to the global community to work for the laws, reforms and social changes necessary to ensure that women and girls everywhere finally have the opportunities they deserve to fulfill their own God-given potentials.
In my travels all over the world, I've met women for whom higher education is a distant dream. They have the talent, they have the drive, but they don't have the money. I've met mothers trapped in abusive relationships desperate to escape with their children, but with no means of support. I've met too many women who cannot afford necessary healthcare for themselves and their children.
We know that investing in women's employment, health and education levels leads to greater economic growth across a broad spectrum. It also leads to healthier children and a better educated population overall. We know that political systems that are open to full participation by women produce more effective institutions and more representative governments.
In South Africa, women living in shantytowns came together to build a housing development outside Cape Town all on their own, brick by brick. And today, their community has grown to more than 50,000 homes for low-income families, most of them female-headed.
In Liberia, a group of church women began a prayer movement to stop their country's brutal civil war. It grew to include thousands of women who helped force the two sides to negotiate a peace agreement. And then those women helped elect Ellen Johnson Sirleaf president, the first woman to lead an African nation.
In the United States, a young woman had an idea for a website where anyone could help a small business on the other side of the world get off the ground. And today, the organization she co-founded, Kiva, has given more than $120 million in microloans to entrepreneurs in developing countries, 80 percent of them women.
These are the stories of what women around the world do every day to confront injustice, to solve crises, propel economies, improve living conditions and promote peace. Women have shown time and again that they will seize opportunities to improve their own and their families' lives. And even when it seems that no opportunity exists, they still find a way. Thanks to the hard work and persistence of women and men, we have made real gains toward meeting the goals set in Beijing so many years ago.
You and President Obama made the advancement of women's rights a cornerstone of U.S. foreign policy. How does empowering women globally help the United States achieve its foreign policy goals?
From Northern Ireland to Liberia to Nepal and many places in between, we have seen that when women participate in peace processes, they focus discussion on issues like human rights, justice, national reconciliation and economic renewal that are critical to making peace, but often are overlooked in formal negotiations. They build coalitions across ethnic and sectarian lines, and they speak up for other marginalized groups. They act as mediators and help to foster compromise. And when women organize in large numbers, they galvanize opinion and help change the course of history.
That is why President Obama signed an executive order launching the first-ever U.S. National Action Plan on Women, Peace and Security, a comprehensive roadmap for accelerating and institutionalizing efforts across the United States government to advance women's participation in making and keeping peace. This plan builds on the president's national security strategy, and the departments of State and Defense, USAID and others jointly developed it with guidance from the White House.
You've said development work is just as imperative as defense and diplomacy. Why is alleviating hunger and poverty in the world key to establishing peace and economic stability?
Food security is fundamental to human security. Scarce food resources can lead to panic buying, countries disrupting or even stopping their food trades and spikes in the price of food. That then can lead to public unrest or violent protests. When nations make competing claims for fertile fields or sources of water, it can also undermine regional stability. But when we strengthen food security and enhance cooperation at the local, national and regional levels, we create a stronger base for our efforts to promote human development, dignity and security worldwide.
Reaching female farmers is a top priority for USAID's Feed the Future. How does USAID incorporate that priority into its projects?
Women make up the majority of the agricultural workforce in many developing countries. They're involved in every aspect of agricultural production, from planting seeds to weeding fields to harvesting crops. Yet women farmers are 30 percent less productive than male farmers for one reason: They have access to fewer resources. They certainly work as hard. And they, like farmers everywhere, are at the mercy of nature. But these women have less fertilizer, fewer tools, poorer quality seeds, less access to training and limited land ownership.
It is for reasons like these that the United States has focused on women farmers in our Feed the Future Food Security Initiative, which is a centerpiece of U.S. foreign policy in the Obama administration.
Feed the Future is focused on spurring innovation and finding ways to do more with less and deliver results to people in need. Close the resource gap holding women back in developing economies and we could feed 150 million more people worldwide every year, according to the Food and Agriculture Organization. And that's in addition to the higher incomes for families and the more efficient markets and more agricultural trade that would result.
By increasing women's participation in the economy and enhancing their efficiency and productivity, we can bring about a dramatic impact on the competitiveness and growth of our economies.
When did you create your International Fund for Women and Girls and why?
The International Fund for Women and Girls was established in April of 2010 in order to provide flexible, rapid, targeted and high-impact grants to nongovernmental organizations working to meet the critical needs of women and girls around the world. It was established with the realization that no one, not the government, not the private sector, not civil society can solve the problems facing women and girls alone. What we've done is to try to bring people together in these public-private partnership networks. The fund invests in efficient and innovative solutions to combat violence, improve health and education, promote climate change solutions and create economic and political opportunities for women and girls. The fund allows organizations to move quickly and effectively to address new challenges and advance creative ideas through flexible grants and rapid funding. It prioritizes investments in women and girls that enhance local ownership, community engagement and capacity building.
Tell us about the partnership with the Walmart Foundation to support female entrepreneurs in rural and indigenous communities throughout the Americas.
The State Department and the Walmart Foundation are working together to train women entrepreneurs, connect them to networks and resources and help them scale up their businesses. Walmart is the world's largest retailer and the world's largest private employer, and it's throwing its market power behind women. It has committed to double the amount it sources from women-owned businesses in every market it serves over the next five years. The State Department is also supporting exchange programs so women entrepreneurs from the region can connect with colleagues in the United States and start to develop their own business networks.
How do you explain the importance of women's rights to leaders of countries where empowering women is a foreign concept that contradicts centuries of tradition?
One aspect of peacemaking that too often goes overlooked is the role of women in ending conflict and building lasting security.
They know when communities are fraying and when citizens fear for their safety. Studies suggest that women's physical security and higher levels of gender equality correlate with security and peacefulness of entire countries. But political leaders too often overlook women's knowledge and experience until it's too late to stop violence from spiraling out of control.
We need to move the discussion off the margins and into the center of the global debate, and we frankly have to appeal to the self-interest of all people, men as well as women. Because including more women in peacemaking is not just the right thing to do, it's also the smart thing to do. This is about our own national security and the security of people everywhere. I remember when I was in Africa as first lady and I commented on all the work that was being done by women. Someone told me that it "didn't count." But the truth is, if women stopped working, economies would collapse. And if women are allowed to realize their potential, economies and countries have the chance to become even stronger and more prosperous.
You've been quoted as saying, "The question is not whether we can end hunger, it's whether we will." With global populations rising, do you think we will see the end of hunger?
Nearly a billion people already go to bed hungry every night. By the year 2050, the global population is estimated to reach 9 billion. And according to the latest Food and Agriculture Organization estimates, the world will need to produce 60 percent more food than we do today to feed everyone. Making sure people get enough nutritious food is fundamentally a human, moral concern and this work cannot be only the work of scientists and agronomists. It takes political will and leadership at every level. It takes private investors who see the long-term benefits to this.
What do you want your legacy to be?
As I've mentioned before, I'll talk about legacy when my term comes to a close. I don't like looking back, I like looking forward. And we have some incredibly active remaining months ahead of us. We are looking to consolidate a lot of the work we've done the prior three years—in Asia, in Latin America, in Africa, you name it. There's an enormous agenda ahead of us, but we're staying focused on what keeps America safe, what promotes America's values and furthers our interests.