It's day eight of The 12 Days of Heifer Holidays! And on the eighth day, well—we can all agree that nothing says "happy holidays" like that classic image of the world's largest bovine trudging through murky water with its scimitar-shaped horns held high.
…
OK, maybe a water buffalo isn't the most festive of holiday gifts. But while a water buffalo might lack the grace of a flying reindeer, they still make great presents.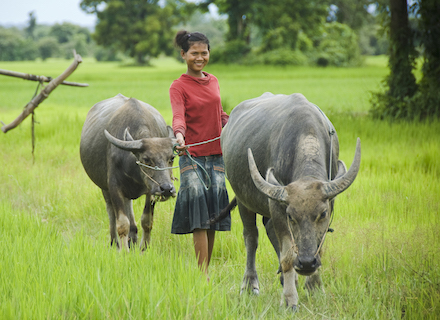 For instance, do you have a foodie in your life? You can't get mozzarella di bufala without the bufala. Show off your sophisticated understanding of foodways by donating a water buffalo in a loved one's name.
Or, maybe go a different route. New York Times bestselling author and creator of The Bloggess Jenny Lawson suggests dedicating the least attractive end of a water buffalo to your least favorite relatives. That works too.
Either way, you're doing a good thing. Water buffalo act as living tractors in Southeast Asia, helping families plant up to five times more crops than they would be able to by hand. They also provide milk that improves families' nutrition and manure that boosts crop yields.
Visit our catalog to get in the holiday spirit and donate a water buffalo.