Age does not matter to Pilipine Geldore, a Heifer Philippines dairy farmer. At 52, despite receiving little encouragement and even discouraging words from her friends and neighbors, she enthusiastically joined the Guinabsan Dairy Farmers Association (GDFA) and welcomed her first heifer, Lalay.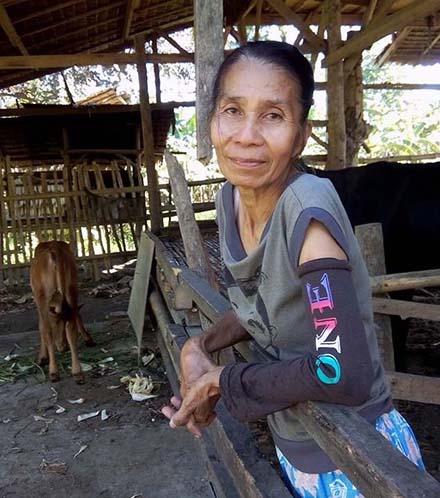 She says that most of her kin discouraged her because she lives alone with no one to help her care for the cow. They told her that she is getting too old and the cow would only burden her. But Pilipine held her ground.
Pilipine believes that as one grows older, one should be more involved in the community and not let time pass in idleness. In fact, Pilipine is so active in the GDFA that the group elected her bookkeeper.
"I would grow frail if I had nothing to do," she says with a smile.
Pilipine admits it is not always easy to take care of Lalay, but she does it singlehandedly. Pilipine is barely 5 feet tall and weighs less than 100 pounds, and Lalay is a Holstein cow that weighs more than a thousand pounds. To those naysayers who discouraged her, Pilipine tells them that Lalay is like family and gives her strength to wake up in the morning.
Every morning before sunrise Pilipine harvests fresh Napier grass, fetches drinking water and cleans Lalay's shed. One day, while she was away at a meeting, Lalay escaped from her pen. Pilipine nearly fainted when she saw her cow walking down the road. Since then, she has renovated her fences.
Dairy farming is challenging and not for the weakhearted, but Pilipine has a dream. One of her nieces is interested in becoming a dairy farmer. The duo have plans to expand the pen and, with Lalay's motherly touch, raise more dairy cows.
Help women like Pilipine and her niece to reach their goals.
Two months ago Lalay gave birth to a healthy female calf, inspiring Pilipine even more. She promised to take care of the calf and pass it on to another family. She hopes Lalay's next calf will be female, too.
Pilipine is currently clearing a parcel of her land to plant more grass, and she is saving to build a new cow shed in preparation for a larger herd. And thanks to the extra income that she is now receiving from Lalay's milk, she feels confident that she will reach her goal.
Story and photos by MaryAnn Chiong, Program Officer, Heifer Philippines