Despite the muddy roads caused by rains the previous night, the Lole Primary School Grounds in Ikuna,in the Southern Highlands of Tanzania, filled with women, men and children—some having walked miles from neighboring villages—for the International Women's Day celebration.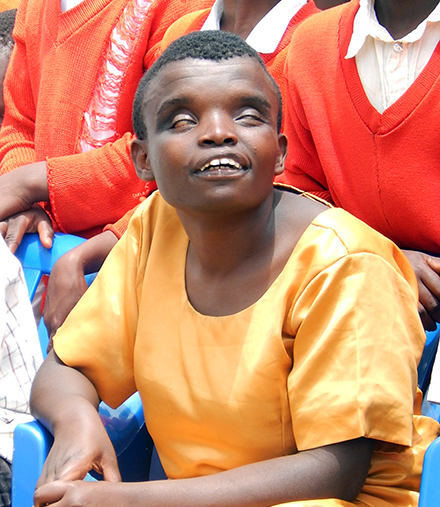 The Njombe Region, one of the regions where the East Africa Dairy Development (EADD) project is being implemented, rang with song and dance. Men, women and children of all ages shared beautiful messages through music, poems, recitals, skits and dramas that voiced a key message of gender equity, urging the community and government to stop violence against women and give women equal opportunity.
Regional Commissioner Dr. Rehema Nchimbi was the celebration's guest of honor. She urged the women in Njombe to stand up and engage in income generating activities and encouraged women to take advantage of Njombe's resources.
"Women can make it happen, let's work hard for the development of Njombe." Wema Kingimbwiti sang before the crowd of guests.
Wema lives with her parents because she is partially blind. Life for her has not been easy, but as she sang before the audience she proved that despite her physical limitations she believes in the influence a strong woman can have on her community. Wema leads the disabled group in her village.
"I face many challenges and wish I could have a normal life like other women, but I am grateful that I can still be part of decision making and give advice on behalf of the physically challenged in Lole," Wema said.
You can help empower a woman like Wema to participate in her community's decision making.
Currently, Wema earns money for her family through casual labor such as fetching water and selling it to her neighbors. Through the established EADD staff charity wing in Tanzania, the Country Project Manager pledged to support Wema with initial capital of $560 (equivalent to one million Tanzanian shillings) to start a dairy business. Along with financial support, Wema will receive training as an EADD beneficiary on dairy husbandry, dairy farming as a business, gender and farmer mobilization skills. After her trainings she will be able to benefit from the Njombe cluster hub facilities in Kichiwa. The EADD charity team also offered support to primary school pupils living in vulnerable conditions with gifts of books, pens and pencils.
The dairy farmers in Njombe will have access to services at the three Njombe milk shed hubs that will be established by the EADD Project. The hubs will form reliable milk markets by converging processors and other service providers in the same place. The project will move the Kichiwa and Njombe farmers-at-large a step up on the ladder of success.
"Njombe is the land of milk and honey," Nchimbi said as she applauded the women from the Ibulmila Farmers Network from Kichiwa under the EADD pavilion where they were explaining how dairy production has given them sustainable livelihoods.
"I am happy to hear that as women you are doing amazing work through dairy production, I hope that many more women will follow your lead to become leaders in pasture and fodder production and in dairy production to ensure the Njombe region leads in the supply of milk in the country," Nchimbi said.
Photos and story by Rachael Singo, EADD II Communication Officer, Heifer Tanzania