Editor's note: This is the second in a series of posts in which you'll hear directly from the farmers we work with in the field in the lead up to World Food Day on October 16.

In 2010, 51-year-old farmer Ricardo Juc joined a Heifer project providing livestock, seeds and training to struggling farming families. Ricardo Juc lives with his wife, Matilde Co, 52, and their seven children in Sacpur, San Miguel Tucuru, Alta Verapaz, Guatemala.
-----
Since I was a teenager I've been working in agriculture. It is the only activity that I can do. When I was very small I grew up without parents, and I grew up working on farms as a laborer. I never attended a school; I learned to read by myself.
For my family, agriculture has been the basis to sustain us for 17 years. Two years ago I wanted to explore other activities and enlisted in a group of day laborers. But I didn´t put up with the conditions the company provided. The salary was minimal and did not cover my basic needs, so I decided to go back to my land and continue to work in agriculture.
If we work our lands, agriculture helps us out of poverty. Land provides the basics for our children to study and move forward.
In February 2013, as part of the crop diversification project executed by Heifer International in Guatemala, I was given seeds: watermelon, melon and cucumber. I made additional investments and was able to make $230 in just 60 days. With the earnings, I re-invested and bought basic goods for my home.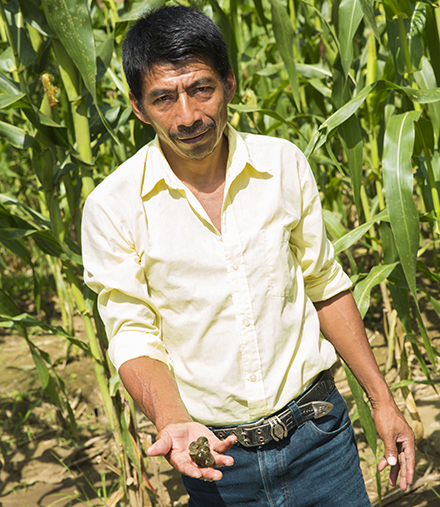 My farm is an integrated farm that includes fish farming, crop diversification (watermelon, melon, cucumber, Cassava, Sweet Potato, Banana), irrigation by dripping system, strengthening of native species (Chipilín, macuy, amaranth and cilantro) and transformation of amaranth seed flour for preparing food and drinks.
I diversified the crops grown in the area, and I also have livestock demonstrations so that other families can learn from what I do daily. If I had more input to work with, I could expand the area of ??my plot and other farming families would come to learn new techniques to cultivate the land and generate income for their families.
I consider a successful farmer one who uses the resources and shares knowledge with their family and community, and I want to pass on to my children my knowledge. My dream is to join our family with others and continue to support other farming families in our communities. My wife has been trained in packaging vegetables and meat in the project and my sons contribute to the work on the farm.
I am proud to farm and prouder that my whole family is doing this work. Now people know that we are here and what we can produce.

Get involved on social media. Want to thank a farmer for what they're doing to feed the growing population? Use the hashtags #ToastAFarmer and #WFD2014.