After 37 years as a teacher, and about 14 of those dedicated to educating her students about Heifer International's strategies to end the global issues of hunger and poverty, Linda Pelletier is retiring.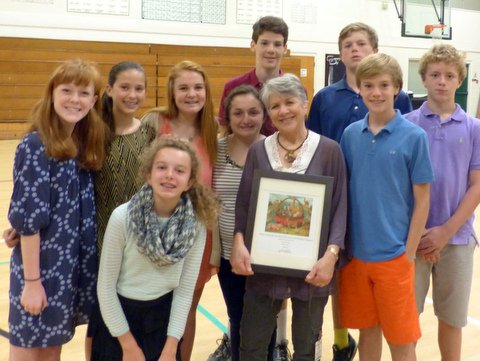 Heifer wanted to honor Pelletier for her service to Heifer International, so we surprised her with a plaque to recognize her for her years of dedication and fundraising, in which she and her students have raised more than $50,000 for Heifer.
The principal at Pelletier's school had this to say: "Linda leaves a lasting legacy in the school's support of Heifer International. Linda started the program as an opportunity for her advisees to make a difference in the world. Back then she had no idea it would grow into a Middle School tradition that raises thousands of dollars each year to support the people in third world countries that our students study during their time in Middle School. In fact, according to Heifer, since 2001, Country Day students, under Linda's guidance, have raised more than $53,000 to support this meaningful cause."
Local volunteer Alex Smythers also had a tribute of his own for his fellow volunteer: "Linda has found links between the idealism of her young students, their curiosity about other places in the world, their developing hearts for service and the Heifer story. The multiple arks her students have contributed will be eclipsed in future years as her students mature, take their places in the adult world, and remember their teacher and what she taught them about Heifer and helping other people."
Thank you, Linda, for all you've done for Heifer. We're grateful you taught so many about Heifer's work. Enjoy retirement.
Learn about the volunteer opportunities Heifer offers or how you can incorporate Heifer into your classroom if you're a teacher.