Germana Meléndrez Queso Choque, 65, was born in La Paz, Bolivia's Qhohnqho Likiliki community. Her mother died when she was 4, leaving Germana with her father and two brothers. The family had very little money, and Germana says she rarely had shoes. In this traditionally patriarchal society, it's more common for boys to finish their education, while girls?destined for futures of domestic duties?frequently drop out of school years before graduation. Throughout her childhood, Germana looked on as her father spent everything he made to put his sons through school and help them establish careers. The only female in the family, Germana kept the house clean, did laundry and cooked meals. Ultimately, it was Germana who took care of her father in his old age.
In her 20s, Germana met and married Santos, two years her senior. In their more than 40 years together, their family grew to include seven children. Their only son Benjamin, now 15 and in high school, is the only child still at home.
Germana and Santos' daughters moved to larger cities, where they work as butchers?an informal trade they are able to make
money with despite few years of schooling. It turns out that Germana's girls missed out on education, too. Germana explains that when her daughters were growing up, the closest school was too far away and, owing to their gender, making the trip wasn't high on the family's priority list. Tradition dies hard.

The winds of change are blowing, though, and the future looks bright in Qhohnqho Likiliki. In 2013, Germana and Santos joined a project funded by Heifer International and implemented by Practical Action. Through this project, 163 families are improving their nutrition and income with llamas. They're working with a new breed of llama, the Támphulli, a heartier animal that is more nutritious and brings a higher price at market.
Your llama gift can change a family's life.

Now Germana and Santos spend their days taking care of their herd of llamas, currently 20-strong, and tending to their vegetable garden. The llamas provide wool, which is turned into yarn and fabric, and meat?a reliable source of protein.
No matter how improved a breed, animals won't be healthy without proper nutrition. So, Germana and Santos planted five varieties of fodder seed?barley, oatmeal, weeping grass, festuca alta, orchard grass?on almost 10 acres of land.

Santos used to make pottery, an activity he enjoyed very much. Since his recent hip replacement, however, work at the potter's wheel became challenging. He says it's nice to have new activities to focus on.

In addition to llamas, the family raises sheep and goats, which they sell to supplement their income. They also sell dairy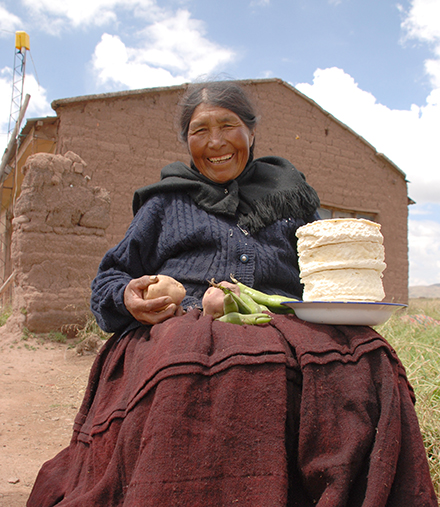 products, like cheese and vegetables?lima beans, turnips and potatoes. Their customers especially love chuño y tunta, a dehydrated potato snack. The money they make at market is used to pay for Benjamin's school fees and purchase groceries they don't grow, such as pasta, sugar and oil.
Germana said that plagues, a result of climate change, have attacked the community's crops and animals. Fortunately, they now have a remedy. "Thank God the project brought us vaccines so we can combat these things," she says.
Germana and Santos have learned much from the project's technical training on how to raise healthy animals and grow an abundance of nutritious food. They look forward to the day that they gift useful knowledge and healthy animals to another family through Passing on the Gift®.
Story by Napoleon Calcina, Technology and Communication Head, Heifer Bolivia
Photos courtesy of Heifer Bolivia