Editor's note: Cathy Sanders is the vice president of Philanthropy and Foundation Relations at Heifer. She recently returned from a trip to Haiti and writes about her experiences in that country here.
At first glance, you think you're in paradise. The blue waves crashing against the beach, palm trees blowing in the wind, 80 degree weather, the sun on my skin…I'm in the Caribbean. This is where people vacation and get away from the "real world" to find peace, comfort and relaxation in the abundances of this region. Right?
Well, sort of. A closer look reveals more. Yes, it is beautiful here. But there is much despair and pain hiding. I'm in Haiti. And while it is stunningly beautiful in areas, that beauty plays hard to get. No one vacations here. And not many find peace, comfort and relaxation in the valleys, plateaus and plains of this historically beaten land. Unless you've been living under a rock for the past four years, you know that Haiti has been hurting. The land hurts, the economy hurts and most of all, the people hurt. They have been hurting for a long, long time. It's the poorest country in the western hemisphere.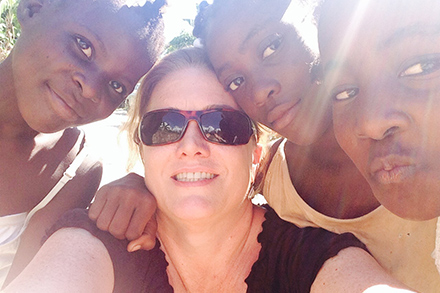 Four years ago, when the 7.0 magnitude earthquake hit Haiti, the city most impacted was the capital of Port au Prince. I visited the city almost one year post recovery in December 2010. What I saw then will live with me forever. Amidst the mountains of rubble, piles of flattened plastic water bottles and rancid garbage everywhere, there was an inescapable and overwhelming feeling of desperation. Everywhere you looked, people were struggling, with little hope in their eyes—they weren't trying to live, they were just trying to survive moment to moment, day to day.
Heifer's work has never been centered in Port au Prince. Our main administration office is there and Port au Prince is the economic hub, but when thousands of NGOs poured into Haiti to "support recovery efforts" following the quake, Heifer wasn't one of those tarps on the lawn of the national palace. We were where we've always been, in the rural areas serving small-scale farmers. Many don't realize how the earthquake affected the countryside. When homes and livelihoods were destroyed in the city, it is estimated that over 500,000 people moved to the country where Heifer works.
Which is what brought me back this time. Heifer's REACH program (Rural Entrepreneurs for Agricultural Cooperation in Haiti) is reaching thousands of families through this five-year, $18.7 million commitment to rebuild rural communities and improve economic opportunities in Haiti. This innovative program will help more than 20,000 vulnerable rural families on a number of fronts including job creation, income generation, skills training and disaster preparedness. I was back visiting the country to see the progress, bring some donors who were interested in investing in the program, and to hopefully find a stronger sense of hope than I saw before.
I found so much more.
For starters, there is less rubble everywhere, you still see so-called "third world" conditions, but it is obvious that the infrastructure has improved. Roads in the cities were better, trash wasn't as pervasive…I saw more hope.
With our crew of seven, we visited some of the important components of the REACH program like goat breeding centers and a graduation ceremony for Community Animal Health Workers (CAHWs). The graduation ceremony had a particularly strong impact on me.
Heifer works with these CAHWs all over the world. Heifer knows that you can't just give people animals without also providing other tools for animal management like food, shelter and medical care. That's why Heifer trains local individuals in communities to become "certified" CAHWs. It is a 300-hour program split between classroom and hands-on training. At the end, they are issued kits that have medicines, thermometers, syringes, training materials, and anything else required to be a vet for small scale livestock in rural areas. Those who participate in the certification program and learn the skills offered in the training become empowered to apply those skills to the benefit of their communities. And that is putting it lightly.
For most CAHWs, this is the only official certificate they'll ever receive in their life. It is the highest level of education they'll ever know. And it is a defining moment for them, for their families and for their future.
I was travelling with Heifer's Chief Operating Officer, Steve Denne, and he had the privilege of presiding over the ceremony and passing out certificates—a bona fide graduation. Sixty-four of them graduated on this day; 24 of them were women. Steve shared that, "This is the first graduation among many more to come. I urge all of you to use the skills you've learned here with quality and professionalism to lead as examples in the community." You could see each graduate swelling with pride.
So was I. I asked a woman in the program how she felt about her accomplishments and if she thought that the men in her community respected her as a professional and if they listened to her when she talked. Her response was almost incredulous. "Of course they do!" she replied. Because of the foundation that Heifer builds from the very beginning to include Full Participation and a focus on gender equity, it wasn't even a question in any of their minds.
My throat tightens as I reflect on this conversation. As we continued to talk, I stopped being a Heifer employee talking to a project participant and started being a woman talking to another woman about her life and struggles…some that I'll never understand and some that are all too familiar.
The success of the graduation, the productivity of the goat breeding centers, the transformation that women and men experience through trainings, these and others are what makes the REACH program sustainable and successful. Through this work, Heifer is changing the face of the livestock economy in Haiti. We are scaling up, nurturing change, and making real impact in a country that again seems to be forgotten by the world.
Learn more and find out how you can invest in the future of Haiti.