With a population of about 20,000, Svaneti is one of the largest mountain regions in Caucasus, Georgia. It is often referred to as the Land of Towers and Golden Fleece and attracts the attention of world travelers with its unique architectural, ethnographical heritage, landscapes, mountain peaks and glaciers.

Svaneti is divided into two parts–Upper Svaneti and Lower Svaneti–and its residents are called Svans.

Mestia is a regional center and urban settlement of Upper Svaneti–a starting point for alpinists and mountain climbers. But it is also home to 31-year-old Tinatin Gvarliani and 43-year-old Otar Paliani, members of a not-so-traditional Heifer project there.


"I was born and brought up in a big family and I always wanted to have many kids," Tinatin says. "That's why we have four kids: 8-year-old Salome, 7-year-old Saba and 3-year-old twins: Tornike and Irakli. My 75-year-old mother-in-law Nunu also lives with us."

Tinatin shares about times when the family's only monthly income was Nunu's pension, about $50, barely enough to feed his children.

"We Georgians have a saying: 'When God closes all doors, he opens the window,'" Tinatin continues. "Three years ago Heifer Georgia opened that window for us with Heifer International. They delivered horse mares and began supporting ecotourism development in our region."

"We named our horse Elva, which means lightning, because she is the fastest horse in Mestia. Her foal's name is Patara which means tiny," young Salome adds. "My brothers and I love to help our father feed and clean them."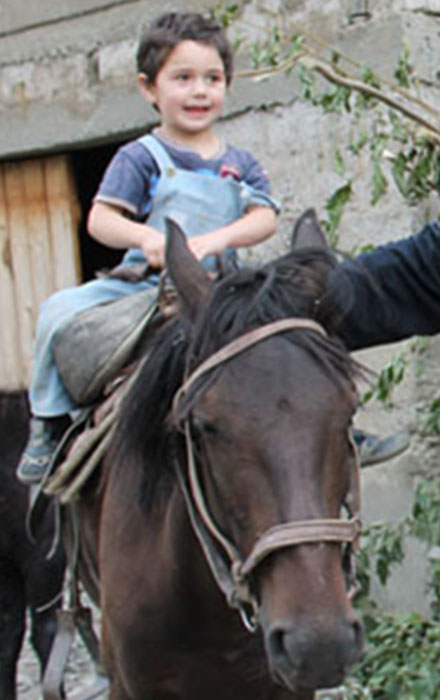 "Even when the Heifer staff visited our area, I could not believe it was real and that my life was about to change in such a better way," Otar says.

"Before I did not have experience in horse keeping, but through the Heifer trainings on animal management, feeding and welfare, as well as great support of our field veterinarian, Gia Kvitsiani, we easily overcame all obstacles."

Tinatin and Otar are part of the Improving Conditions for Ecotourism in the Svaneti Region project. This project promotes ecotourism using the locally popular horse trekking activities for tourists and by working with local governments to provide the best infrastructure to maintain the activities. So it is still a Heifer project with animals, but the use and goal of the project looks a little different from most–promoting ecotourism.

Mestia has become one of the most popular winter resorts in Georgia, third only to Bakuriani and Gudauri. The entire town was refurbished and even received a new ski lift. Roads have been repaired and city workers now have resources to fix roads and trails when rockslides block sections of the passageways. While the tourist season only lasts for six months each year, maintaining the industry provides year-round work and income for locals.

"The tourist season started early in April and will end in the middle of September," Tinatin continues. "Most tourists want to see the medieval monuments, which are featured in UNESCO's World Heritage Site list. Now, all of our horse trekking routes can get there easily and make a great experience for tourist. The routes are now marked. We hire out horses for this at about $30 per day. We also offer guided tours at increased rates.For example, in August my family could earn about $250 simply by renting horses to tourists. This quadrupled our income. With the extra money, we bought a cow!"

"Our family is not the only one that was helped by Heifer," Tinatin says.
"We've been able to Pass on the Gift of horses and training to another family. I know that many others are excited and ready to receive animals, as well.

"On behalf of my family, I want to express my deep appreciation and sincere gratitude to Heifer Georgia and each donor who has contributed to this project and to Heifer International. You are not only taking care of us, but of the whole world."

Story by Maka Kapanadze, Project Assistant, Heifer Georgia
Photos by Levan Chubinidze, Financial Assistant, Heifer Georgia