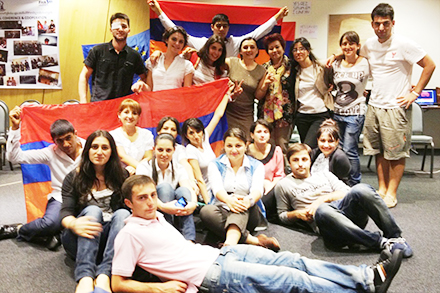 A forum in Tbilisi, Georgia, gathered youth from four Black Sea Basin countries from September 16-22, 2013. With a motto of "Know Your Neighbor, Know Yourself," the forum was organized to young members of the Youth Action for Regional Coherence and Cooperation the Action for Regional Coherence and Cooperation (YARCC) project from Armenia, Georgia, Turkey and Bulgaria to learn more about their neighboring countries, as well as themselves.
From day one of the forum, we quickly made friends and with our neighbors and were ready to fulfill our mission of teaching and learning. It didn't take long for us to shed the personal connections to the countries we were representing and allow ourselves to become part of something bigger.

On the first two days, delegations from Georgia and Bulgaria made presentations about their countries, including history, culture and customs. Among the interesting facts shared by the Bulgarian youth was information about Baba Marta Day–a holiday they celebrate on March 1. Translated "Grandmother March," Baba Marta celebrates the coming of spring. On this day, Bulgarians weave white and red yarn together to create symbols of peace and struggle. The yarn creations, called martenitsas, are worn on wrists and clothing throughout the country.
The third and fourth days brought presentations from Armenia and Turkey. Each group performed songs and dances to illustrate the unique traditions of their countries. Before the Armenian youth took the stage, Anahit Ghazanchyan, country director for Heifer Armenia, shared Heifer's values–the 12 Cornerstones for Just and Sustainable Development, which the youth found very interesting and easy to relate to.
Small group activities helped facilitate further sharing. These included translation games and short dialogue exercises using the alphabet of a neighboring country. A fun game of trivia made the youth think, with questions like, "What is the shortest metro in the world?" and "What was the Black Sea formerly called?"
After all delegations presented, the youth were tasked with presenting their neighbors to their peers. They took on this assignment with great enthusiasm and searched for information in books, on the Internet and from each other in order to introduce their new friends in the best possible way. They were so open and friendly, and looked like members of a very large, united and friendly family.
The forum's agenda included field trips where the youth visited various sites of Tbilisi. They explored museums and other cultural spots in the city, where they witnessed cultural heritage that the people of Georgia have preserved for centuries through today.
It was very interesting to see our neighbors' culture and their national face, to perceive them from different angles–as a person, as a citizen, as a friend, and as a bearer of another culture.

When you think for a moment, you realize that you are not just an individual plunged into the daily routine, trying to shape your future and indifferent to what is going on nearby. You realize that you are a citizen of the country you represent, part of the nation you represent. The blood of your ancestors is running in your veins and you are proud of the culture of the nation and of the country you are part of. You understand that you are one of the pillars of the society and the country you live in.
Thus, you have to go on with such care and consciousness, such a strong feeling of responsibility and sense of dignity in order never to shake these pillars. I hope the large family that was created within this project always stands on strong pillars and that it grows, always staying together and recording continuous success based on peace and cooperation.

Story by Parik Naghdalyan, Youth Trainer–YARCC Project, Heifer Armenia
Photos by Anahit Ghazanchyan, Country Director, Heifer Armenia

The YARCC project is co-financed by the European Union through the European Neighborhood and Partnership Instrument. Heifer Armenia is the prime implementer of the project, which has an overarching objective of contributing to regional partnerships and cooperation toward a common and cohesive cultural environment where common values and the richness of Europe's cultural diversity are shared and valued.