Title: Country Program Manager

Location: Zimbabwe

When did you start working for Heifer? I joined Heifer in May 2011.

What attracted you to work for Heifer? My passion includes helping poor communities transition to sustained development. I have worked for World Vision, Lutheran World Federation and Khulasizwe, which share Heifer's vision to end hunger and poverty, so it was only natural that Heifer would be a great match to my values and work experience.
What has been the most memorable experience you have had while working for Heifer? Working with communities during Passing on the Gift® ceremonies. I have seen people proud to pass a gift to someone, becoming a donor themselves, and I've witnessed those receiving the gift, which included hope for a better future.
My education includes: a Bachelor's degree in business administration, an executive diploma in general management, a certificate in personnel management, a certificate in bookkeeping and accounts, andI've completed several courses on development programs facilitated by World Vision.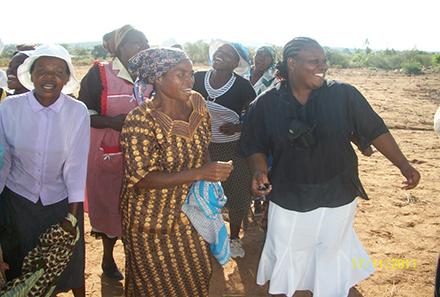 My hobbies include: Watching news updates, wresting–World Wrestling Entertainment (WWE) and Total Nonstop Action (TNA), and African and American movies.
My family consists of: myself, my husband, and our two sons. My husband Delani is a motor mechanic. My 19-year-old son Mbonisi Dylan is in college studying han auto electric course, and my 13-year-old son Mbongeni Dyson is a high school junior.
Something about me that you might not know: I am a fast learner and am always willing to learn more in order to produce good quality work.
What is the best thing about working at Heifer Zimbabwe? As you are working with the poor communities to end hunger in the world, your life is also transformed for the better everyday. You learn new things that you did not know existed in this world.