Story and Photos by Anna Arakelyan | Business Education Expert | Development Principles NGO
Translated by Liana Hayrapetyan | Communication and PR Coordinator | Heifer Armenia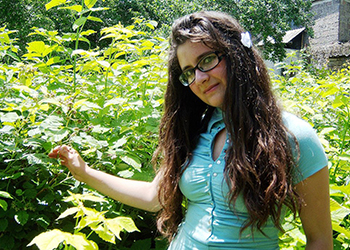 Sisters Menuhi and Gohar attend the business direction, or area of study, of the YES! Youth Club in the Kirants community of Tavush region and are engaged in Heifer Armenia's Young Agriculturists Network of Armenia (YANOA) project.
In 2011, each sister developed business plans, and both were approved by Heifer Armenia. Both Menuhi and Gohar received a seed youth grant worth 40,000 Armenian drams, or about $100, to start a small business. In May 2012, Menuhi started growing raspberries and Gohar established a chicken farm.
Menuhi purchased 2,000 raspberry bushes, biohumus and pesticide. Last year she sold about 132 pounds of raspberries, yielding a profit of 47,000 drams, or about $113.
"During the harvest season I gather raspberries every four to five days," Menuhi said. "To tell the truth it is not an easy thing to do. Out of 47,000 Armenian drams (about $113) income, my net profit till now was 7,000 drams (about $16.78), but I'm going to generate more. Next year I am planning to also sell bushes of raspberry." Menuhi also said harvesting was difficult because the bushes are covered in thorns. She gathers her crop in October, the best month for raspberry harvest in Kirants.
Gohar purchased 70 newborn chicks for 21,000 drams, or about $50, and bought feed and vitamins with the remaining funds. She grew her poultry business and sold some of her chickens in October 2012. From the money she made with these sales, she purchased more chicks to raise and sell in March 2013. Since the start of her business, Gohar has generated an income of 52,000 drams, or about $125. Gohar's success allowed her to Pass on the Gift® of 40,000 drams, or about $100, to help another member of the YES! Youth Club start a small business.
"I love to watch baby chicks when I feed them," Gohar said of her growing business. "I always feed younger chicks separately because those which are already a bit grown are very fast in eating the feed. If I don't feed the younger ones separately they will stay hungry."
Both are happy with their engagement in small businesses and appreciate not only their results, but also the knowledge and skills gained through the YES! Youth Club.