Story and Photos by Droma Sangmo | Tibet Regional Project Manager | Heifer China
At the foot of a snowy mountain in Tibet sits Dan Nu Village, a semi-farming, semi-pasturing community where people make their living farming and raising livestock. They also collect Chinese caterpillar fungus to earn extra income.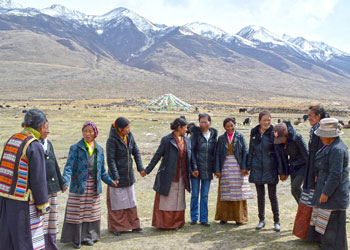 With the ground still covered with snow, Heifer project participants from three villages assembled for a new Passing on the Gift® (POG) ceremony, which was curtained up in front of a black tent on April 14, 2013. Participants from the villages of Xue Ba, Zhi Ba and Dan Nu passed on gift funds of 230,000 yuan renminbis, or about $37,342 to 44 representatives of Xu Ba. Project participants joyfully celebrated after the POG with a Tibetan Guozhuang (bonfire) dance.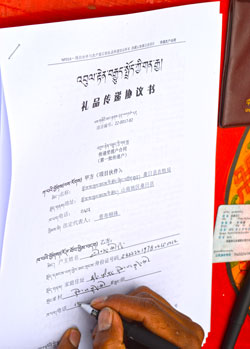 Three outstanding project participants, Luo Sang Ci Cheng, and Nini and Luo Zhu, were awarded with gifts for their achievements. The awards praised them as role models for the community and encouraged them to spread the love. The community facilitator received a Hada, a traditional ceremonial scarf, as appreciation for hard work. Xue Ba Village gift recipients signed a POG agreement with Heifer project partners at the end of the ceremony, so the gifting will continue.
Find out how you can help farmers like these transform their lives.