This is a guest post from World Ark contributing writer Jennifer Wheary, who is working on an article for a future issue about sharing communities.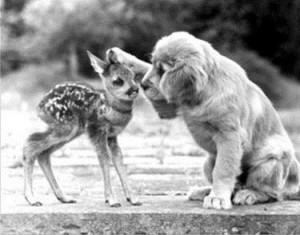 We all need a little inspiration from time to time. Heifer, and especially its supporters, inspire me. There is incredible vision—meaning the ability to really see others and a way to help them—behind every donor's contribution, large and small. I am proud to have written an article about Heifer's work in East Africa for the current edition of World Ark. I am also incredibly glad to have read this current edition, February 2013, cover to cover.
In this edition, Austin Bailey, World Ark senior editor, writes an excellent piece about Growing Kindness. I am a parent, and someone who struggles to be less self-centered. For me, Bailey's reflections on how to sow the seeds of kindness and caring in her young sons hit home.
I read Bailey's article with great interest, filed it somewhere in the back of my head, and moved on. A few weeks later, I came across an article on The Six Habits of Highly Empathic People while researching something for work. I immediately clicked. Or rather, things immediately started to click for me.
I had been researching something called collaborative consumption and was reading a wonderful online magazine devoted to the topic called Shareable.net. Shareable had republished (with permission of course) the empathy article (more on that later).
I quickly skimmed the six habits: "Cultivate curiosity about strangers," explained the article. "Challenge prejudices," "discover commonalities," and "try another person's life." Listen to others, and open up about yourself. Inspire action and social change with an ambitious imagination. When I first glanced at the list, I must admit I saw it as a checklist. "How many of these do I get?" I thought to myself. If I can check four out of six, am I empathetic enough?
As I was trying to tally my self-righteous empathy score, Bailey's World Ark article on kindness came to mind. It was then I made an important connection. Empathy is not a competitive commodity. As the root of kindness, empathy is an ongoing, unfinished action. Put another way, the habits of empathy I was reading about were not a checklist, but an ever-present to-do list.
Though I saw it on Shareable, The Six Habits of Highly Empathic People originally appeared on the Greater Good website. Greater Good is the online presence of a science center at the University of Berkeley that "studies the psychology, sociology, and neuroscience of well-being, and teaches skills that foster a thriving, resilient, and compassionate society."
Such a society sounds grand, and elusive, especially if it's left up to limited people like me to create it. Fortunately it is not.
The point of the empathy article, of Bailey's original piece in World Ark, and of the scientists studying how to build a thriving and compassionate world is that better behavior and an overall better place are actionable and achievable. Achievable now, in individual choices and small actions.
But it takes work, and it takes a lot of us working together.
If you delve into the Greater Good website at all (and I highly recommend you do), you will learn a lot about how and why to pursue this goal. One common theme underlying these efforts is the importance of paying attention and really seeing others. Heifer supporters show this incredible vision again and again.