Story and Photos by Nguyen Xuan Quyen | Communications and Networking Officer | Heifer Vietnam
Heifer Vietnam is committed to enhancing women's role in families, in society and communities, and we and our partners organize collective activities to celebrate and honor women in their projects. Therefore, the International Women's Day (IWD) celebration has become an annual activity in every Heifer project in Vietnam since 2009.
For 2013, IWD was celebrated in projects in Kien Giang, Ben Tre, Hau Giang and Tra Vinh, engaging more than 200 project members in the celebrations. Various activities took place on that special day to honor and entertain project women.
This was the first IWD for project members in the Go Quao district, Kien Giang province. They were very excited and looked forward to the event, where they participated in cooking, singing and dancing. Six self-help groups (SHGs) were divided into 12 teams to take part in a cooking contest. The contestants were male project members, and with a budget of $15 given by the organizers, they went shopping and then cooked the meal on their own for ten guests, in the 90 minutes of allotted time. Amazingly, considering that it was the first time for some of the male contestants to do the shopping or cook a meal, they were good cooks.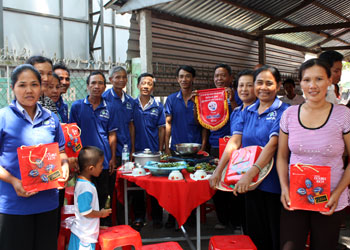 In addition to cooking a tasty meal, these participants wanted to cook a healthy meal by using their own farm products such as snake fish, vegetables, coconut and bell pepper, instead of market products. All of their farm products are raised and grown under instruction and techniques from Heifer's trainings and cow manure. And through this event, the SHG members enjoyed passing on their gifts to their fellow villagers by sharing and caring. One participant, Anh, eagerly said, "This is my first experience in the International Women's Day celebration. I had not known about the day until I joined the Heifer project. My husband understands about IWD, so this morning he volunteered to do the farming and housework for me to attend this event. Thanks Heifer so much for this fascinating event."
In the Hau Giang province, the celebration was filled with laughter, pleasure, and singing. A project partner held some traditional games for the project women. In the games, women competing were focused and determined, coordinating closely and skillfully among their teams. Laughter and applause burst out among them all, regardless of loss or victory. They all came for one purpose?to enjoy their special day.