Story and Photos by Rothy Toeng | Planning, Monitoring and Evaluation Officer | Heifer Cambodia
Heifer Cambodia conducted a five-day training on Values-Based Holistic Community Development (VBHCD) for the staff of the Gender and Development for Cambodia (GADC), a new provincial project coordinator, and community facilitators under a new three-year grant contract project between Heifer Cambodia and the GADC, which is a non-governmental organization (NGO) in Cambodia.
The project Strengthening Protection and Promotion of Women's Rights and Socio-Economic Empowerment, which is supported by the European Union (EU), aims to raise the knowledge and skills on VBHCD for GADC staff as it is focused on a gender mainstreaming and women's rights. The training also focused on building effective and cooperative relationships among Heifer and GADC staff.
During the training, 25 participants attended and were fully active in the event. Of the 25 participants, 14 were from GADC and 11 from Heifer.
Participants revealed their interest in training topics provided by Heifer. Prom Lakhena, a capacity building officer of GADC, said, "I am very interested in the Appreciative Inquiry (AI). With this topic, I realize that the AI method is a positive method for brainstorming and it can assist project beneficiaries to start developing something from what they have. Before, I used only problem-solving methods to discuss with the beneficiaries. From now on, I am going to use this new method when working with community people."
Kheiv Vanny, a community facilitator from Prey Veng Province, said, "Before this training, I did not feel confident or comfortable with the process of forming a self-help group (SHG). With this training, now I understand the process to form a SHG and know how to help SHGs to work sustainably in the community. When I return to my workplace, I am going to use this knowledge to work with the provincial project coordinator and other community facilitators to form groups."
"It touches my heart, in the session about sharing and leadership was shown a slide of a flock of birds flying together. With this presentation, it reminded me of the time I was working with my youth team," Khuth So Champawath said with tears in her eyes. "It is real; it is not only in the session, and we help each other, we care for each other, we share something from one to another to make our group work and achieve our goal. No one is perfect; everyone has their own strengths and weaknesses. I hope that the spirit of sharing, leadership and teamwork will help my team, and we work together more effectively."
The training sessions and games about Passing on the Gift® (POG) helped participants clearly understand Heifer's 12 Cornerstones for Just and Sustainable Development. Tep Phirak, Tan Pichthor and other participants said the POG game not only explained how one group could pass their gifts effectively, but it showed how strong the group is together when they share information and knowledge.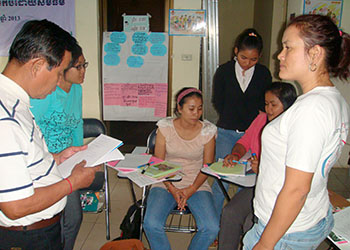 The training helped new Heifer staff and GADC's staff understand the value of helping families rise above poverty. The Cornerstones training also helped staff internalize Heifer's work more effectively. "The 12 Cornerstones do exist in everyone's life. With this training, GADC and Heifer Cambodia will be able to understand each other more and work together effectively and efficiency," said Chhay Kimsor, GADC program manager.
We look forward to seeing the results from the cooperation between Heifer and GADC, and hope this new model will be a good lesson for the next Heifer Cambodia project.