This weekly post shines a light on a handful of stories from Heifer.org's "From the Field"
section.
Editor's note: Empowering women is at the core of Heifer International's model for sustainable development. In honor of International Women's Day on March 8, this week we are sharing stories of the women with whom Heifer works, who take the gifts of livestock and education to produce extraordinary results for themselves, their families and their communities.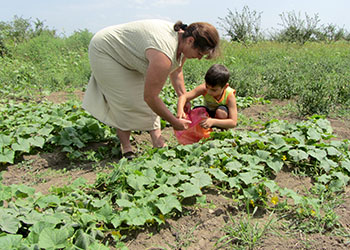 Eka Surameli and her son Guri, pick tomatoes in their garden. Photo by Nino Tskhadadze
Eka Surameli, a 42-year-old mother of four children and two grandchildren, lost her home and livelihood during the Russian-Georgian war. The family left their garden and orchard unattended when soldiers forcefully emptied the Georgian border village. After the war ended in 2008, villagers returned to destroyed homes, burned fields and the continuing echo of gunfire.
Eka attended training on modern agricultural technologies through the Rural Development for Future Georgia (RDFG) organization and learned how to better maintain her garden and orchard. She worries her children will never forget the cruelty of war, but because of Heifer's partnership with RDFG, she has hope for a peaceful future.
On February 22, 2013, Heifer Cambodia and its partner, Gender and Development for Cambodia, launched the three-year project Promotion and Protection of Women's Rights and Socio-Economic Empowerment. The European Union awarded about $1,441,720 in funding to help the project promote gender equality and women's participation in sustainable socioeconomic development in Cambodia. Keo Keang, country director of Heifer Cambodia, said the impact on women's lives will increase their self-confidence and also make a positive change in the expectations and behavior of men, families and communities.
Heifer Vietnam project participant Trinh Thi Phuong Dung stands next to her family's sugarcane field. Photo by Maria Lynn Wrabel, courtesy of Heifer International.
As a child, Heifer Vietnam participant Trinh Thi Phuong Dung was only allowed to complete the fifth grade. Understanding the importance of education, Dung and her husband have worked hard to finance their son's and two daughters' college educations. The couple began raising catfish and sugarcane with a $100 revolving fund through Heifer Vietnam. Dung and her family also help support their community by hosting monthly meetings for project participants to share experiences, ask questions and offer advice.