Every Sunday we highlight some of the people who are funding our work creatively or helping us spread the word of our mission online. If you spot Heifer International while you're surfing the web or know of a fun or creative fundraising effort, please share it with us here in the comments.
Photo credit: Chicago Tribune
Holy Cross Catholic Church in Deerfield, Illinois, is treating Lent as a time to help somebody else, and not simply give something up. The church is seeking donations for Heifer and created this wooden menagerie to represent each of the animals. How cute its that?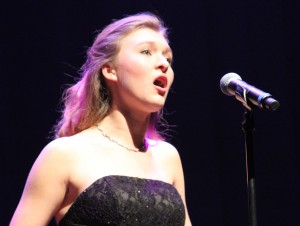 Photo credit: MorristownGreen.com
Katherine Merwin, along with her musical partner Julia Cipriani won first prize in Morristown's Got Talent! They plan on donating some of their prize money, Julia to her long-time Guatemalan pen pal and Katherine to Heifer. Thanks for putting your talents to great use!
Starting about three years ago, a woman gave extended family members each a white piggy bank and asked them to deposit extra pocket change into the bank. At Christmastime, they combine the money collected and guess the total amount. Whoever guesses closest gets the choose where to donate the money. They've given to Heifer International, World Vision, and this year, the local YWCA. A great idea and a reminder that just the little bit of change in the bottom of your purse or pocket can add up.
Photo credit: Oshun Spirit
You can help beeeeee the change in the world! Twenty percent of profits from the sales of Oshun-branded items will be donated to Heifer International. And according to Oshun Spirit, they have supported our honeybee program since 2001.
We were saddened to hear this week that Bill Williams, the man who donated the land for what is now the Heifer's Learning Center at Overlook Farm, in Rutland, Massachussetts, passed away. When he donated the land, it became home to animals, mostly goats, that were shipped to villages in Guatemala and Honduras. Heifer changed its model for distributing animals from local sources, and the Learning Center was born.