Water is a vital resource for agriculture, sanitation and for all human existence. Yet 780 million people do not have access to clean water. In recognition of World Water Day on March 22, Heifer International is highlighting the need for those struggling to emerge from poverty to have reliable access to water.
Water. A simple requirement for many of us in the world, but not for Idess, a young girl living in Zambia who has to walk a mile four or five times a day to retrieve just a bucket of water or two.
Idess lives just outside of Ndola, Zambia, in a community called Kanyenda, with her family, which has received goats from Heifer International. At 15, Idess is in the 8th grade but school isn't her only responsibility. She and her mother, Dainess, 46, are also tasked with going to fetch water from the community well. Though she is in her teenage years, Idess understands her role in the family dynamic.
Idess, a 15-year old girl with much hope, thanks to Heifer
I was able to spend time with Idess and her mother one Saturday to learn how they spend each day on chores like fetching water and cooking for the family. Though I had arrived early in the morning, they had already gone to bring water back once that day for the morning's tasks. It was already time to walk back to the well to bring water for the preparation of the family's lunch.
We grabbed our buckets and began to make the walk in the hot, African sun even though Idess and her mother do not wear shoes. As we started to walk, Idess stayed close by my side to make sure I didn't have any trouble carrying the empty buckets or get lost along the multiple dirt roads. Though she was young, she had made this walk so many times she does it with ease.
After about 25-30 minutes, we arrived at the well, about 40 feet deep. Attached to the well was a yellow Jerry can that is dropped into the well to lift out the water. Dainess showed us how to drop the can in the well and lift it out to pour it into the bucket. She did it with such grace that the 30-pound bucket seemed effortless to lift up. Next was my turn to try. After one unsuccessful attempt to fill the bucket full of water, I tried again. Idess explained that you have to turn the can to the side and lift up, turn the can and lift up again to get it fully filled.
It was time to lift the can out of the well. My attempt had none of the grace of Dainess' maneuverings. The bucket was heavy, the rope was wet and my hands were not strong enough to hold the rope and pull it up out of the well. Idess gave me a sweet smile and then asked if she could help. Water is a resource that no one can live without and she understands the importance of bringing back as much water as you can each trip.
Once our buckets were filled with water, it was time to return. I wanted to try to carry the water on my head the way Dainess and Idess do, to try to understand how they live each day. Idess helped me as I placed the bucket on my head. As the 15-25 lb bucket of water settled on my head, I started to feel the tension in my shoulders, back and mostly my neck. As we began to walk, water slowly sloshed out of the bucket onto my face, shirt and pants. (I had a real fear that there would be no water left in the bucket once we arrived at their house.) As we walked back, everyone was much quieter, focusing on their load.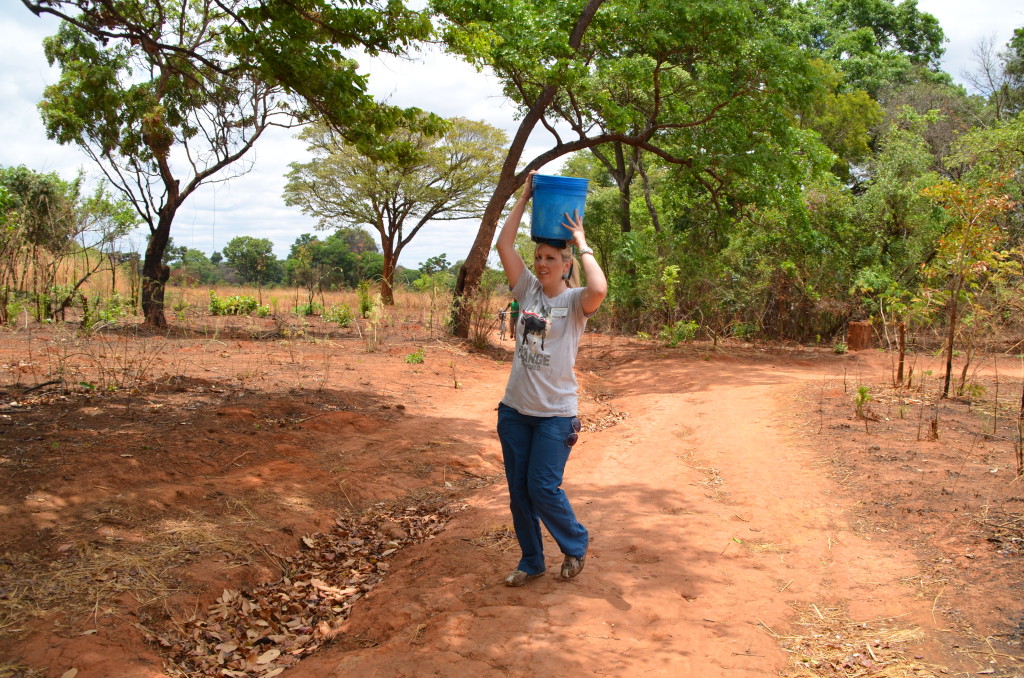 Carrying back the water, though using two hands is cheating
After about 30 minutes, we arrived back at the house with water left in all buckets to use for cooking. To retrieve the water took about an hour and a half. Cooking prep took another hour, as did the cooking process. After about 3 hours, we had retrieved water, prepared food and cooked. Most days, Dainess and Idess have to do this two to three times for their family.
Dainess prepares lunch with the water that was collected.
The water we collected was to cook and wash dishes with for that day. The other water collected will be for the goats the family received from Heifer, for the family's consumption, small garden and for bathing.
As we think about World Water Day, let's think about Idess. Her hopeful smile shows that the work we do at Heifer is impacting her family by showing them how to manage water consumption and practice water conservation to not only improve their lives, but the environment as well.