Every week we highlight some of the people who are funding our work creatively or helping us spread the word of our mission online. If you spot Heifer International while you're surfing the web or know of a fun or creative fundraising effort, please share it with us here in the comments.
Photo credit: Buzz Karma
Buzzkarma is sending beehives and training to families in rural communities from Uganda to Haiti through Heifer International. On their website, they say, "This feels like pretty good buzz karma to us." We couldn't agree more. Watch the entertaining video and help them spread some buzz karma.
[embed]http://www.youtube.com/watch?v=fIgDqW_BCTQ[/embed]
Together, Los Perales Elementary School kindergarten teacher Terryl Miller and her class decided to use their newly acquired reading skills to raise money for Heifer International's Read-To-Feed program. They raised $3,101, which helped them purchase one water buffalo, one heifer, 18 goats, one beehive, and eight flocks of chicks. See the kids artwork and listen to them talk about this project in the video above.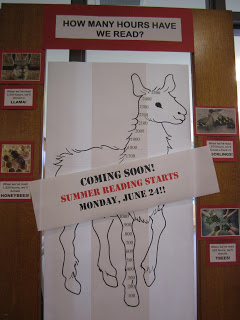 Photo credit: Children's Room at the WFPL
Monday, June 24 kicks off this year's Summer Reading program at the Watertown Free Public Library in Massachussetts. This year's creative bonus? They will do their hour-tracking on a Llama-mometer!
We hope Blytheville First United Methodist Church VBS enjoyed their overnight stay at Heifer Ranch in Perryville, Arkansas. They've been learning about local missions all week, and now they're going to see what a difference they can make on a global scale.
Different Drummers interviewed Jay Whittmeyer, who serves on Heifer International's board and is Executive Director of Global Mission and Service for the Church of the Brethren, who recently traveled to Nepal where he witnessed the success of Heifer's goat project.
Photo credit: The AlternativePress.com
H.B. Brunner Elementary School third graders in New Jersey read Give a Goat, by J. Schrock, and found out they could donate money to buy a goat for people in Uganda. They brainstormed and came up with several ways to raise money, from a lemonade sale to a charity hockey game to doing chores. They earned almost $900!