Story and Photos by Sergey Meloyan | CARMAC Project Coordinator | Heifer Armenia
Translated by Liana Hayrapetyan | Communication and PR Coordinator | Heifer Armenia
Armenian farmer Armen Zakharyan believes things will continue to get better.
Armen Zakharyan, an Armenian farmer from a remote mountainous village bordering Azerbaijan, has found success through a Heifer project. And, he believes that this is only the beginning for him and his community.
Zakharyan's village, Khoznavar, lies in the Syunik region of Armenia, and is one of 55 communities where a Pasture Users' Consuming Cooperative was established through the Community Agricultural Resources Management and Competitiveness project (CARMAC).
About 420 people from 100 families call this village home, and animal husbandry is their main occupation. Zakharyan, a farmer who also works in the mayor's office as an accountant, applied for membership when the cooperative came to his village.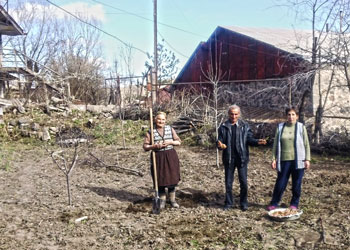 The Zakharyan family, beneficiaries of a Heifer International project, stand in their garden.
Many families joined the co-op when it was established, and it has grown to include 68 families. The co-op owns 660 livestock, 280 of which are milking cows, a tractor, and a seeder, and will soon receive a plow.
Zakharyan holds one of his sheep.
Zakharyan actively participated in the trainings offered by the project, and his co-villagers now turn to him for farming advice.
He is ready to help them with whatever he can, and said you must believe and devote yourself in order to succeed.
"Though this is only the start, we have already benefited using the equipment provided by the project," Zakharyan said. "I'm sure we are going to achieve even better results."
The equipment available through the co-op will reduce each farmer's expenses, so they can invest in the project and the co-op to get more equipment.
The Zakharyans cultivate their land in the village of Khoznavar.
Zakharyan continued, "I'm sure we will have excellent results. Time is necessary for the cooperative to develop. All the members of the cooperative are ready to save up more to invest into the project through the cooperative. Cooperative members' belief and devotion is the most important thing in this initiative."
Armen Zakharyan always encourages his fellow co-op members to take the initiative on making important decisions and work through difficulties together.
The CARMAC project is implemented in 55 rural communities of Armenia by Heifer Armenia and the Republic of Armenia Ministry of Agriculture. The project aims at improving existing pasture management practices, bettering the pasture infrastructure, strengthening the agricultural advisory services, creating agricultural cooperatives and providing them with the necessary agricultural equipment, training and practical skills.