Story and Photos by Karine Matevosova | Program Coordinator | Heifer Armenia
Translated by Liana Hayrapetyan | Communication and PR Coordinator | Heifer Armenia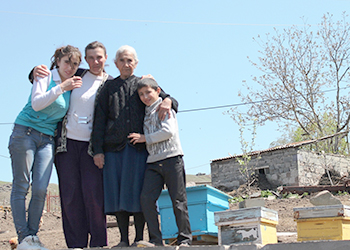 The Nazlukhanyans, beneficiaries of Heifer's Passing on the Gift® model, were one of 12 families to receive bees in 2012 from original project participants. From grandparents to grandchildren, the entire family of second-generation beneficiaries became active participants in the Heifer Armenia project.
They became a part of the Beekeeping and Honey Production to Build Sustainable Livelihoods in Debed Village project. This project started in 2010, through a partnership with Heifer Armenia the Fuller Center Housing Armenia (FCHA). Heifer Armenia provides beehives and training to families in this community to run bee farms and generate incomes. The FCHA renovates houses, providing families with new and better places to live.
Armen Nazlukhanyan's family consists of nine people, including his parents, his brother, his wife and their four children, ages 17, 14, 13 and 10. They live in Debed-a picturesque village in Lori Region of Armenia located about 95 miles away from the capital, Yerevan. The friendly and diligent family helps each other in their daily work at home and on the bee farm.
Kristine, Armen's wife, said, "I'm very glad to become a Heifer beneficiary. We are expecting a good harvest of honey, which we are planning to sell to care for our family expenses. Soon our house will also be renovated. This partnership project's assistance is very valuable for us."
Armen and Kristine's two daughters, Zhanna and Astgik, and two sons, Vigen and Vahe, attend the YES! Youth Club in Debed. The girls study journalism and logical thinking, while the boys attend agriculture classes. Last year the girls received 20 apple trees from Heifer to plant in their garden, as well as trainings on how to care for the trees.
The Nazlukhanyans have already increased the number of hives from four to seven. This spring has been favorable for beekeeping and they are expecting to have an exceptional honey harvest. With progress like this, the family will be able to pass on four hives, the same amount as they received, to another family in need in two years.
In addition to bees, the family grows potatoes, beans, tomatoes and carrots on the small piece of land behind their house. Beekeeping and horticulture take a lot of time and effort for the family, but they work hard and do it with pleasure since it brings income.
The Nazlukhanyans joined Heifer and they all became active members of Heifer's big family to work hard, generate income and achieve sustainability and self-reliance.