Story by Orn Makara | Training Officer | Heifer Cambodia
Photos by Hun Hieak | Program Officer for Southeast Region | Heifer Cambodia
Phan Phearum (right) stands in front of the goat shelter, which her husband helped her build with palm leaves and bamboo found around their home.
Phan Phearum became a part of a Heifer project in 2009 when she received two goats as a member of the Strey Knong Kdey Sangkhim self-help group (SHG) of Chetthor, Cambodia.
"My family was one of the nine families in the original group to receive the goats; others prefer to get pigs and poultry," said Phearum, who was also a literacy facilitator during the length of the project from 2009-2012. "First, I was not confident to raise goat because I did not have experience of raising these animals. Finally, I am comfortable to raise goats after I have learned techniques and skills from the Community Animal Health Workers (CAHWs) at my village who were introduced to us by Heifer Cambodia and Chetthor. There are available feedings for the goats to eat in my village, which I never knew of before I attended the trainings," Phearum said with new confidence.
She continued sharing about her experiences while her healthy goats stood nearby eating leaves. "Raising goats does not [mean spending] a lot of money for buying their feed. I grow the goats' feed on my land so it is enough for the goats to eat. Sometimes I collect grass around the village and at the rice field for the goats to eat. After four or five months, the female goats gave birth. Each goat gave birth to a baby goat and in the next four or five months, the same female goat gave birth to another baby goat."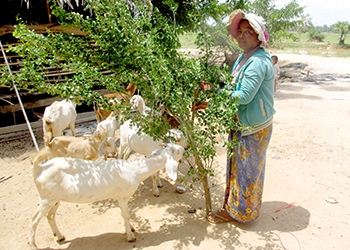 Community Animal Health Workers taught Phan Phearum how to feed her goats using local resources.
In late 2010, Phearum passed on three goats to another family during a Passing on the Gift® (POG) ceremony. She said she was happy to quickly pass on her goat's offspring to another family. Phearum now has 13 goats and has sold six goats that weighed about 33-44 pounds.
"It is not difficult to sell goats," she said, adding that each goat costs about $100. "The traders come to buy goats from me at my house. Nowadays, my father raises goats because he sees the profit from goat raising. Many other villagers do the same."
Phearum is committed to telling others in her village about raising goats and gifts she received. Pharum happily said her family's living conditions have improved since receiving goats. She was also able to purchase new stairs for her home. "My family and I are grateful to Heifer and Chetthor for their good deed. I never forget to thank them. I look after these precious gifts very well with my husband and my children."