Story by Christian DeVries | Freelance Writer | Heifer International
Photos by Russ Powell | Freelance Photographer | Heifer International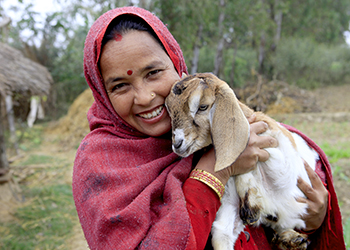 Vishnu Pariyar didn't have many friends and her community rarely cared for each other. But Heifer Nepal changed everything.
"Now we are united and we have fun together," Vishnu said.
Vishnu and her husband, Bharat Pariyar, live in Sitapur Village, Nepal. They have three children—a daughter, Nirmala, 22, and their sons, Sunil, 17, and Saroj, 15.
The couple's early years were hard. Their arranged marriage as teenagers produced frequent arguments, but little money.
Heifer's work seemed like an opportunity for change, but Vishnu was skeptical. After talking with her neighbors, she realized Heifer would provide new knowledge and skills, access to credit, improved income and new friendships.
In May 2010, Vishnu received two goats and fodder seeds to grow grass for feed. She completed her Passing on the Gift® requirement just two years later.
Vishnu participated in trainings for the 12 Cornerstones for Just and Sustainable Development, kitchen gardening, improved animal management, reproductive health and HIV, fodder and forage, and the Values-Based Literacy Program.
Life Before Heifer Nepal
At the beginning of Heifer trainings, she faced prejudice as part of the Dalit ethnic group, or the "untouchables." Vishnu was not allowed to cook for the group's shared meals.
She was not welcome in higher-caste homes or able to participate in certain ceremonies. Social pressure made people worried—they could be ostracized if seen being nice to a lower-caste member.
But now her community has a new attitude. "Now people are not worried about eating the food I make," she said.
Her family was only eating two meals a day before joining the project. Their typical meal was roti (flat bread), dhido (maize flour) or rice with beans.
"If I didn't earn much in a day, then I couldn't afford vegetables," Vishnu said.
They could not afford meat either. The family waited until major Hindu festivals…about three times per year.
"Now we consume meat almost daily," Vishnu said. "We now have a variety of vegetables from our own farm. We eat a more balanced diet and I have more energy to work."
Reaching Her Goals
She borrowed $869 from the Heifer project's shared fund to rent a small piece of land and grow wheat for her family. In her kitchen garden, she planted cauliflower and tomato seeds, which has improved her family's diet.
Vishnu and Bharat's relationship also improved. "My husband was not very supportive," she said. "He drank too much and was irresponsible. Heifer's Cornerstones and Gender Equity trainings taught him a new way to live."
"I would go days without working," Bharat said. "But now I understand the importance of working every day. Now I help organize group events and feel like I belong."
Bharat learned to understand and support Vishnu's goals. He listened to her and together they are working hard and saving money so their children can go to school.
"Our parents didn't educate us, so we can't read and write," Vishnu said. "I want to educate our children so they have hope for a better future."
Their eldest son, Sunil, wants to study business administration at a private college. "I've always dreamed of getting a higher education and a good job, because there are not many opportunities here."
His mother said, "My children were growing up and their schooling was becoming more expensive. This group was our hope for a better life."
Sunil cried and his voice cracked explaining how much his mom has changed. "I'm very proud of my mother. She borrows my books to practice reading. Thanks to Heifer she can write her own letters."
"I couldn't sign my own name before, now I can," Vishnu said.
Sewing It All Together
Today, Vishnu has several sources of income that guarantee her children's education. She has a small sewing business and sells buffalo milk, ghee (clarified butter) and goat meat.
Previously, Vishnu's sewing profits (about $261 per year) were immediately spent on household needs. The group's savings fund allowed her to buy a seaming and sewing machine, thread, buttons and other materials.
She gives sewing lessons to four women. They each pay her $54 for a six-month class. Altogether, this skill now provides Vishnu with $1,042 every three months—and half goes into a savings account.
She was able to buy a water buffalo for $683. After her water buffalo gave birth, she began selling milk and ghee.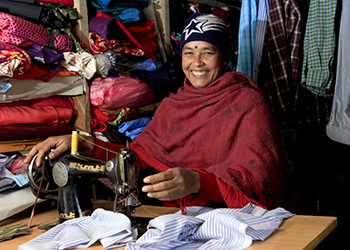 After saving for two years, Vishnu bought land and built a house. The top is white-washed and the bottom is an earthy red.
She had lived with her children in a tiny shed they rented from a neighbor. "There was not enough space for us…we all slept in the same bed," Sunil said.
"We didn't have warm blankets for the winter, but now it is very comfortable in our home," Vishnu said.
Her son agreed, "I'm proud my mom was able to buy this land and build us a new house with her own money."
Vishnu hopes that other women and families will be able to benefit from Heifer's projects. "I love Heifer. Heifer has given us knowledge and skills. They are needed in Nepal."