Every week we feature a fun and/or educational activity you can try at home or in the classroom. Many impoverished communities lack clean running water. And children are often charged with the burdensome chore of collecting water from local sources. The Smart Irrigation Month campaign creates awareness for water-saving techniques and products.
Try this simple DIY project and make your own self-watering planter. Photo courtesy of lifehacker.com
Make your own self-watering planter
What you need:
Two liter bottles, one bottle per planter

Potting soil
Thick, cotton or poly string or yarn
Screwdriver
Hammer
Sharp blade
Follow these steps:
Cut the bottles in half

Punch a hold in the bottle cap using the hammer and screwdriver
Cut about a 1.5 foot long length of yarn/string
Double the string over and tie a loop in one end
Pull the yarn/string through the bottle cap's hole, with the knot on the inside
Place the cap back on the bottle top
Nest the bottle top upside down in the bottle's base
Add soil and seeds
Water from the top - but only the first time!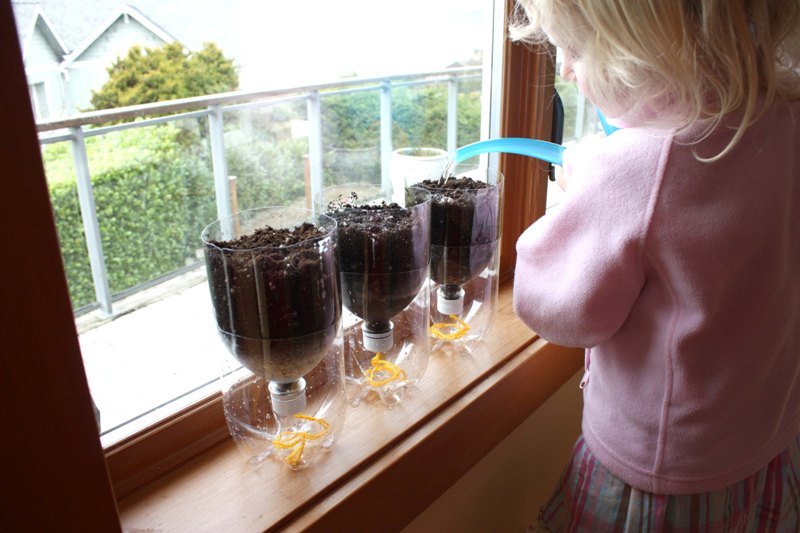 Self-watering planters need to be watered from the top the first time - then they water themselves. Photo courtesy of skruben.blogspot.com
The Engledow Group's Green Scene offers more ways to conserve water:
Water plants just before sunrise to minimize evaporation

Adjust sprinkler heads to water your yard, not your sidewalk
Add mulch around trees and plants to reduce evaporation
Water in two or three short cycles instead of one long cycle
Repair and maintain your current irrigation system