Story by Lisa Dixon | Program Officer | Heifer International - Southern Africa Program
Photos courtesy of Heifer Malawi
Members of the Ludzi Milk Bulking Group belong to Heifer Malawi's Mchinji Livelihoods Development Project. In 2011, 120 farmers received 40 dairy cows and five breeding bulls from Heifer International. Equipped with training in Heifer's 12 Cornerstones for Just and Sustainable Development, dairy husbandry practices, milk processing and handling, and cooperative management, this group quickly mobilized a successful dairy enterprise.
Since receiving their animals, they have successfully passed on 16 dairy cows to other members of their group. Moreover, they worked together to secure funds to add a cooling facility, which will help grow their dairy business.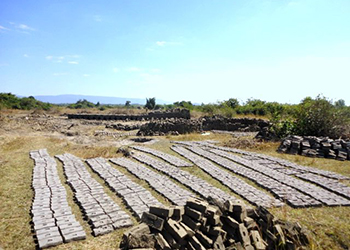 With support from the Heifer Malawi team, the group prepared and submitted an application to the U.S. Embassy requesting $10,000 to purchase equipment for the cooling facility. The U.S. Ambassadors Self-Help Fund grant was recently approved, and construction of the new facility is under way.
Building materials – bricks, mortar and labor – are the community's direct contribution to the establishment of their new cooling facility. The Ludzi Milk Bulking Group will mold 800,000 bricks, which will be used to create a building to fill with $10,000 worth of milk cooling equipment.
With a cooling facility in their community, farmers won't have to travel so far to store and pool the milk they collect. This convenience will reduce spoilage and increase the amount of milk that can be sold.
This community can expect to see an immediate increase in dairy milk sales among participants when this facility is up and running. Future plans include the purchase of a feed processing machine and additional dairy cows for further business development.