Story by Abhinav Gaurav | Training Officer | Heifer India
Photos by Anjani Harsh | Program Officer | Heifer India
"Paise se jyada zarrori izzat hai," the woman said confidently and with a smile. Translated, she said, "respect is more important than money."
These wise words were heard during a CAHW refresher training at the Ghoghardiha Prakhand Swarajya Vikas Sangh (GPSVS) office in Bihar, India, on November 2, 2012. GBSVS is Heifer India's project partner in the Mithila Women Empowerment and Sustainable Livestock Program. As the woman spoke, our last meeting, eight months before, flashed into my mind. I remembered a shy woman. Members of her self-help group (SHG) selected her to be a Community Animal Health Worker (CAHW) for her village, so she had come for CAHW training. After I repeatedly asked, "Aapka naam kya hai?" (What is your name?), she hesitantly replied, "Chandrarekha Paswan," and did not share anything else about herself. I remember being concerned that her shyness would be a major obstacle in her ability to perform her duties as a CAHW. During the training, however, she started to open up, and we soon realized that she was a sharp, smart woman.
One evening, during the feedback and sharing session, Chandrarekha told us about her life and family. Her family belongs to the Dalit caste, a scheduled caste regarded by society as untouchable, and she was raised in abject poverty. After Chandrarekha married, she had three beautiful children and her life was filled with love and happiness. That joy was challenged when her husband was shot during an argument with an upper-caste landlord. He survived the gunshot but suffered hemiplegia, or half-body paralysis, and lost their land. Their savings went to pay for his medical treatment.
Chandrarekha went to work as a bonded laborer in the fields of the landlord who injured her husband. Three years ago, filled with hope for a better future for her family, she joined Heifer as Passing on the Gift® (POG) group member. When the other women in her group asked her to be their CAHW, she was unsure, as she was already responsible for five lives. As she went through the training, however, she transformed into a confident woman with basic veterinary skills who was committed to doing something for her community and determined to earn a living at it.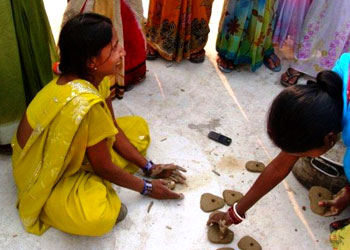 Eight months later, she attended the refresher training and had many stories and experiences to share. Chandrarekha told us how she vaccinated all the goats in her area and how her fellow villagers were amazed that a bahu, or daughter-in-law, was treating goats, something they had never seen, heard or imagined. Her exuberance was clear as she excitedly explained how her mitti ka tikiya, or mineral block, became an overnight success. When she gave one to each villager for free, they saw its positive effect on their goats and started buying mineral blocks from her. Now she earns Rs. 200-300, or $4 to $6, a month from her magic tikiya. This is in addition to the Rs. 400-500, or $8 to $10, she earns each month from treating animals in her village. She smiled and said that the affection, love and respect she has earned from her community, fellow villagers and SHG members across religion and caste lines is worth more than the money she has earned as a Pashu Sakhi Didi, or CAHW.