Story by Thach Thi Hong Tuoi | Communication Facilitator | Heifer Vietnam
Translated by Nguyen Xuan Quyen | Communication and Networking Officer | Heifer Vietnam
Thuan Hoa is one of Heifer Vietnam's targeted project sites most populated with poor farmers. Yet, thanks to the support of Heifer Vietnam, the participating farmers are making progress against the poverty they face. One of the outstanding participants from this village is Thach Thi Kim Hien. She and her husband Kim Phi, a Khmer couple, built a little thatched house on a small piece of land given to them by their parents. Every day was a hard struggle, and their burden increased when Kim So, their first son, was born.
Life was so tough for the family that, despite being involved in a variety of jobs, including fishing, farming, transplanting and pulling grass, they were unable to get ahead financially. They were seasonal laborers with an unstable income. When Kim So started school and their two daughters were born, it became even more challenging to support their family. Although the family has suffered many hardships, they never stopped hoping for a brighter future.
At the end of 2011, their future did, indeed, seem to be brighter when Thach Thi joined a Heifer project in Thuan Hoa village, Chau Thanh district, Soc Trang province. Through the project, she was very excited to receive a cow. "Cows do not consume commercial food like pigs," she said. "They just eat grass, so I try to cut a lot of grass as an investment for the profit in the future."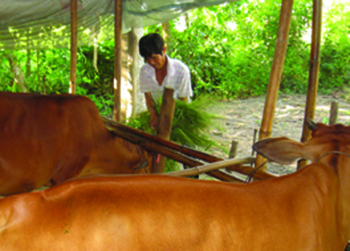 Taking advantage of a revolving fund available to her through the project, Thach Thi used $100 to buy commercial food for her two pigs. Thirty days later, she sold the pigs and bought a boat for $60. She uses the boat to carry grass and take her children to school every day. The family's will and determination gives them the strength they need to succeed in spite of the challenges they face.
All three children are healthy and obedient and go to school. Kim So is old enough to help his parents with some of the household chores. He goes to the river to fish for their meal every day after school.
Kim Phi grows cucumber on their spare land and sells the largest ones to a middleman. Thach Thi rides a bicycle around the neighborhood selling the smallest cucumbers after Kim Phi salts them. She earns about 5 cents for every two pounds of cucumbers. The couple recently bought two piglets to restart their pig production, and are very hopeful for a good income from their animals.
"My husband and I actively join all project activities, such as trainings and meetings, and apply what we've learned to our daily life and production," Thach Thi said. "We also learned to set up a plan for our business. Heifer helped to open a new door for us."
"I am very happy and have benefited from the project," Kim Phi said. "Since participating, I learned to run my business and take care of the cows, and our production is very productive. We share the work together. My family is very happy now. I work hard to afford my children's school fees so that they will have a good education and good jobs in the future. I don't want them to be like their parents in the past."