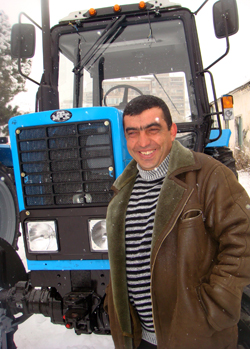 By Sergey Meloyan | CARMAC Project Coordinator | Heifer Armenia
The Nerqin Tsaghkavan region is located about 105 miles from Armenia's capital, Yerevan. With a population of 549 people, or 155 families, the people of Nerqin Tsaghkavan are engaged in mainly agricultural activities, especially cattle breeding. This community, led by Nairi Atabekyan, is one of 55 participating in the World Bank-financed Community Agricultural Resource Management and Competitiveness (CARMAC) project. Through the project, the community established a union, or cooperative, of pasture-users, and elected Gevorg Galstyan president.
The 44-family cooperative has 273 heads of cattle, 119 of which are cows. The group's activities are organized on approximately 830 acres of pasture land, which is rented from the community. With support from Heifer Armenia, the cooperative received an MTZ-82.1 tractor, a baler, a grasscutting machine, a cultivator and a plow.
Cooperative members take excellent care of the equipment. Since some of the equipment arrived after the end of the agricultural season, it has not yet been used. The other equipment was purchased at affordable prices and members have used it to meet their needs. In fact, crop yields have improved more than 20 percent and animal feed productivity is up by five percent. Improved income from the increased production has made it possible for members to put some money back for savings.
Inspired by the success of the cooperative, many more people have applied to join and use its resources.
"Now everything has become easier," Gevorg Galstyan said. "We are able to do all the works in time and are happy with the equipment provided. Before, when we did not have the equipment, we might get only 30 percent of our potential yield; now we don't face such problems. We will try to further equip the cooperative with agricultural equipment and provide high-quality services. The quality of the grass has also improved. [The equipment and assistance] was indeed a salvation for the rural people."

Galstyan was awarded the Gold Medal of the Ministry of Agriculture of the Republic of Armenia for his devotion to the community and achievements in the sphere of agriculture during the annual 2012 ArmAgroForum Conference.
Galstyan is a great role model for his fellow villagers. He acquired four heads of cattle in 1994-95, gradually enlarged his farm, and now has around 90 heads of cattle. One cow gives an average of 2.6 gallons of milk each day. It is likely that the success of Galstyan's family-run farm and the trust he has earned from others in his community over the years contributed to his election as president of the cooperative. He makes every effort to empower and develop the cooperative and, consequently, his native village.
Learn how you can share the gift of hope for Armenia's future.