Permaculture expert Eric Toensmeier wrote the book on how to layer plants in even the smallest gardens to encourage plant growth and soil balance while beginning to counter the effects of climate change and heal the Earth. He has actually written several books on the topic, with the latest, Paradise Lot: Two Plant Geeks, One-Tenth of an Acre, and the Making of an Edible Garden Oasis in the City, published in January.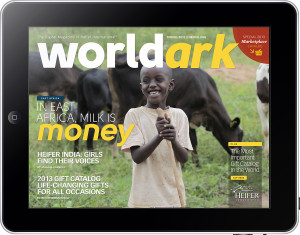 Learn more about Eric's techniques, and his link to Heifer International, in the latest digital issue of World Ark, available now on the App Store or on Google Play. Eric takes World Ark on a video tour of his lush, urban backyard in a special feature in the digital edition and also available here for those without a tablet on hand.
Toensmeier was also recently featured in The New York Times Home & Garden section, as they say, "just in time for armchair gardening." Check out our article and his book and begin planning your own inspired spring plantings. Our thanks to World Ark contributor Erik Hoffner for his insightful interview, photos and up-close-and-personal video coverage. We'd love to hear from you what similar techniques you already use in your garden. Respond here or email us at World Ark to share your experience with other gardeners.
Happy planting!