Story and Photos by Laura Manciu | PR Coordinator | Heifer Romania
Heifer International's work around the world is covered by World Ark magazine. A professional writer and photographer visited country offices worldwide to discover the impact of Heifer's work and how transformative it proves to be for the participants involved.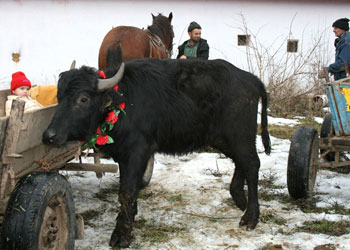 On February 2, writer Katya Cengel and photographer Geoff Oliver Bugbee visited Heifer Romania. Katya and Geoff, two warm people who have a deep understanding of Heifer's work around the globe, are a wonderful team to work with. Their agenda kept them busy for four full days, traveling to the villages of Rasca and Aschileu to interview participants in two of Heifer Romania's projects, Milk for Orphans and Revitalization of Water Buffalo Breeding in Aschileu and Mera Villages. The World Ark team spent about three to four hours with each family.
The Milk for Orphans project offered the visitors two perspectives: a Romanian mountain village, with its Irish heifers, and the state and private orphanages, where milk and fresh dairy products from Rasca are part of the meals every day. The Irish heifers, having adapted well to local conditions, have helped farmers increase their revenue and improve nutrition, and are now preparing for a second gestation.
At the end of the week, Katya and Geoff attended a Passing on the Gift® (POG) ceremony for the first water buffalo project in Heifer's Central and Eastern Europe (CEE) program. The first six water buffalo were scheduled to be passed on in Aschileu. With red flower garlands around their necks, the animals waited patiently for the end of the ceremony, when they would be taken to their new home. Local authorities in Aschileu were very proud to host the ceremony, which had great media coverage, as four national television stations broadcasted the event and more than 25 newspapers published the related press release.
In his speech, the mayor of Aschileu County, Loan Porumb, reminded the crowd of the project's opening and their special guest at that time, Pietro Turilli, vice president of CEE for Heifer International. After the speech, the media interviewed Ovidiu Spinu, country director for Heifer Romania, and beneficiary families, both old and new. Laura Manciu, PR coordinator for Heifer Romania, appeared on the morning show of a national TV station based in Cluj-Napoca to talk about the water buffalo project and its impact within the community.
"We picked a mighty cold day for Passing on the Gift®, but the joy warms our hearts," said Mrs. Sarbu, a project participant and mother of three. "We were very happy when Heifer Romania came to our village with this project. It meant food on the table for the young ones. Now we are contributing to the development of this initiative. I want to tell the family that received our buffalo to take good care of her and let her walk around every day; exercise is good for the animals."
Those who passed on their gifts received diplomas. Local children performed folkloric dancing and singing, and the day ended with a traditional meal and joyful state of mind.
A project story from this visit will be published in an upcoming issue of World Ark. Katya and Geoff have written blog posts, as well: Learn to Make Cheese with a Romanian Grandma, Some Yogurt But Not Nearly Enough, and The Best Water Buffalo in Romania.