Story and Photos by Nguyen Xuan Quyen | Communication and Networking Officer | Heifer Vietnam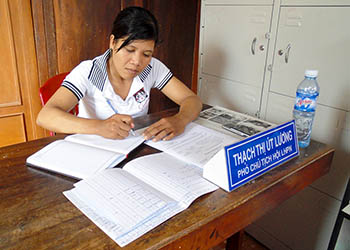 Thach Thi Ut Luong, 28, is the youngest of her Khmer family of seven. Luong lives with and takes care of her elderly parents, while also managing their paddy field and her own responsibilities. She has emerged as a leader in her community, showing energy, motivation and passion through her devoted work with women.
As a child, her house was about five miles from her primary school, but a net of bumpy bamboo bridges hindered her from attending school until she was 10 years old. Thirst for knowledge and friends encouraged her to continue pursuing her education regardless of so many difficulties.
After graduating from the high school, Luong focused on Women's Studies at Soc Trang Politics College from 2007–2009. In August 2008, she was appointed vice-chairwoman of the Women's Association of Tan Hung village. She engages area women in activities on social welfare, business training, improving social knowledge and more.
She currently leads 410 women. Every month, she visits each communal women's association to update information, give any needed support and create an action plan for the next month.
In 2010, her diligence led to her appointment of project management board member for Improving Farm Households Capacity in Long Phu District, Soc Trang Province—a Heifer Vietnam project.
Through Heifer Vietnam, Luong learned about project implementation and management. When the Women's Association of Long Phu district gave $100 to each woman to run their own business, she conducted a survey to discover the genuine and practical needs before selecting and submitting eligible recipients.
Furthermore, Luong mobilized villagers to donate one can of rice every month for the ongoing "Rice Jar for Love" program, which began in 2009. She is committed to building her communities by encouraging people to following the "Five Nos" and "Three Cleans." The "Five Nos" include: social evils, malnutrition, children leaving school, domestic violence and smoking. The "Three Cleans" are: keeping one's kitchen, yard and home clean.
For example, a project participant's daughter living in Tan Lich commune wanted to drop out of school due to her family's hardship and poverty. She wanted to find a job so she could share the family's financial burden with her mother. Luong patiently visited them and successfully motivated Xuyen to stay in school.
In order to generate extra income for needy women, Luong encouraged women in the communes that are under her management to make regular contributions to the revolving fund—about $7 per woman per time. Though a small fund, it helps them in emergencies.
Luong stays busy managing one self-help group (SHG) and a $15,000 revolving fund of six Heifer SHGs. She arranges fixed days for each SHG to collect interest every six months and principal once a year.
In addition to all this, Luong witnessed Heifer participants in the Ko Ko village raise and sell swine for a good profit and was inspired to organize a similar production model and multiply it the villages where she works. She actively mobilized a three-month training on swine production, which was conducted by the Vocational Center of Long Phu district. Thirty four women of Tan Qui B participated in the training. Since last December, she successfully secured funding from a local enterprise to support 10 women in the training with $300 each, to be repaid at a low interest rate within five years.
"I have many plans to help my communities. I want to encourage more women to join women clubs and women's associations for their rights and benefits and knowledge," Luong said. "I will run the pre-marriage program for both men and women ages 16–30 and propagandize marriage law. I will also continue managing and enhancing my current programs and communities. I would like to work harder to change my communities and better myself."