Story and Photos by Knarine Ghazanchyan | Program Coordinator | Heifer Armenia
Translated by Liana Hayrapetyan | Communication and PR Coordinator | Heifer Armenia
Azatan village is home to approximately 5,500 people living in about 1,300 households. Most residents are engaged in livestock farming and horticulture. All summer, families busily work on their farms, in the field, or in their gardens.
They grow potatoes, cabbage, beans, tomatoes, carrots and forage plants for their animals. Houses are surrounded by fruit trees that produce cherries, apples and apricots. And almost every yard contains towering haystacks for animals and dried manure, which families store to use to heat their homes in winter.
Suren Sevoyan's family was one of 18 families in Azatan village that received a pregnant heifer in 2012 through the Milk for Money project - a collaboration between Heifer Armenia and the Center for Agriculture and Rural Development (CARD). Suren's family consists of his wife Nairuhi, their three children, and Granny Aspram and Grandpa Vardan. In the spring of 2013, their cow delivered a healthy bull calf, and now their cow produces about three gallons of milk each day. Nairuhi processes the milk to prepare cheese, butter and curds.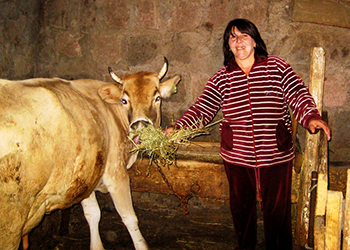 "When our son returns from the Army service, we will have one more helping hand," Suren said. "He will share the family burden with me helping on the farm and in the field."
The majority of cows that Heifer provided in Azatan were bull calves. But farmers have been able to trade them for female calves or raise and slaughter the bulls to sell, using the earnings to buy a female calf or a heifer.
Project participants attend Heifer trainings with great interest. During the trainings, they learn new knowledge and skills for farming and later share their new knowledge with others.
"Heifer is an efficient and valuable gift for farmers," Suren said. "People in our village feel a high responsibility to raise and pass on healthy heifers to others who are in need."