Story by Maria Wrabel | Volunteer | Heifer Vietnam
Photos by Nguyen Xuan Quyen | Communication and Networking Officer | Heifer Vietnam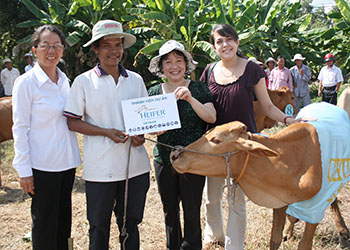 A few Heifer staff members and I pulled up to Dong Thang Commune's community building around 8 a.m. on March 29, 2013. Fleeing the oppressive heat, we walked quickly from our air-conditioned car to the shady auditorium, which was already crowded with representatives of the original and new project families for Heifer's Passing on the Gift® ceremony.
To my surprise, I was ushered to the front of the room, along with Heifer Vietnam Country Director Dang Thi Doan Trang and community leaders. As someone who has volunteered to practice English with local staff, I did not expect to receive a seat of honor. But this is the Vietnamese custom of showing appreciation for visitors, especially foreigners.
The ceremony commenced with a series of speeches, starting with an overview of the Improving Community's Capacity in Thanh Phu Commune project. The project began serving 150 families in 2010 and added 60 families this year. In this particular ceremony, 20 new families received gifts from original participants. Another 40 new recipients will join the project in a few months.
In this community, three self-help group (SHG) savings funds have accumulated large amounts, which will be loaned to project members to improve their incomes. Additionally, 767 households have participated in 37 management and technical training workshops and 616 people have participated in workshops about gender equity, reproductive health and family planning, and domestic violence.
I was amazed to see firsthand the holistic view of development that Heifer propagates. The projects are not limited to passing on a cow; rather, Heifer's 12 Cornerstones for Just and Sustainable Development encompass every aspect of life, from diversifying incomes to empowering women and families to working together to end poverty.
Trang translated the project documents and the speeches for me, whispering facts and stories as I frantically scribbled away. After the program overview, we heard stories from both original and new families.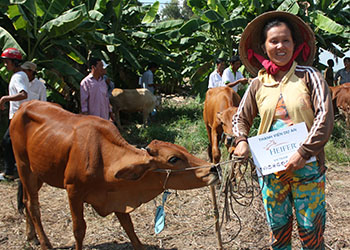 Lam Thanh Nam, an original participant and farmer, shared his story. He used money from the revolving fund to raise chickens and frogs, and he still has a heifer and a calf. He said after two years, he is happy to pass on the gift and share the benefits. He hopes to motivate other members of the project to achieve the same success he experienced.
Danh Soc Kha, 43, one of the farmers who would receive a cow that day, stood next to represent the new families. He expressed gratitude for the support and resources from the local and international community. "We are committed to follow the regulations of the project and support each other to improve our lives and escape poverty," said Kha.
These two individuals embodied the cycle of empowerment inherent to Heifer's projects. Nam will not only pass on his cow, but he will pass on his knowledge and his motivation. Kha will not only receive a cow, but he will receive support from his predecessors and the entire Heifer community.
After more speeches from local authorities and Trang, representatives from each new project family randomly selected a number corresponding to a numbered cow. Some looked timid and nervous to be in front of so many people and others could not stop grinning from excitement. I could not help but grin along with them, aware that today these families' lives would change forever.
Once everyone had selected a number the crowd surged out of the meeting room and down the street to an open field lined with palm trees. The cows stood waiting in the scorching sun, numbers dangling from their necks. We laughed as some of the cows mooed and shied away from their new owners, pacing around and around the stakes to which they were tied.
One by one, the original families presented cows to the new families, sweat dripping down overheated faces that nevertheless expressed joy and gratitude for the gift of a new life. The families then led their cows down the small paved road back to their homes, about to embark on a journey with the experiences of the original families and the support of the local and international community. Such is the nature of Heifer's work, both in Vietnam and around the world.