Story by Maria Wrabel | Volunteer | Heifer Vietnam
Photos by Nguyen Xuan Quyen | Communication and Networking Officer | Heifer Vietnam
A metal gate groaning with the chorus of quacking ducks greeted us as we crossed the one-lane road to enter the home of Nguyen Thi Thu Trang, 39, in Vinh Long province. Her youngest daughter, Cao Thi My Xuyen, 4, shyly smiled from atop a huge tractor with a mouthful of rice.
Trang invited us inside and we sat down at a small table in the front room. Wind whipped across the expansive rice fields surrounding her house and through the open door, fluttering the curtains and our notebooks. Trang and her family joined the Heifer project Improving the Disadvantaged Farm Households' Capacity in Vinh Long Province through VBHCD (Values-Based Holistic Community Development) in March 2009. Since joining the project, Trang and her family have had many opportunities to improve their personal and economic lives. Life for this hardworking woman, however, was not always so fortunate.
Trang began to share her story, a story of flexible resilience and tireless ingenuity. She grew up as the oldest of her brothers and sisters. At the age of 25, she married her first husband. Trang recounted that her husband and his family were controlling and abusive. She was not allowed to spend any of the family's money, so when she bought a small breakfast of sticky rice, costing about 5 cents, her husband beat her and threw her in the river. Trang realized she deserved a better life, divorced her husband and moved to Saigon.
A few years later, her parents asked her to consider a potential husband. Initially Trang refused the arranged marriage, but after a year passed, her family called her again unexpectedly and asked her to come home and celebrate her engagement party. Trang laughed, remembering how shocked and reluctant she was. She missed her bus home and had to hire a motorbike taxi to make the long trip.
Upon her late arrival her parents scolded her. "My father was very angry," she remembered, "He asked, 'Do you want to make me lose face?'" When they saw how hesitant she was to accept the arrangement, they offered her a generous endowment including half of their property, three cows and a large tractor. Trang finally consented to marry Cao Van Phuong, 43, her current husband.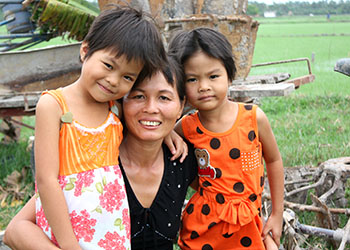 Trang confessed that thinking back on her first failed marriage still haunts her. She is grateful to now have a respectful and honest husband. "My daughters will not have a miserable life like I had," Trang said with hope.
Cultural perceptions of gender are difficult to alter and her husband's passive disappointment with having only daughters worried her. Fortunately, participating in training about Heifer's 12 Cornerstones for Just and Sustainable Development has helped change her husband's perspective about gender equity. Trang said, "I have two daughters, but my husband wanted a son. He sometimes complained, but after I shared the training with him, now he has changed to love his daughters."
As Heifer project participants, they also received an additional heifer and used $100 from the revolving fund to raise ducks and to buy a new engine for the family's tractor. This simple investment has expanded and added to the family's primary source of income as hired laborers.
In the past, Phuong and Trang worked to plant and harvest rice, cut grass and pull weeds. After the installation of the new engine, the family had a new source of income from renting out their tractor. Phuong and Trang were the first in the village to start selling labor and providing tractor services, and now the idea has spread. The family can earn 1.2 million Vietnamese Dong (almost $50) in one day, a significant increase in their income.
Trang and her family have undoubtedly faced many obstacles, but the support of Heifer Vietnam combined with their own resilience and ingenuity has allowed them to overcome those obstacles and thrive, full of hope and plans for a bright future for themselves and for their young daughters.