By Wim Gijsbers | Noticias Newspaper
The following story first appeared in Mexico's Noticia newspaper: http://www.noticiasnet.mx/portal/oaxaca/general/139947-cadena-solidaria.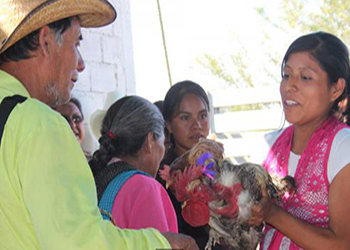 Chain of Solidarity: Families in the valley and southern mountains exchange cattle and poultry in a sign of mutual aid
EL CARMEN, SANTA INES DEL MONTE, ZAACHILA – After the inauguration of the amaranth roaster, the celebration in El Carmen was followed with another delivery. The women were happy. They were making a symbolic delivery of sheep and chickens to their neighbors from San Vicente Lachizio. Well, not neighbors, because they are more than an hour away from this community located in the district of Zaachila to the municipality in the district of Sola de Vega.
One woman mentioned: "I leave the ropes, then they pass them to me." And they gave their recommendations: "These chickens only eat corn and natural waste, such as the leaves of bean (plants)." Meanwhile, the neighbors are committed to caring for the animals, so that another group can also enjoy the benefits.
RETURNING WHAT
WAS RECEIVED
After lunch, several women take the visitors—many of them from the United States—to their homes to show them the garden, chickens and even the worms they are raising. They were received today, but they were delivered in accordance with the commitment made more than a year ago: sheep and chickens. Returning what they received, thus supporting the next group like El Carmen, a highly marginalized community.
The commitment is simple but not always easy, says Nicandro Vasquez, coordinator of the program for civil association Centeotl. "It's all a learning process for the women. And the truth is, they have learned, have matured, in El Carmen. It was them who organized the celebration. They have recruited others to join them. In development projects, generally the materials are emphasized, and of course that is important. But equally important is what they learn. In this project, we're training five skills: how to save, have sustainable agriculture, learn to sell, organize and innovate. Also, the commitment to Heifer, for animals or fruit, involves values of mutual support and solidarity."
COMMUNITY RADIO
He adds that the radio was founded on September 13, 2011, and began broadcasting in Zapotec. Now there is a well-structured programming block with all the needs of the community, from gender equity to environmental stewardship, which "for us is very important. Not cutting down trees means taking care of our water sources so they don't run out of water."
He also says that "in our communities, women are often abused. On the issue of domestic violence, we have programs for children in the morning (that teach them that any form of abuse is unacceptable). These programs are in two languages because they are losing their mother tongue, and we encourage them not to feel like less for speaking Zapotec. Another issue is the customs of the community have been slowly removed by the media. So at first, people didn't want anything to do with the radio station, but now we are very well-accepted. Everyone listens."
PASSING ON THE GIFT®
Since 1977, Heifer has accompanied the processes of organizations in communities, according to Alejandro Musalem, director of this international organization. He adds that "we emphasize environmental stewardship, solidarity, responsibility and justice. Based on that, we support projects ranging from the rescue of native species (plants, animals) to commercialization of products to generate income. We work with families to generate self-sufficiency in food sources and subsequently to generate income." He stresses that "we encourage the formation of groups, working in a more efficient way. We can't do individual training. It's more efficient to train, for example, a group of 20 in the health management of poultry. Also, we look for solidarity between collective entities. Family projects form a pretext to arrive at this sense of community. It's not about generating productivity as much as generosity. What makes a group, after working for a few years, is to share what was produced with our support with another group. This 'Passing on the Gift®' is with animals and plants."
He explains that "groups have lived with a lot of paternalism, parties who have always tried to co-opt them. But once you feel the desire to help is genuine, they replicate that attitude with others. The farmers of Aderas in the isthmus have been utilized by parties and are disenchanted with the experience. This hindered our relationship. But when they realized we really wanted to help, they began to help other groups with pleasure and pride. In Zanatepec, this group has a reputation for helping others in the area without asking anything in return."
Discover how you can be a part of the chain of solidarity around the world.