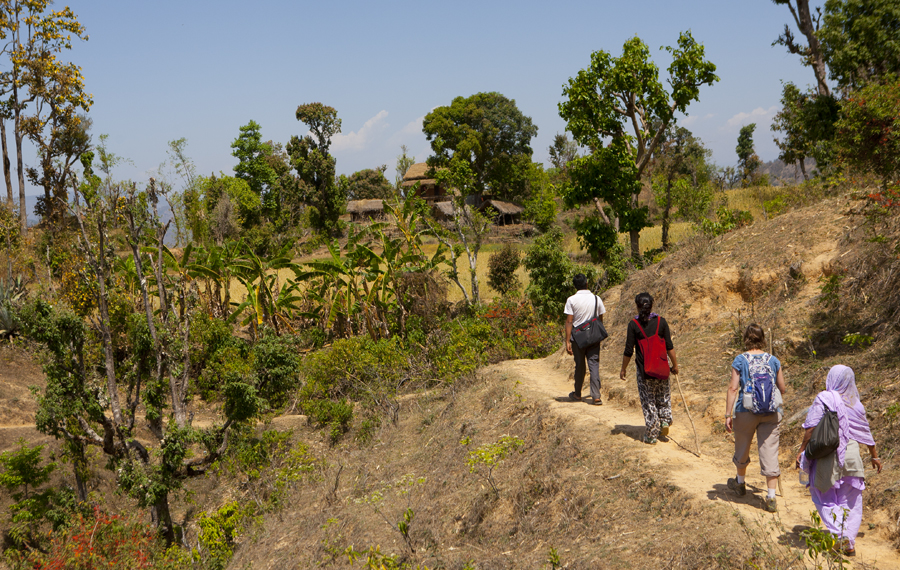 Photo by Geoff Oliver Bugbee
CHULIDANDA, Nepal—We (Puja Singh of Heifer Nepal staff, photographer Geoff Oliver Bugbee and Donna Stokes of World Ark) started out the day in Surkhet, Nepal at 6:30 a.m., imagining the headlines that might result from today's task. It was an uphill climb of nearly 5,000 feet, on steep and arguably treacherous footpaths Nepalis take daily, to one of the most remote soon-to-be Heifer goat projects in the forest near Surkhet in the western region of Nepal.
Photo by Geoff Oliver Bugbee
"World Ark team meets tiger" was our frontrunner imagined headline, as Heifer Nepal staff in this region reported seeing wild tigers not that long ago. Yet as we began to climb what Puja lovingly dubbed "goat mountain," a different theme emerged.
In Nepal in mid-April, scores of expeditions are arriving in Kathmandu to begin their Mount Everest summit attempts during the short season, many for no other reason than the infamous one—"because it is there." But our group of Heifer Nepal and headquarters staff was climbing because "they were there," they being the women and men in need who live at the top and will soon begin training for Heifer's goat value-chain project.
Photo by Geoff Oliver Bugbee
The first lesson: Goat mountain was very nearly more than this treadmill- and Zumba-trained American could handle. In the more than three hours it took us to climb up to talk with the villagers (not to mention the two hours back down at the end of the day), the women here would have made the whole round trip to fetch water. And they do it twice a day, in the morning starting at 4:30 using flashlights to see the rocky path, and also every evening to haul water for their animals and families.
Stay tuned for a full story on this village's challenges and plans in a future issue of World Ark magazine.
Heifer Nepal's Puja Singh negotiates the narrow path on the way to Chulidanda, Nepal. Photo by Geoff Oliver Bugbee