Story and Photos by Knarine Ghazanchyan | Program Coordinator | Heifer Armenia
Translated by Liana Hayrapetyan | Communication and PR Coordinator | Heifer Armenia
Project families from the Syunik, Shirak and Lori regions of Armenia were provided with a pregnant cow and/or the opportunity to improve the breed of their cattle through artificial insemination (AI), as part of the Milk for Money partnership project co-funded and implemented by Heifer Armenia and the Center for Agriculture and Rural Development (CARD).
The first indicators of the project's effectiveness were recorded in the village of Sarnakunq in Syunik region. Due to the efforts and diligence of veterinarians and livestock experts, the majority of the artificially inseminated cows delivered healthy cross-bred calves. Depending on the breeds used, either milk or meat productivity will be improved through artificial insemination. Some wanted both meat and milk productivity improved; in these cases the semen of Angus and Simmental breeds were applied. For families who preferred to improve only milk productivity, the semen of Jersey and Holstein breeds were used.
Compared to other regions of Armenia, the climate and landscape in Syunik are favorable for animal husbandry. Last year, farmers in many other regions faced a long drought and had difficulties gathering hay to store for winter because of a poor barley and alfalfa harvest. In Syunik, however, the weather was more favorable and resulted in lush green grass and a good harvest.
As Suren Vardanyan, the local veterinarian, said, "The people in Sarnakunq appreciate the results of artificial insemination. More and more families apply with a request to have their animals artificially inseminated." The calves born as a result look more or less alike since they are of the same breed. Suren is popular in Sarnakunq, and since he gives all the instructions and helps the farmers during the artificial insemination process, the local people jokingly call them "Suren's calves." Many families, even from the most remote communities, visit him and turn to him for advice. Suren always talks to farmers and gives the best possible advice regarding animal husbandry.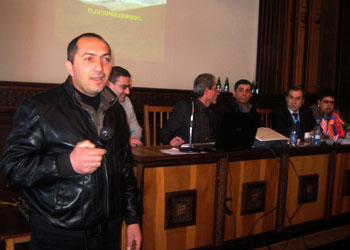 In Syunik, an average of 18 cows are artificially inseminated daily, and the conception rate is up to 80 percent. More and more farmers are convinced daily that artificial insemination generally gives the best result to improve the productivity of the animals.
Key to their success, the people of the Syunik region are diligent, do their best to be self-reliant and never miss an opportunity to try innovations. The project implementation process is going smoothly here, which guarantees success and effectiveness.